Los Angeles-based DUCKWRTH is here with a single off his upcoming project, AN XTRA UUGLY MIXTAPE.
"MICHUUL" is a funky tribute to the late Michael Jackson that will instantly grab your attention. It's a song full of swagger, confidence, and moonwalks, with casual lines dropped over a 90s club beat like "I just want to shine like Mike / I might moonwalk on sight / I just want to ride my bike / and if you don't mind we can ride all night." The Alexander Spit-produced track even has a few psychedelic R&B interludes in there, with DUCKWRTH paying tribute to Jackson with a smooth falsetto.
In an instagram post announcing the song's release, DUCKWRTH touched on what inspired this track. ""['MICHUUL' is] like a "disco'd" ode too my love for Michael Jackson, even though I suck at dancing. So much has gone into this song and art and I'm f--kin' juiced to give it to you. Also, I was gonna keep this lowkey, but news was gonna spread anyways, so f--k it. I recently signed to Republic Records, and this is my first drop as a signed artist. I was hesitant to announce this 'cause I feared people would starting acting differently after learning such. I appreciate people's genuine love or hate for me. But this is a moment of celebration, not of fear; so yay mom, I have a job now. Regardless, I hope this song makes you smile and dance as it makes me every time I play it. Sincerely, your neighborhood duck."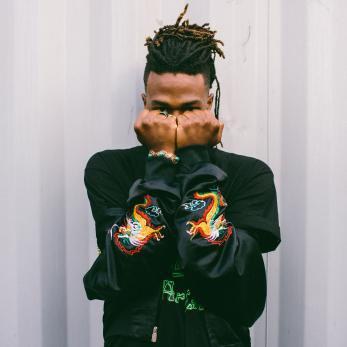 With all the bending and crossing of genres, DUCKWRTH reminds us of the King of Pop himself. There is something uniquely distinctive about his style, offering slick rhymes over fast beats just as readily as he serves us a falsetto over "MICHUUL"'s psychedelic hook. He defines his latest work as an exploration of "the ugliness that follows you from the hood to beyond." In an interview with the LA Weekly, he remarked: ""You're in the 'hood, you leave the 'hood, you then get what you want, and then you realize shit's still ugly," he says. "But that's OK."
DUCKWRTH's previous effort I'M UUGLY highlighted him as one of the Bay Area's current gems, offering genre-crossing tracks that blend into eachother effortlessly. In a profile on VIBE, he admits his lifestyle is just like the next up-and-coming artist. "I'm not driving a Lamborghini or flexing. My music is my flex; my livelihood. I'm still up and coming. But within that, I'm going to make it beautiful as f**k. [I'M UUGLY is] painting this scene of euphoria while everything is still ugly around us. It's kind of saying that's not the end all to be all."
This is DUCKWRTH's first single signed to Republic Records, so big things are definitely on the horizon and we cosign this one as an artist to keep an eye out for.."When I was a young Duck, one of my favorite super heroes was Michael Jackson," DUCKWRTH told The FADER. "This is an ode to disco nights, art school chicks, and the moon walker himself."
AN EXTRA UUGLY MIXTAPE comes out soon.
---
Vanessa is a music and culture writer. Follow her on twitter.
READ MORE ABOUT MUSIC...

INTERVIEW | a Q&A with Rooney's Robert Schwartzman
REVIEW | Nick Hakim's "Green Twins" is a soulful trip through the future