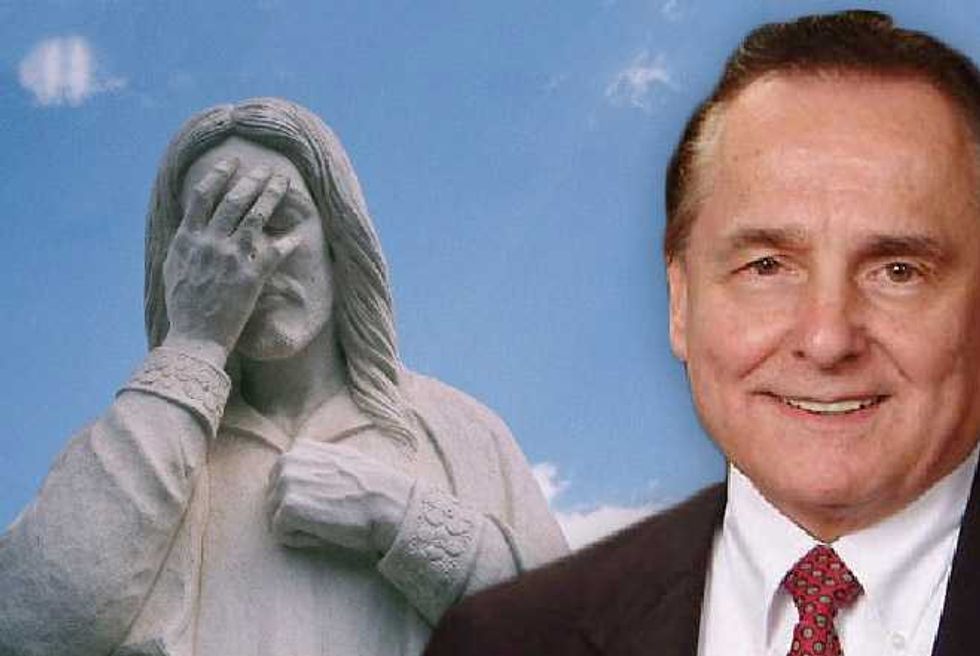 dugger homeschool minister
Duggar homeschool minister, Bill Gothard, has been accused of sexual abuse by 10 women—one of them claims that Gothard, and a "biblical counselor" buddy of his, raped her.
Well, that's no big surprise really, is it?
Five of the women filed a lawsuit back in October, charging Gothard, and the Institute in Basic Life Principles, with sexual abuse, harassment and cover-up—they were forced to refile the complaint, as they were told there were not enough specifics included.
The Latest Temptation Of Poor Old Josh 'Family Values' Duggar
They refiled yesterday, along with five more women, and the specifics they include this time round are truly sickening.
One of the Jane Doe plaintiffs in the lawsuit alleges that she was raped by her father and other relatives and says she was sold by her father through human trafficking when she was a minor. She said she reported the abuse and trafficking to IBLP staff, which failed to report to authorities.

.... When the Jane Doe plaintiff was at a ministry's training center, she and Gothard both called her father and Gothard asked him if abuse allegations were true, the lawsuit states. After her father denied the allegations, she said Gothard threatened her. Gothard taught that children were to obey their parents even if they were being sexually abused, the lawsuit states.

The Jane Doe then alleges that Gothard had sexual intercourse with her without her consent, saying she notified IBLP of the rape through an email in 2013. She alleges that an IBLP-employed counselor also raped her in his office at an IBLP training center in Indianapolis. David Gibbs III, the plaintiffs' lawyer, said she is not sure how old she was at the time of the alleged rapes, but was likely around 17 or 18 years old. Another woman in the lawsuit, Ruth Copley Burger, who was the adopted daughter of the counselor in question, alleges that her father sexually molested her.
As Popdust previously reported, after Jim Bob and Michelle Duggar found out their oldest son, Josh, had been sexually molesting two of his sisters, in addition to other little girls, they packed him off to a prayer camp/training center, run by the Institute in Basic Life Principles—which, obviously worked a treat, as evidenced by last years porn addiction, banging a hooker and trawling adult hook-up sites scandal.
Josh Duggar Pastor Blames Cheating And Porn Addiction On 'Sexual Revolution'
The IBLP were a major force in the Christian homeschooling world, with close ties to the Duggars, and to their good pal, Mike Huckabee—however, they fell from grace, so to speak, back in 2014, when Gothard was forced to resign his post as leader of the ministry he founded in 1961, after he was accused by more than 30 females (some of them minors) of sexual harassment and molestation.
Not surprisingly, Gothard denies all of the accusations against him.
The Duggar Family Plan To Put A Positive Spin On Child Molesting
According to the Washington Post:
Reached by phone on Wednesday, Gothard said he has not seen the lawsuit and denied allegations that he had raped one woman. "Oh no. Never never. Oh! That's horrible," he said. "Never in my life have I touched a girl sexually. I'm shocked to even hear that."
However, included in the lawsuit filed yesterday, is a letter, allegedly written by Gothard, admitting he had "sinned" and, "was very wrong in holding hands, giving hugs, and touching hair and feet. I was also wrong in making statements that caused emotional turmoil and confusion."
Duggars 'Shocked' By Josh Porn Scandal—Sister Molestation? Not So Much
Gothard, who urged his followers to breed like rabbits and have huge families in order to strengthen their "biblical character" has never actually been married himself.
For more entertainment, world, music and pop culture updates and news, follow Max Page on Twitter
Serena Williams on Stuben rape victims: "Do you think it was fair, what they got? They did something stupid, but I don't know. I'm not blaming the girl, but if you're a 16-year-old and you're drunk like that, your parents should teach you: don't take drinks from other people. She's 16, why was she that drunk where she doesn't remember? It could have been much worse. She's lucky. Obviously I don't know, maybe she wasn't a virgin, but she shouldn't have put herself in that position, unless they slipped her something, then that's different."
Mia Farrow testifying on behalf of Roman Polanski: "Of his frame of mind when we were there, of what we talked about, of his utter sense of loss, of despair and bewilderment and shock and love - a love he had lost. Of this I can be sure. I would not have left him in Elaine's unattended without trusted friends ..."
Judy Finnegan on convicted rapist footballer Ched Evans: "He's served his time. The rape and I am not, please, by any means minimising any kind of rape – but the rape was not violent. He didn't cause any bodily harm to the person. It was unpleasant, in a hotel room, I believe, and she was – she had far too much to drink. That is reprehensible, but he has been convicted and he has served his time. Now when he comes out, what are we supposed to do? Just actually refuse to let him do his job? Again, even though he has already been punished?"
Helen Mirren on convicted rapist Mike Tyson: "It's such a tricky area, isn't it? Especially if there is no violence. I mean, look at Mike Tyson. I don't think he was a rapist. I guess it is one of the many subtle parts of the men/women relationship that has to be negotiated and worked out between them."
Diane Keaton on Woody Allen: "He's the strongest person I've met in my life. He's made of steel. And talk about a work ethic – he's one of the people that really did teach me that you have to work hard. But he wanted to. He's the most disciplined person I've known, with the exception of my dad... Oh, well, yes. I love him." "I have nothing to say about that. Except: I believe my friend."
Debra Winger on Roman Polanski: "We hope today this latest (arrest) order will be dropped. It is based on a three-decades-old case that is dead but for minor technicalities. We stand by him and await his release and his next masterpiece. "We came to Zurich to honor Roman Polanski as a great artist but under these sad and arcane circumstances we can only think of him today as a human being uncertain of the year ahead. His life has always informed his art and it always will."
Barbara Walters on Woody Allen: "I have rarely seen a father as sensitive, as loving and as caring as Woody is and Soon-Yi to these two girls. I don't know about Dylan. I can only tell you what I have seen now. That it's a good marriage, and he's a loving, caring father. I think that has to be said."
Whoopi Goldberg on Roman Polanski and Samantha Geimer: "I know it wasn't rape-rape. It was something else but I don't believe it was rape-rape. He went to jail and and when they let him out he was like "You know what this guy's going to give me a hundred years in jail I'm not staying, so that's why he left."