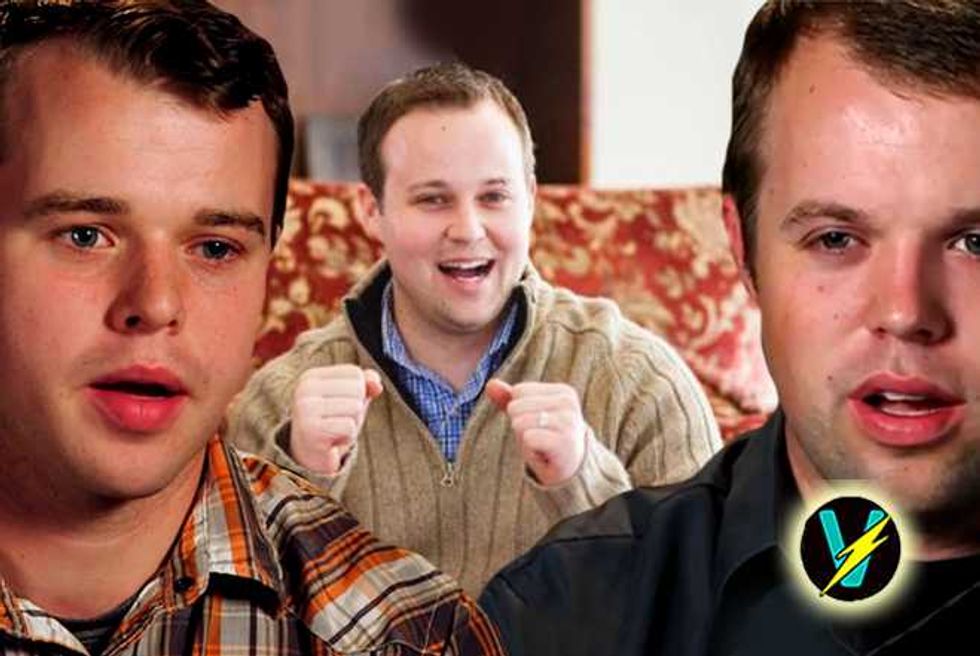 duggar brothers josh porn sister molestation
Giving a glimpse into the alternate reality that the Duggars reside in—the uber religious family is opening up about oldest son, Josh's "transgressions."
John-David, 25, and Joseph, 20, talked about their brother's despicable behavior—expressing "shock" at the news he was trawling hook-up websites and banging porn stars, all while pretending to be a God-fearing married father of four.
The Duggars Respond To Josh's Child Molestation Scandal, Via Funny Or Die Video
However, they really didn't seem all that phased by their 27-year-old sibling having molested two of their sisters when they were little girls.
Because, you know, the little girls were probably wearing little girl nighties at the time—therefore tempting poor Josh, and forcing him to molest them while they were sleeping.
The Latest Temptation Of Poor Old Josh 'Family Values' Duggar
As Popdust previously reported, the family values mouth piece was exposed as a child molester earlier this year, when a sealed police report surfaced, in which Duggar confessed to molesting five underage girls when he was a teen—two of them his own sisters.
According to the documents, both Jim-Bob and Michelle Duggar were aware of the sexual abuse from 2002, and worked tirelessly to keep the scandal hidden, before finally going to their church about it, one year later.
Jessa Duggar Shares Adultery Prevention Tips—A Tad Too Late For Old Josh Sadly
The authorities only took action however in 2006 after the Oprah Winfrey Show was tipped off—and, by then, the statute of limitations had run out.
Hot on the heels of the first scandal, news broke that Duggar was a card carrying member of Ashley Madison, the premier hook-up website for cheating scumbags—and, that he had engaged in rough sex with a porn star.
Josh 'Family Values' Duggar To Pray Away The Sin In Bible-Based 'Rehab'
In usual Duggar family fashion, Jim-Bob and Michelle gave a tearful interview, seemingly blaming everyone, and everything but Josh for Josh's behavior, and vowing to pray away his sin. For his part, Josh quickly checked into "rehab" which turned out to actually be some prayer-based bullshit facility—he's since kept his head down and firmly out of the spotlight.
TLC went through the motions of pretending to care about the scandal, supposedly canceling their ratings hit, 19 Kids and Counting, but, last night premiered the exact same show but under a slightly different guise a new special, titled, Jill & Jessa: Counting On.
Josh Duggar Pastor Blames Cheating And Porn Addiction On 'Sexual Revolution'
Adding to the farce yet further, Jill and Jessa are the two sisters that were victimized by their brother, and the TLC special was supposedly part of a larger campaign to raise awareness about child sexual abuse.
However, it was basically just a way to keep cashing in on the Duggars—as last night's "special" was pretty much business as usual, and featured the whole family, doing what they always do—i.e.: brushing everything under the carpet and praying.
Josh Duggar Loves The Gays, Hates The 'Unnatural' Marriage Thing
They did touch briefly on that icky "stuff" that Josh did however, primarily by way of a tearful interview with John-David and Joseph, which was really pretty sickening all in all.
"After everything started to settle down from the first release of stuff in the news about Josh, we got word of a second thing that we had no clue about," John-David says.
Mike Huckabee Defends Child Molestor Pal Josh Duggar As TLC Drops 19Kids
"That was a little more of a shock probably than the first stuff coming out. Because you look at your brother and you think, you know, you want to think the best about him."
"Even after the first thing that came out about him, when he was younger, I never had quite as close a relationship as I did whenever I was really young," an emotional Joseph shares.  "But over time it's built back up, but, when this next situation came up, it blew my mind. I had no idea.
Jessa Duggar Baby Name Tells You All You Need To Know About This Family
"I don't think there's any way any of us would have known that my brother was living such a secret life."
"It broke my heart. Whenever somebody you respect the most is willing to get up and proclaim what we believe as Christians, about being true to your wife, you'd never think that that's the person who's involved in it."
Now come on, is it just us, or are these people fucking crazy?!!!!
Michelle Duggar Blames 'Lesbian Agenda' For Son's Child Molesting Records Leak
First off, in our world, molesting your little sisters is way more heinous than cheating on your wife.
Secondly, how can it "blow your mind" to find out your child molesting brother also cheated on his wife?!!!
What the fuck?
Meanwhile, John-David went on to confess that he now feels under a lot of pressure to step-up and be the new male role model to his legion of younger siblings.
Duggars To Star In Child Sex Abuse Documentary
"For me, making sure I'm the man that I need to be, that I'm the example to those all around me, so, and its a big load, its a big weight upon me now," he says.
"That I know, hey, I've got a whole bunch of younger siblings looking up to me and I've got to be an example to them of what… because, whatever I am, that's what they want to be. I know that's what it was for me and Josh. I always wanted to be like him… but one of the toughest things that I ever had to tell my older brother was I don't want to be like you any more."
19Kids—Jim Bob And Michelle Share Wedding Planning Tips In Duggars Say I Do Special
Well, it's pretty easy actually JD—just don't engage in any kiddy fiddling, don't molest your little sisters, and try not to bang any porn stars…..as a devout Christian, surely none of that should be too hard to abide by.
For more entertainment, world, music and pop culture updates and news, follow Max Page on Twitter