FILM & TV
Kevin Fortuna's The Dunning Man will soon grace the silver screen!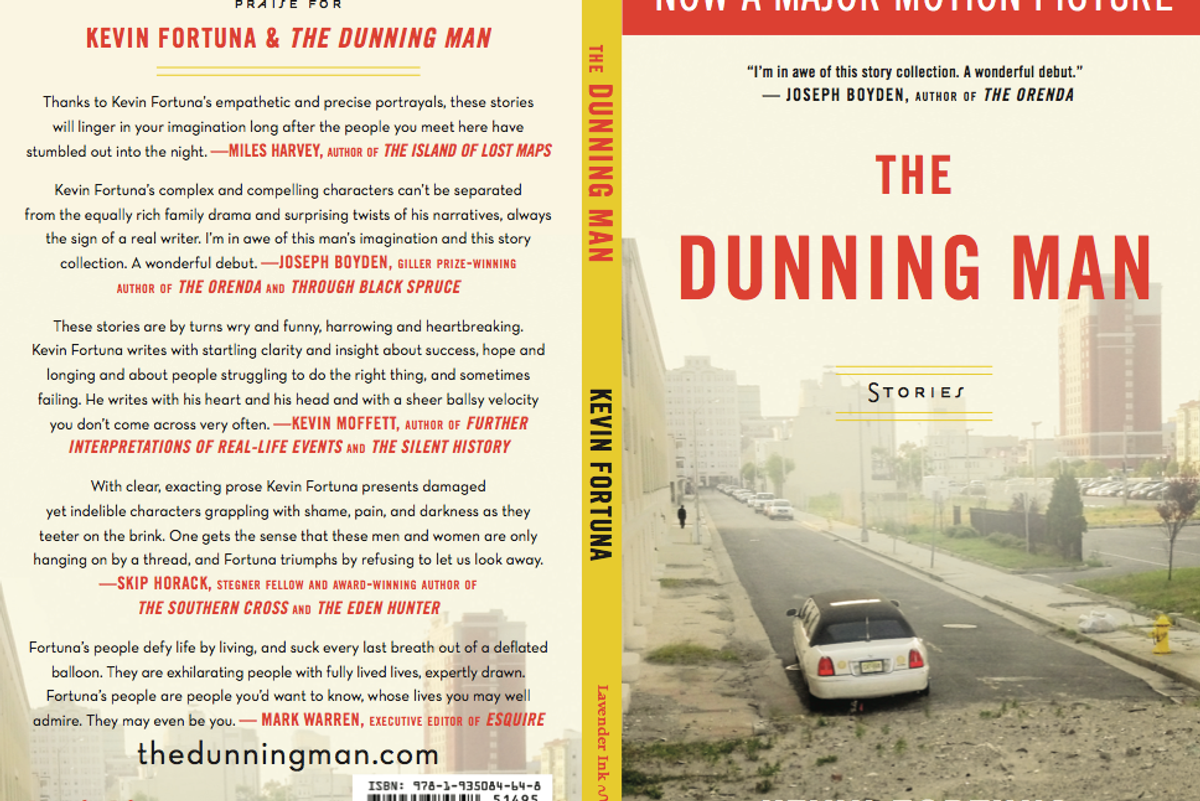 Some people say that reading about other people's problems makes us feel better. But that's only one of the reasons we turn to literature—to catch a glimpse into the lives that deserve the best stories. We can be that fly on the wall, spying on scenes that we, fortunately, don't have to deal with beyond the book's spine. Short stories are perfect vehicles for this sensation. If done right, they skip to the hard-hitting stuff without leaving out the vitals. I've gone back to short story collections time and time again for their brevity and punch, but one collection continues to be among my favorites: Kevin Fortuna's The Dunning Man.
And considering all that you get in this slim book, I'd say it's a pretty great find. The book is a collection of stories that feel like modern tall tales, narrating the lives of Irish-American societal rejects that, in my opinion, are also legends of attitude.
Esquire called The Dunning Man a "funny, explosive, and disarmingly moving" story about "people like you and me." And that's exactly what it is. Plus, you can read it in a single afternoon.
In the first story, "Dead," we meet Connor, who's on his way from New York City to Atlantic City to meet his "Girlbomb" Ursula for dinner. But the characters that make it nearly impossible for him to get there are both hilarious and pathetic. "Poor Jimmy" echoes that same uncomfortable but effective teetering between dignity and destruction, as a couple of old friends attempt to chase girls and their past is brought into the light. But these stories are just warm-ups to the title story, "The Dunning Man," which will soon release as a feature-length film.
In his story "The Dunning Man," Fortuna demonstrates his mastery of character and voice. Within the short space of the story, the whole world, even beyond Atlantic City, goes from just okay to nearly irreparable. Connor is back, and with seemingly nothing left to lose, he's trying his luck in the unforgiving world of Atlantic City real estate. But more than a few curveballs (or punches) are thrown his way.
In Michael Clayton's upcoming film, The Dunning Man, Connor plays landlord to three malfunctioning apartment units, which house Alice, the young mother dealing with a busted AC and incessant "love sounds" from above; Styker Jones, the ostentatious rap star and origin of the ruckus; and Erika Deitz-Hoffman and her band of "animal people." Enough said.
As you can imagine, this colorful group causes nothing but trouble for poor Connor, who's just trying to get the rent he's owed. But powerful connections brew between Connor and his tenants that make you think, if only for a moment, that he might just wake up from this nightmare unscathed.
The film captures Fortuna's fast-paced plot, while enhancing it with delightful montages of Irish-American history, authentic Irish tunes, and acting that brings his already vibrant characters to even more life.
So it was fitting that the story collection was published by indie New Orleans publisher Lavender Ink. Anything bigger might have threatened the level of intimacy that I so love about the book. And likewise, the film was picked up by USA Today Best Film Festival, Cinequest, a vanguard Silicon Valley organization on the edge of creative innovation. Cinequest aims to find and share films that have a direct impact on youth and artists. It's a more than suitable home for such a gem of narrative.
The Dunning Man opens March 4th. Click here for information on screenings!

Update: The Dunning Man Was Just Featured In The Nook Daily Find! Follow This Link To Get The E-Book For Just $.99 (Today Only)!