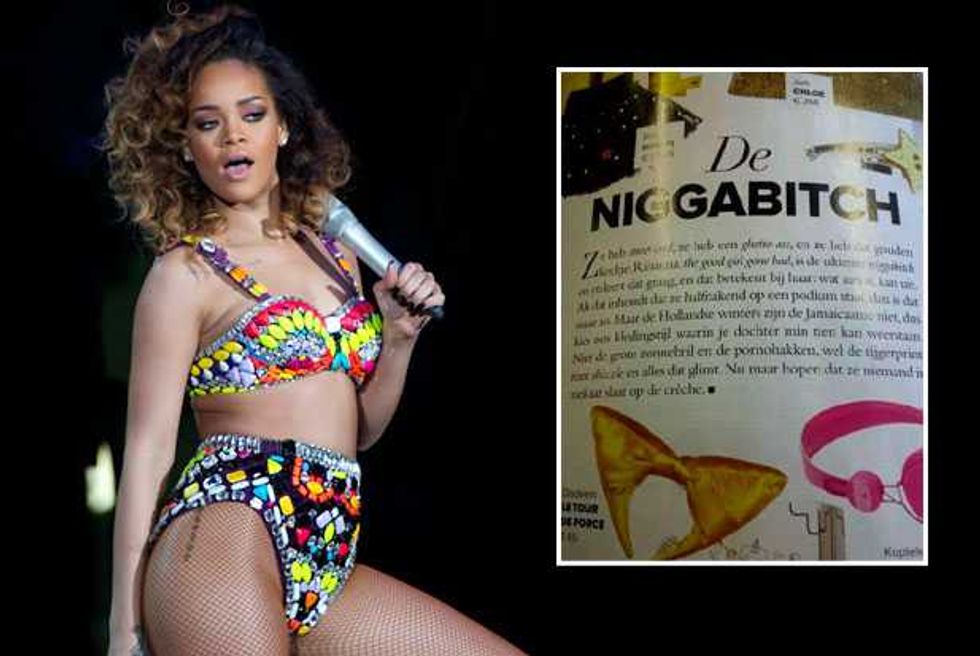 If Babelfish has taught us nothing else, it's that occasionally when trying to awkwardly shift sentiments between languages, a little something gets lost in the process. Still, it's a little jarring to see this article from Dutch fashion magazine Jackie lauding the virtues of Barbadian pop princess Rihanna, using a number of American expressions in italics to help with their description of the singer. One particular, um, colloquialism, however, seems like a phrase that an equivalent US mag might have known to stay away from:
Ze heb street cred, ze heb een ghetto ass, en ze heb dat gouden keeltje. Rihanna, the good girl gone bad, is de ultieme niggabitch en etaleert dat graag, en dat betekent bij haar: wat aan is, kan uit.
You can probably kinda fill in the other words around the English phrases, but if not, here's a more direct translation: "She has street cred, she has a ghetto ass and she has a golden throat. Rihanna, the good girl gone bad, is the ultimate n***abitch and displays that gladly, and for her that means: what's on can come off. If that means she'll be on stage half naked, then so be it."
Aside from a couple other eyebrow-raising aspects of the passage—the vaguely sexist and condescending sentiment, the use of the phrase "ghetto ass"—the real flag here is, of course, the word "niggabitch." Undoubtedly, the Dutch mag meant the phrase, as well as the "ghetto ass" part, as something of a compliment—like Rihanna referring to herself as the "hottest bitch in heels" on her song "Hard," or Katy Perry lovingly referring to her as "bearcunt" over Twitter—but yeesh, does that word just kinda leap off the page in the worst possible way.
To the mag's credit, Editor in Chief Eva Hoeke issued the following apology for the article's word choice:
This should have never happened. Period. While the author meant no harm — the title of the article was intended as a joke — it was a bad joke, to say the least. And that slipped through my, the editor-in-chief's, fingers. Stupid, painful and sucks for all concerned. The author has been addressed on it, and now I can only ensure that these terms will no longer end up in the magazine.
Honorable, but too late—we'd long since canceled our subscription to Jackie. The import prices were ridic anyway.