Top Stories
The Toronto pop singer peels back the layers of her personal life, fearlessly.
The world came crashing down. "How's momma gonna love you now?" DYLYN weeps on her raging new single. "Daddy's got a secret, had it on the weekend. Momma how you gonna love him now? Daddy's got a secret, now I know he's cheating..." There's rarely such bold honesty in pop music, but the Toronto singer-songwriter reopens her wounds, as a way to connect with her fans--and to treat her own turmoil. "My life was turned upside down and as a result this song emerged. 'Secret' became therapeutic, it helped me deal with this crazy thing that happens to so many people, yet often remains a taboo subject; especially in song," she tells Popdust about the alarming clarity and sincerity of "Secret," the second taste of her upcoming comeback album.
"'Secret' gave me a chance to connect with people, with my fans whose parents also split up due to infidelity; it became a way of reaffirming for myself and others 'You are not the only one going through this,'" says the performer, who previously went by the stage name Guinevere. Five years can drastically uproot anyone; at the time, she had just kicked off her first tour, an opening stint on Nick Carter's club tour, at New York City's Irving Plaza. Dressed up like a human-sized peacock, Gwendolyn Lewis thought she had to be flashy, so overly dramatic that no one could possibly turn away. "I was doing a lot of different styles of music. I had a moment while I was on tour. A lot of family stuff happened. My dog passed away--a lot of loss in my family," she says of the triggers which then fueled her to step away from the spotlight. "When bad things happen, they happen all at once. I decided I needed a really big change, so this new album is non-stop confessions. It couldn't be more true and to the point of exactly what happened in my life. It's like a biography of the past three years."
The year was 2012, and amidst rumblings of superstardom, she also toured extensively with Jesse McCartney. She reflects on those days, saying, "That was a lot of fun. Great, great guys. Tour was insane. You don't sleep. You barely eat. In my experience, I was living on protein shakes and bars and cigarettes, which is disgusting, and alcohol. It was a wild, wild time. [The tour with Nick] was actually the first tour I ever did. I was terrified at the time. That night, I ended up playing four shows. I played the Nick show, and then, I played three other pop-up bar shows. It was two or three songs a set. I remember because last call was so late there. I don't know what bar it was but it was three in the morning. I remember finishing a song and barely being able to stand. I was so exhausted. That's so funny you saw that show. What a small world."
With a swirl of changes rapidly flickering around her, she soon realized she "needed to get back to basics" with not only herself but her artistic endeavors. "It comes pretty full circle. You do a lot of things when you first start out to express yourself. You want to wow people. I started in a little rock band with a t-shirt and jeans and chucks. When I started the album, I decided to go back to what music I really liked when I was younger," she says. "Then, I started looking at pictures of what spoke to me and decided to completely strip it down. If you were here hanging out with me, I'm wearing a Rolling Stones t-shirt and ripped jeans. I'm not wearing makeup and my hair is bleached out a little crazy. This is truly me. I'm not so flashy. I said 'why not apply that to my music now? Doesn't that make sense, just to be yourself?' Sometimes, the answer is so simple, but it takes a long time to realize that."
With a new-found sense of vision and self-worth, Lewis' return to her roots then inspired her new "aesthetic." DYLYN represents empowerment, simplicity and feeling liberated. "Some of the most obvious answers are right in front of you. I'm sure you've heard before, but growing up, your parents or somebody you love saying 'you just have to be yourself and people will love you for that.' You say 'oh, I know, thank you.' Then, there's a moment in your life when you go 'maybe I should do that,'" she says. "That's where DYLYN stemmed from. There's no point in hiding the fact that all my best friends are guys. I'm more relaxed when I'm just being myself. That's why this album took so long. It was about going back to my roots. It's so easy to say it now, but it did take a long time. Fuck."
DYLYN's long-waited new record is expected later this year. She teases her rollout in the coming months, "The plan is to just drop a single once a month. Right now, I actually missed a deadline," she laughs. "Today, I'm supposed to finish recording an acoustic version of 'Mimosa,' which should have been done on the weekend. That was my mistake. I'm really feeling the anxiety right now."
Take a listen to "Secret" below:
ᐧYour first new single was "Mimosa," a sort of reintroducing to the world. What has this moment been like for you?
It's been great. It's just been a lot of stress, to be honest. I find the more experience you have and a little bit older you get, the more freaked out you get. You've done it before. It took me about two years to write this album. Now that it's finally coming out, I feel terrified, in a way, but I'm also extremely excited.
What was it about "Mimosa" that felt right to release first?

As I release everything, you'll notice it is all connected. A big moment for me...my parents split up. Realizing that in your 20s, you wouldn't think it would affect you that much. You're grown up and doing your own thing, but coming back from being gone on tour and being in LA, I realized I had missed so much. Anxiety hit me. My father has bad anxiety. I never really thought about it or realized I had it myself. Coming back and having that moment of "wow, I need to change things," that's when anxiety set in. That's what "Mimosa" is about. It's the intro to album as realization and anxiety and how to deal with that. It's very common. It just fit to be the first single. It's the first step of self-realization. Anxiety is not fun.
Do you have specific triggers for your anxiety?

I wouldn't say live performances. It has a lot to do with controlling situations. If I'm unable to do things the way I want to do them, whether it be artistically or daily routine, it has a huge effect on me. Surprisingly, it doesn't have much to do with the artistry factor. It's more deadlines and making sure everything goes the way I want it to go. You and I in this industry, you'd think we'd be super confident about what we do. All of us have insecurities, right, I'm sure you're drawn to this field because it's almost an escape, right? I feel at home onstage.
What has it been like working with Colin Munroe?
Colin actually watched me play one of my last shows with Jesse McCartney. My manager said I should definitely meet up with him and talk. I remember him saying to me as soon as I got off the stage and met up with coffee "you know, it's funny, when I look at you, you dance like somebody that listens to rock music, and you're singing these pop songs. You head bang almost. I feel a bit of a disconnect with that." For him to say that to me right off the bat, I immediately said to myself "we should definitely work together.: I just love that we were able to dissect my performance instantly.
We didn't even write the first few weeks. We just hung out and listened to different music. He made me pick a hundred songs I absolutely loved and spoke to me. He made me pick 100 photos that I loved, too. From there, we created a vibe that made sense to me. It helped me identify myself. It's not that easy to do when you are so in it. I thank him so much for that. As we fine tuned that, we went onto the music. I had never done something like that before. When the songs were done, I could already see what the visuals would look like.
What other styles do you explore with this album?
["Secret"] will probably be the most different, in comparison to the rest of the album. It's a softer side of me. It's as if someone is whispering their memoir. The rest of the album is very punk, party, not giving a shit. That's really how I felt the past few years. Then, it goes into realization and softer moments and feeling love and then not feeling love. The sound overall is very close to "Mimosa." ["Secret"] took me 20 minutes to write. When that happens, it's really special. It flows out of you. It's super supernatural.
Are you planning any music videos?
We did trailers previewing each song. That's not going to be the music videos. I plan on shooting "Mimosa" soon. I already have ideas of where I'm going to go with it. I don't know if you know that Star Wars scene where they're in the garbage shoot and the walls are slowly closing in and everything is getting crushed around them and they think they're going to die. I want something like that. Obviously, I'm not going to be dressed up in Star Wars gear. The literal feeling of the walls closing in, there will be moments of that. I want to play with color.
When I think of "Mimosa," I think of orange, obviously. It's just a matter of when to shoot. We're busy with getting the acoustics together and the marketing and all that. I know we'll shoot something soon. I'm still not done with the rest of the video trailers. I'm shooting those in a couple weeks. I wrote all of them. In one of the videos, somebody's going to be wearing this mask, and I actually made them. They took five hours to make each one. When I say I'm investing my time to making sure these all go smoothly, I will tell you I'm never going to do an origami dog mask again. I had to make three of them. I don't suggest it. [laughs]
What has the fan reaction been like to your new music?
I think they're happy. I think they thought I was dead for awhile. So, a lot of people are reaching out from all different places. I was quiet for almost two and a half years on social media. I felt like I needed to step away and focus on the music. People are reaching out with open arms and I've had a lot of letters from people saying how happy they are that I'm back. They bring up old songs, which makes me feel a little old. But that's nice. Everything's been good so far. It's going to be a slow build. It's a completely different name, so a lot of people are like 'who are you?' Then, I have to tell them 'it's me, don't worry, I'm here.' They're like 'oh, ok, how are you?!' My email inbox has been really sweet. They tell me how they've been waiting for a while and didn't know if I was going to come back.
With her comeback album barreling down the pipeline, she eyes a few surprises and potentially hitting the road. "I really like artists coming out with an album and then they just sometimes drop songs without any announcement. I find people really like that. I have so many songs I want to push. I'd love to give some surprises," she says. "In terms of touring, I love it. I probably won't be on that cigarette, Jack Daniels, protein, disgusting diet. I'll tone it down a bit. I know we're going to radio with "Mimosa" in Germany. I'd love to have a chance to tour Europe."
"The best feeling is when you are able to play a song and go into a headspace of a moment in your life. It might not relate to the song you're listening to, but it triggers something in you, whether it be happy, sad or nostalgic. I want that effect to happen with people. I really hope they get that and can enjoy it in their own way," she says.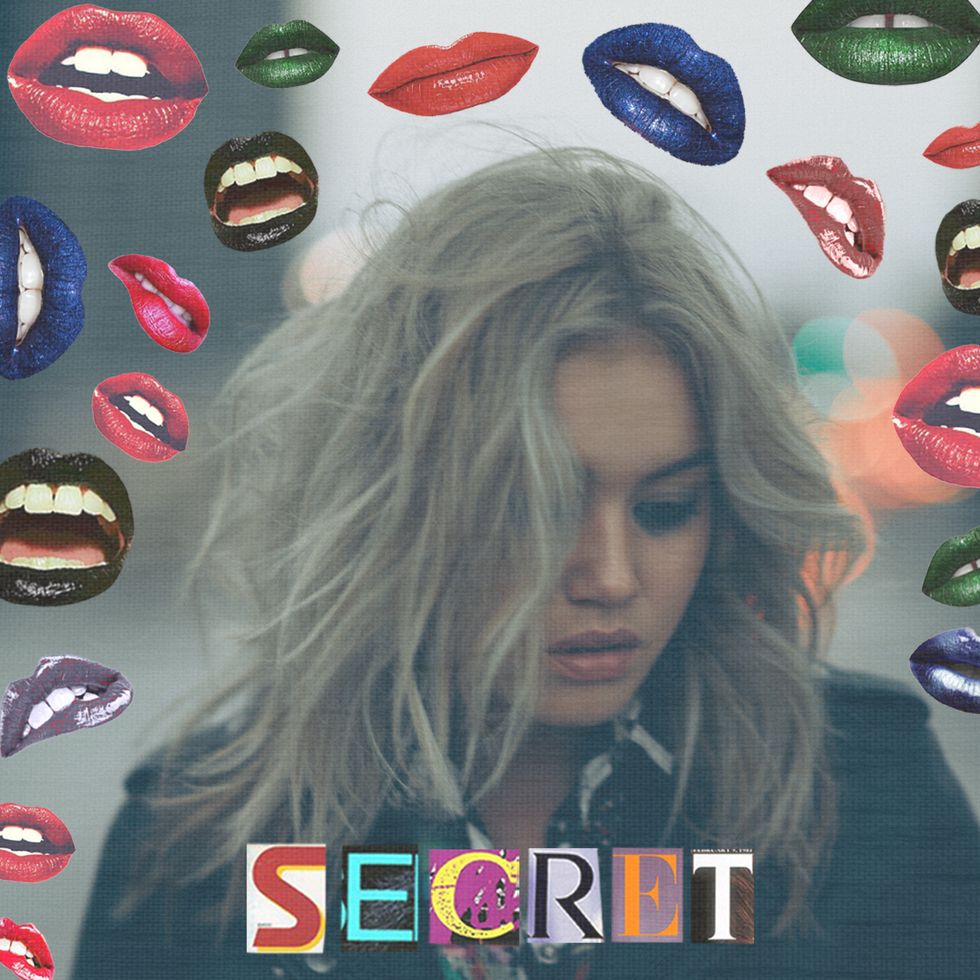 ---
READ MORE ABOUT MUSIC...
Interview: Party Nails dances to her own sadness on debut EP
Premiere: Maiah Manser shows her "Second Skin" with new choral version
Premiere: Fake Shark drops "Heart 2 Heart," reveals new album and tour
---