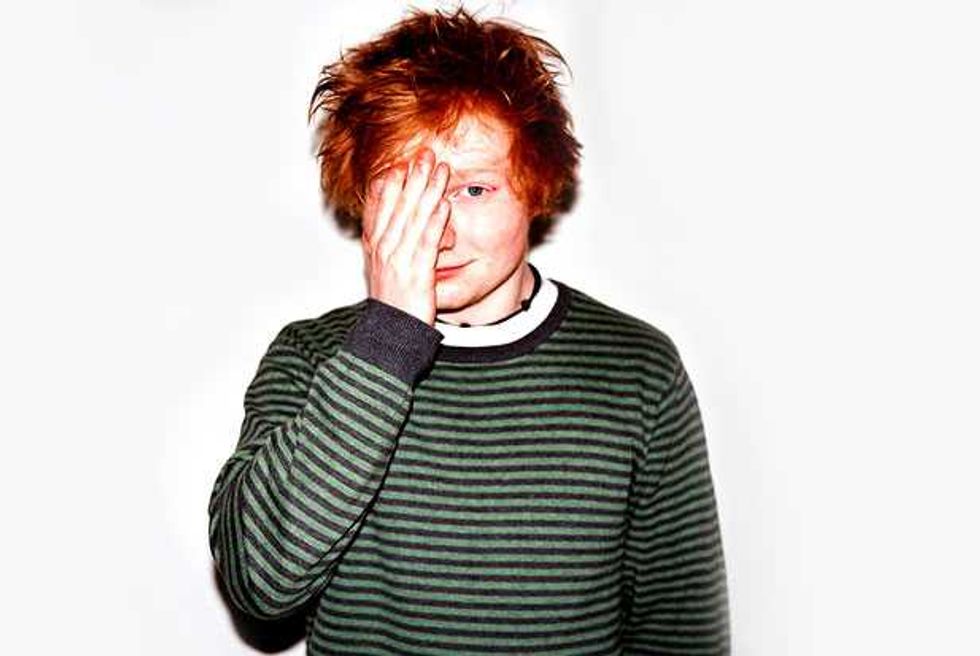 English singer-songwriter Ed Sheeran begins his American push with the release of debut album +, following massive success in his home country. After his first headlining show at New York's Bowery Ballroom last week and the very public support from professional admirers like Taylor Swift and Niall Horan, it's about time you get to know the white guy with the guitar who has a flair for incorporating the likes of Lil Kim and 50 Cent into his live show. Learn more about Ed, in his own words.
1. "DAMIEN RICE WAS MY FIRST KIND OF 'IDOL' IDOL." 
Growing up, Ed worshipped the Irish singer-songwriter. "I was like, 'I wanna be you,'" he explains. Such devotion led Ed to follow his idol to a pub after one of his shows, successfully striking up a conversation at the ripe age of 11. That fateful meeting left him with a memorable story as well as a personalized sketch from Rice, which he's since preserved in the form of a tattoo on his left arm.
2. "MY FIRST SONGS WERE SHIT."
Beginning the songwriting process around 12-years-old, Ed's earliest performances took place at his school's concerts. "I'd play one of my tunes that I wrote," he explains. "They weren't inspired by anything, they were just words that rhymed."
3. "NO PARENT IS GOING TO BE COOL WITH THEIR KID LEAVING SCHOOL WITH NO MONEY AND NO PLACE TO LIVE..."
Ed convinced his parents that his time would be better spent looking for gigs on the road, and he left school and his childhood home at 16. "I was based in London on different friends' sofas. Not knowing where you're going to stay every night can get difficult but it's also a great experience," he says.
4. "AT 16, WHEN YOU DON'T HAVE ANY PARENTAL GUIDANCE OR CONTROL, YOU KIND OF GO A BIT NUTS." 
The most welcoming arena for Ed's music turned out to be the London pub circuit, whose owners and bartenders mistakenly assumed Young Ed was of legal drinking age and agreed to pay him in liquid currency rather than something he could take to the bank. And those earliest "paychecks" have had left lasting effects. "I cannot touch tequila. I threw up in a black taxi cab, it did not go down well." But spending so much time in bars has also gifted him with a foolproof hangover remedy he's eager to share: "Get Coke, shake it up until it gets flat, and down it."
5. "EVERYONE'S MOM LOVED SHANIA TWAIN 10 YEARS AGO."
Despite Ed's early signs of talent, those musical roots don't come from his mother. "My mom's the type of person who'll listen to one CD for five years, so she's probably only just gotten over Shania Twain and gotten into Adele on the CD player," he says.
6. "SINGER-SONGWRITERS DON'T LISTEN TO ENOUGH HIP-HOP." 
"Rappers stretch and bend words so they rhyme," says the self-proclaimed "big hip-hop fan," who employs similar wordplay in his own writing. "It's cliche to say Eminem [is my favorite], but I think he's the best."
7. "I'VE GOTTEN BOOED, I'VE GOTTEN BOTTLES CHUCKED AT ME, I'VE BEEN TAKEN OFF STAGE BEFORE."
"Some of the gigs that I did in L.A. when I was doing hip-hop nights, they weren't fun," Ed recalls. "It usually goes down well, it's just I think they were expecting someone a little less white middle class on the guitar." Still, those less than warm welcomes only serve to build his character and test his reflexes. "But it all shakes you up," he explains. "I was just like, 'At least I got to play one song!'"
8.  "I THINK TAKING A TRAIN TO THE FESTIVAL YOU'RE HEADLINING IS NEVER A GOOD IDEA."
Ed recently performed at the Rockness Festival in Scotland, opting to take the train up to Loch Ness on his own, despite being one of the two-day event's headliners. "That was shit," he says of his overzealous fans and fellow passengers. "I don't mind taking pictures, it's just when you get pictures of you when you're asleep or eating a bagel—it's just a bit weird."
9. "I'M GLAD THERE ARE PEOPLE LIKE HER IN THE MUSIC INDUSTRY."
After recently collaborating with fellow singer-songwriter Taylor Swift, Ed has no shortage of compliments to pay the Grammy winner. "She is probably one of the nicest people that I've ever met in my professional career," he explains. "She's the sweetest and she's very talented." As for future live collaborations away from the kitchen floor? "We'll see what happens. I want to focus on making this album a success first."
10. "I HAVEN'T REALLY DONE ANYTHING YET, SO AMERICA IS MY OYSTER."  
Having achieved great success in England at only 21-years-old, Ed now has his hopes set on a full American takeover. "I went on tour with Snow Patrol and I went across the country and bumped into lots of people that had heard my music," he says. "It's great, it's not One Direction fandom where they follow you about, but it's very hardcore fans who love the music and stuff. I have nothing to lose in the U.S. and everything to gain."