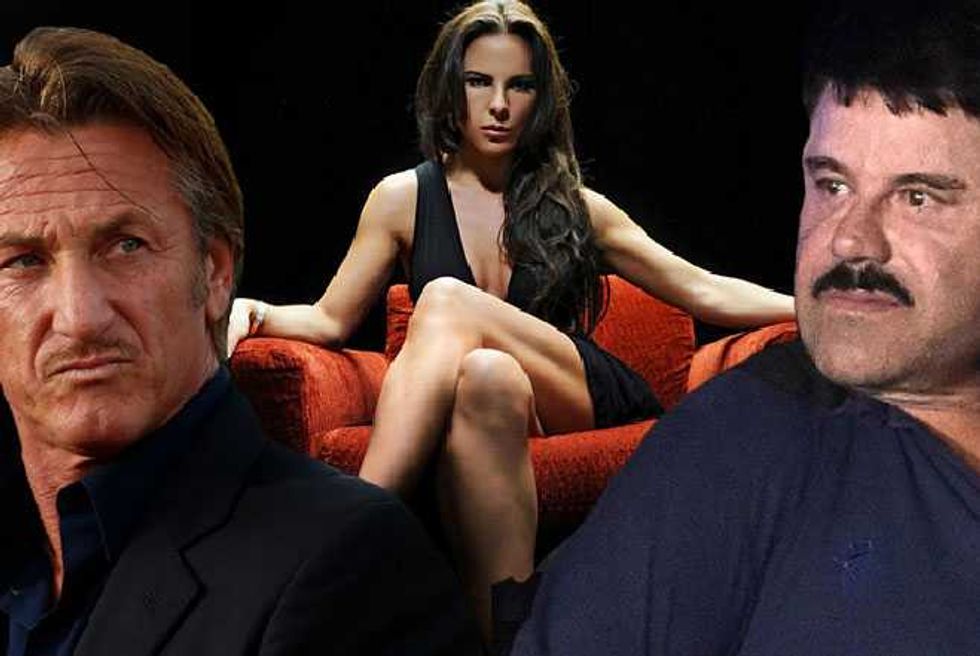 el chapo sean penn actress ElChapo Never Heard Of Sean Penn—Eager To Meet That Hot Actress Though
Turns out El Chapo had never heard of Sean Penn, prior to their clandestine meeting in Mexico last year—he was really eager to meet that hot Latino actress though…
Oh, the indignity!
Mexican Cannibal Drug Cartel Forces Members To Eat Victims' Hearts
As Popdust previously reported, the ever-pompous and insufferably "worthy" actor jetted south of the border back in October, for an interview with the then-fugitive drug lord, deep in the Mexican jungle—resulting in a momentous eleven-thousand word masterpiece of self-important, over-written prose, published by Rolling Stone at the weekend—in addition to the subsequent capture, and re-incarceration of El Chapo last Friday.
The interview came about courtesy of Joaquin 'El Chapo' Guzman's vanity—during his six-months on the run, the Sinaloa cartel chief started developing a biopic about his life, reaching out to a number of actresses and producers in hopes of arranging a "meet and greet" to discuss the project.
How LA's Fashion District Became A Mexican Drug Cartel Money Laundering Hub
Not surprisingly, Guzman focused in on a smokin' hot actress as his prime meet and greet choice—Mexican-born-turned-U.S.-citizen, Kate del Castillo—and began courting her in late September, via a number of text messages, in a bid to woo her to the jungle.
Guzman, who is referred to as "Papa" in the texts, tells del Castillo that he is in Sinaloa, and eager to meet her, so eager in fact, that old Shorty—who Forbes estimates to have a fortune of $4 billion squirreled away somewhere—even vows to stray from the straight and narrow just for her, promising that even though he doesn't drink, he would be willing to knock back a few shots of tequila, and a couple of glasses of vino, if she brings it with her.
Now, THAT'S an offer that's hard for any lady to resist.
World Cup Fatal Fanaticism—Tragic Tale Of Colombian Footballer Andres Escobar
However, for some bizarre reason, del Castillo doesn't immediately jump at the offer to hang out deep in the jungle, miles from anywhere, on her lonesome, with the fugitive "Godfather of the Drug World" who is believed to have directly, or indirectly, murdered literally thousands of people.
Instead, she suggests bringing her old buddy, Sean Penn along for the ride.
Now, you might think that idea would have El Chapo in a Hollywood glitz and glamour-induced joyous frenzy, busting out his autograph book, and dusting off his copy of Shanghai Surprise to enjoy for the 10,000th time, in anticipation of the Oscar winner's arrival—but, nah, not so much.
Pablo Escobar's Hippos Wreaking Havoc In Colombian Countryside
Turns out, as evidenced by subsequent texts back and forth between Guzman and his attorney, that the 61-year-old (or 58, no-one is quite sure of the exact year of his birth) had never even heard of the great actor and activist.
Hahaha.
Here's (an English translation) of those texts:
El Chapo: Who is this actor?
Attorney: Sean Penn
Attorney: He is known for that movie 21 Grams
El Chapo: What year was that movie?
Attorney: I'm checking the date, as I don't know exactly
El Chapo: OK
Attorney: It was 2003
Attorney: he's also a political activist
Attorney: Who has been critical of the Bush administration
Oh well, one thing's for certain, Guzman's going to have plenty of time on his hands to watch 21 Grams, now that he's back in the same jail that he escaped from, through an elaborately engineered one mile long secret tunnel, last July.
NSFW! Mexican Man Claims His Gargantuan Penis Has Ruined His Life
This time round though, Mexican authorities are taking all precautions to ensure El Chapo doesn't bribe tunnel his way to freedom yet again—moving him from cell to cell every few days, and keeping him under 24 hour surveillance.
Yeah, good luck with that guys.
For more entertainment, world, music and pop culture updates and news, follow Max Page on Twitter