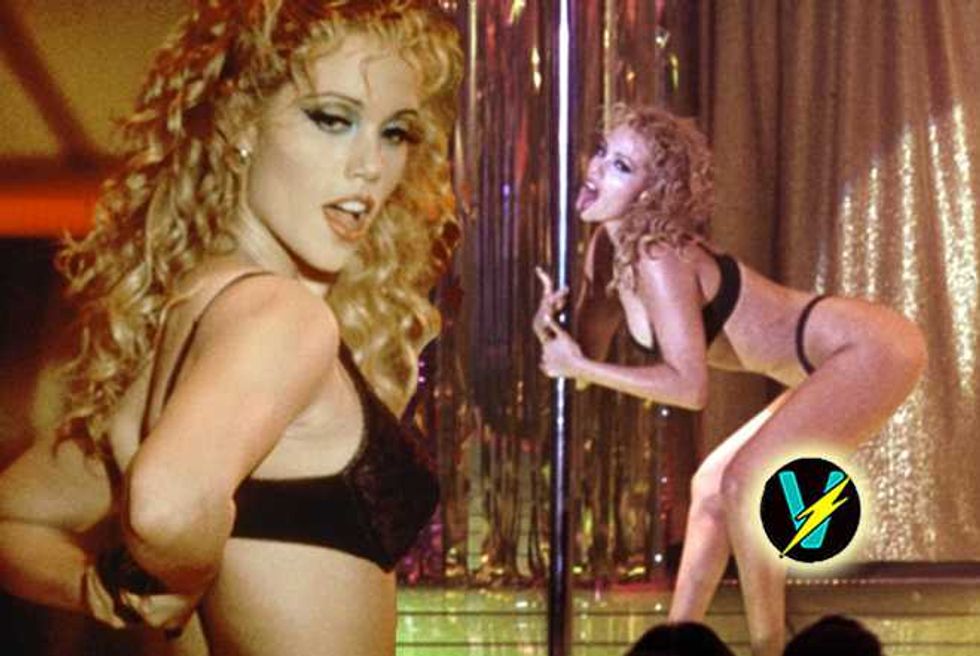 Elizabeth Berkley is owning her Showgirls past.
After being universally panned by critics and proving to be an embarrassing box office flop following its release in 1995, Showgirls has since risen to become a cult classic—and Berkley is one of its biggest fans.
The former Saved By the Bell actress made a surprise appearance at a screening of the controversial flick in LA on Saturday night and rallied the crowd with an impassioned speech—you can watch video here on Popdust.
"This is such a special night, you don't even know. This is 20 years in the making, I can't believe I'm here with you. 4,000 people. 4,000 Nomis, 4,000 Cristals," Berkley gushed.
"I wanna just start this incredible night off by just acknowledging what a celebration tonight is on the heels of such a monumental, incredible win last night. Love wins," she continued, referencing Friday's landmark ruling by the Supreme Court to legalize gay marriage.
"I had this huge dream to play this girl named Nomi Malone ... I sought it out, I fought for it, I did everything Nomi would do. Every agent in Hollywood told me, 'there's no way you're gonna get it. They're gonna give it to so-and-so, so just give up on that dream honey.'
"The casting director brought me in and I did my thing. Five callbacks later and I got it. I had the most extraordinary experience making the film. It was the greatest freedom. When a dream is happening, it's unlike anything you can imagine. Which is why, when the movie came out, it was more painful than anything you can imagine.
"While in 1995, it was such a different time when taking risks like that were not embraced. They were laughed at, they were shamed publicly, and to be a young girl in the center of that was something that was quite difficult. But I found my own resiliency, and my power and my confidence. Not only through what I had to find out, but because of you guys. "
"I really do want you to know that this movie is something that I love," she continued, becoming more and more impassioned as she gained momentum. "But I love it because you love it too. Whether this film has been your guilty pleasure, whether you have played Pin the Pasties on the Showgirl, or whether Nomi's plight and struggle has become your own anthem in life. I hope that it's brought you comfort.
"I hope that it's brought you joy, I hope that you've made incredible memories with your friends watching it cozy on your couch, I hope that you've over lined your lips and put glitter on like crazy. I hope that when you eat your french fries, you go crazy like Nomi. I hope that you grab life and go Andrew Carver on its ass. Just know that I love you guys so much and thank you for giving me strength and confidence to become the woman that I am."
Whoop! Whoop! Pasties all round!