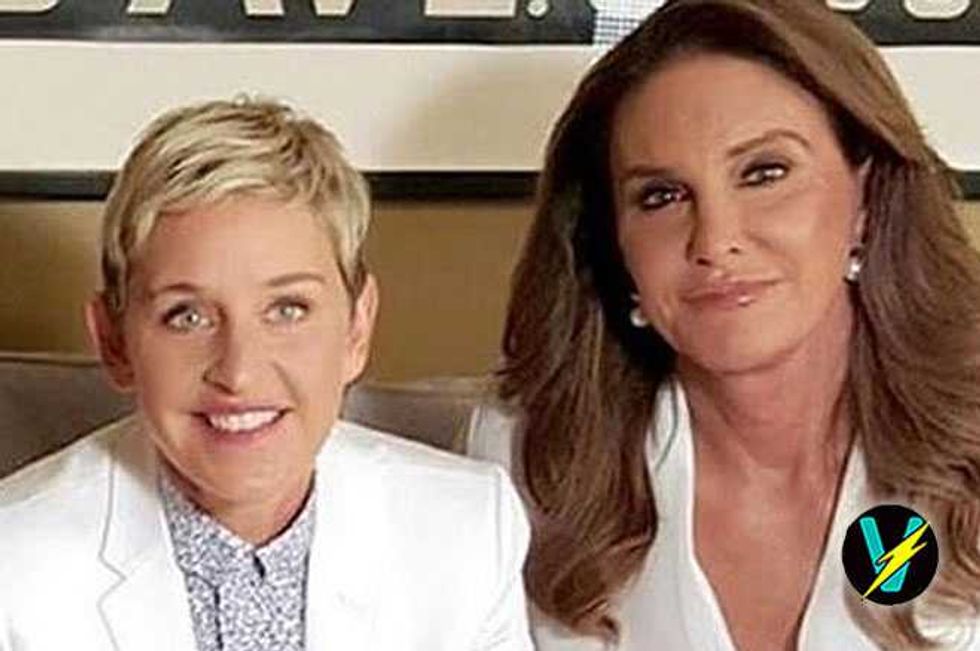 When Caitlyn Jenner was booked to appear on the season premiere of The Ellen DeGeneres Show you would think, on paper, it would be a match made in heaven.
Ellen DeGeneres, the LGBT activist and Caitlyn Jenner, the new poster child for LGBT...then they talked about same sex marriage.
Rose McGowan Slams Caitlyn Jenner For Showing Off Her 'Male Privilege'
Imagine Ellen's surprise when she heard that Caitlyn doesn't quite get the whole 'gay marriage' thing.  Jenner, who as the world knows, came out as a transgendered woman in April this year and has been striving for public acceptance ever since, confessed that she initially did not support gay marriage.
Caitlyn Jenner Confronted By Protesters —Do They Have A Point?
"I'm a traditionalist.  I'm older than most people in the audience.  I kind of like tradition, and it's always been a man and a woman.  I'm thinking, 'I don't quite get it.'".
Ellen, who is married to actress Portia De Rossi, must had have a hard time keeping her jaw from crashing to the floor pointed out that "a lot of Republicans (Jenner's party of choice) want to vote against the issues that you as a transgender woman would want someone to support" and let Caitlyn continue;
"I  have really changed my thinking here...If that word—'marriage'—is really, really that important to you, I can go with it."
Er...YES! The word marriage is important!  It's the whole thing!  If same sex couples must be in a 'civil union' not a marriage then they are not being treated the same as heterosexual couples. It comes down to basic equal rights.
We Are Cait—The Caitlyn Jenner Effect™ Continues!
Ellen appeared on Howard Stern's show on Tuesday and admitted her confusion at Jenner's stance;
"You're wanting people to understand and accept you—this is like, really confusing to people.  And you still have a judgement about gay people and marriage...[The word marriage] is important.  That's the word.  We want the same thing."
DeGeneres joked that Jenner didn't dance with her at the end of the show "maybe because I'm a lesbian" and told Stern she just wants Jenner to be happy, and more importantly, "which is what I want for her for me."
Caitlyn Jenner Helps Trans Homeless Pals
That's the key thing.  Jenner needs to be careful here, as more and more layers of her new persona are revealed, she must ensure she doesn't take the overwhelming support she has received for granted.
She's still finding her way in her new guise and I guess she has a little more work to do to reconcile her long held Republican political beliefs with her new life.
Howard Stern was clearly baffled;
"It's crazy.  Here's a person on TV crying, 'I want to be myself, I want to be genuine, I don't want people to ridicule me' and then says in the same breath, 'Gee, gay marriage, I don't get it,'."