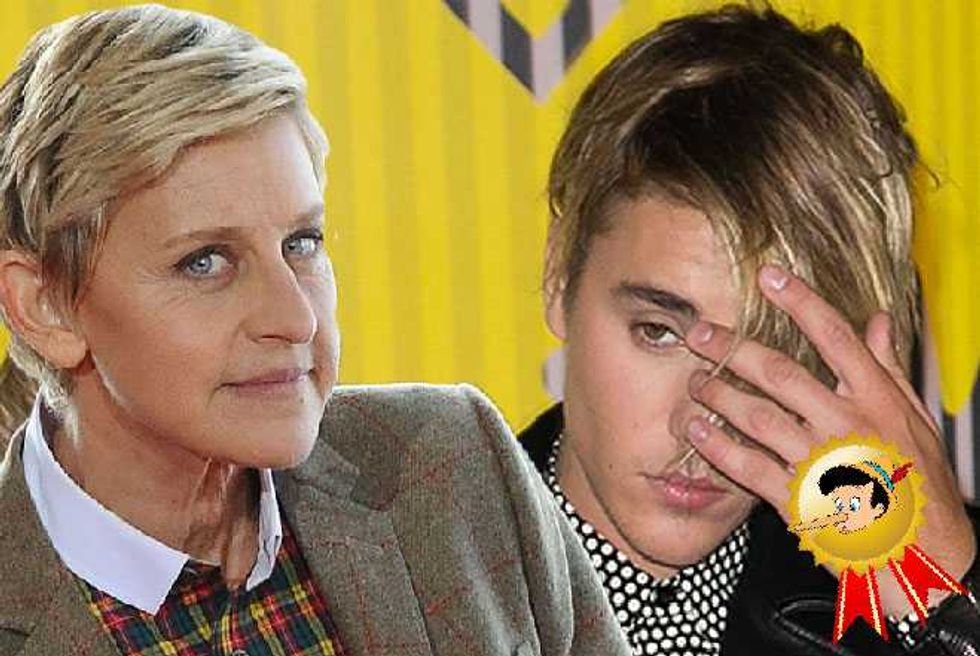 ellen intervention justin bieber
Oh, that Ellen Degeneres! She just can't help herself!
Poking her overly-concerned nose in all over the place—all up in poor "imploding" Justin Bieber's grill.
Well, that's what Life & Style would have you believe—because, makes total sense, right?!!!
Justin Bieber Debuts Dreads And Nobody's Happy
Headed for trouble
ellen intervention justin bieber
I mean, clearly, Ellen DeGeneres and the Biebs are such super-close friends.
So, it's only natural she would be the one to step in when the 22-year-old is fictitiously "headed for trouble".
Hahaha.
Who Knew Wednesday—5 Things You Never Knew About Justin Bieber
Good job Life & Style—you've well and truly earned yourself the best fake story of the week award.
According to the tabloid, Ellen is so concerned about the Bieb's mental state that she's staging a "kind of intervention" for him.
Note: not an actual intervention...but rather, a "kind of intervention."
Is It Sexist To Make Fun Of Justin Bieber's Mental Health?
Desperate need
ellen intervention justin bieber
And, Ellen's not planning to go it alone when she stages her "kind of intervention".....oh, no!
Apparently, Ellen has reached out to Bieber's closest friends to get them on board—because, it appears, all those closest friends hadn't noticed he's in desperate need of a "kind of intervention", before Ellen pointed it out.
Justin Bieber Is So Over Meeting Fans…
Ellen knows best though—and she sees that Justin is "headed for trouble"!!
Paging Dr. Drew!
ellen intervention justin bieber
Oh shit son!
Someone better call Dr. Drew.... STAT....
Justin Bieber Gets Deep—Real Deep—Wants To Live Like Jesus
A "source" tells Life & Style:
Ellen wants to stage a kind of intervention for Justin because she wants him to get some kind of psychological help to better handle his fame.

She wants Justin to take a step back from the limelight before he implodes.

She [wants] to help him before he does something really stupid.

[Ellen is] tuned in and sees that Justin is headed for trouble.
Awwwww! That's so sweet!
Parental concerns
ellen intervention justin bieber
That Ellen! She's just so….. motherly….. she's.....so tuned in with 22-year-old guys' needs and minds...it's kinda uncanny.
In fairness though, perhaps Ellen's just super concerned the Biebs won't be mentally equipped to deal with parenthood.
Toby Sheldon—That Justin Bieber Plastic Surgery Lookalike—Found Dead Age 35
As Popdust previously reported, just two weeks ago Life & Style claimed Kourtney Kardashian is pregnant with Bieber's baby.
All we can say is, Don't go Beliebing anything you read in the tabs folks.....
For more entertainment, music and pop culture updates and news, follow Max Page on Twitter