MUSIC
EXCLUSIVE | At just shy of 22 years old, Emily Estefan (yes THAT Estefan) embodies a peace and confidence in her new single, "Reigns (Every Night)" and beyond.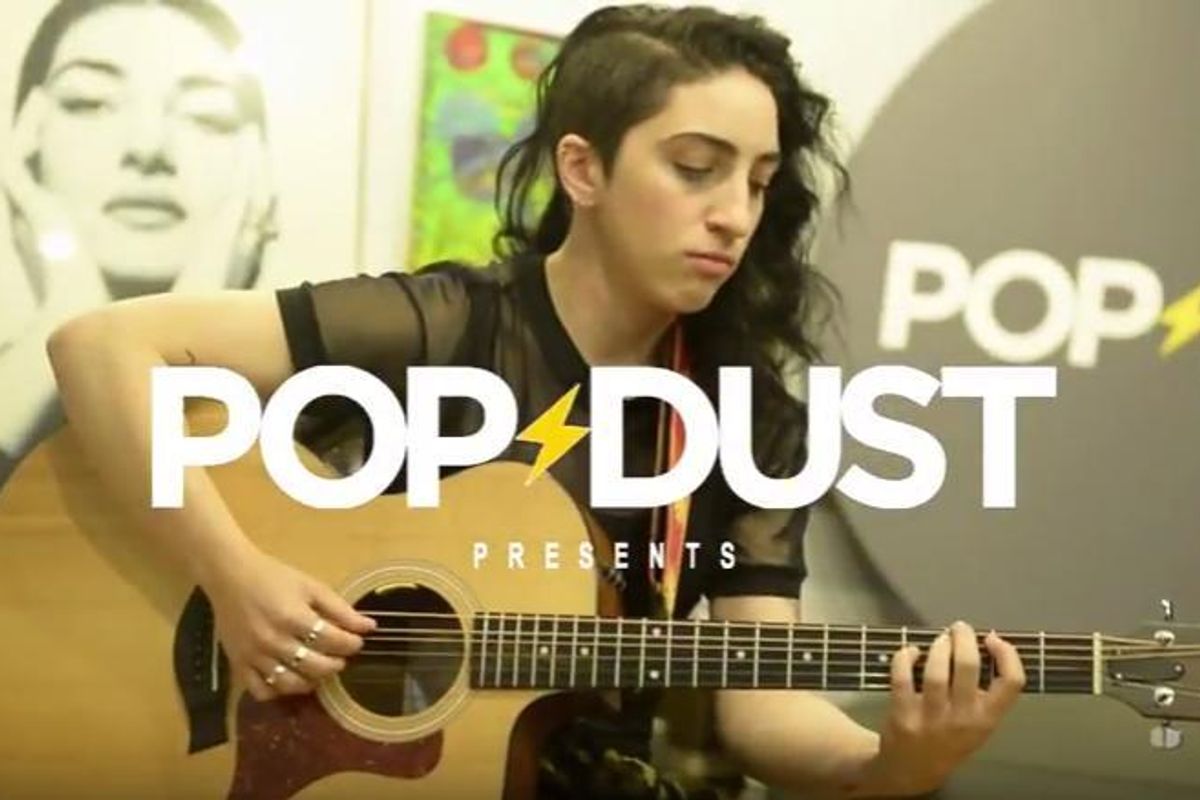 I'm on a crowded New York City street corner, searching for a familiar face...again.
This is life in New York City, but this particular Monday, and this particular group of faces, is special. Emily Estefan— daughter of Emlio and Gloria Estefan, trained drummer, and the alto who delivers Lianne La Havas vibes with Esperenza Spalding musicality and an understated Erykah Badu confidence— is waiting for me to direct her up to Pop Dust's New York offices.
I meet up with Estefan and her team, exchange quick pleasantries, and try to get us inside before people start to realize she looks a lot like Gloria Estefan with her carefree curls, thick eyebrows, and small frame. As we ride up the elevator, she immediately strikes me as different. She carries her own bags and her guitar, speaks only to add value as opposed to just hearing herself speak. When we arrive inside of the Pop Dust office she is the consummate professional; no preferences on whether to perform first or last, no requests for only green M&Ms or the temperature set to some obscure temperature. Emily just wants to sing and talk, and for an hour, we talk like friends. Emily invites me into her world, a world where she is a creative young woman, finding the answers to her life, changing them, and exploring others to share her musical journey, all while her family keeps a safe distance to allow this growth to occur (her mom even sends a 'What is she doing text?!' while we practice our Alien Dance together).

Emily will be 22 in December and shortly thereafter will have released her album, Take Whatever You Want. Her resume is impressive. She graduated from Berklee School of Music in May 2016, wrote, produced, and played all of the instruments on the album except the horns, and has her own label, Alien Shrimp Records, which houses all of her original music, and one day, the music of other talented musicians. Currently questioning how much we give and take from the people around us, I inquire about the title. "Whatever touches you as a listener," she says, "take it from here and enjoy it." Music is a little different than people. With music, giving is always the goal, the release, the opportunity to share. The return does not always come from kind words or gestures of reassurance from the listener, and Emily seems to have accepted the process of sincere giving more than most, and on this particular day, more than myself. As she performs, the experience is cathartic. If this moment in time was captured in cartoon form, you would see the bad vibes depicted as shadows and ghosts, escaping our bodies and the room, "I just want to tell my stories, put out good energy and love into the world and not be afraid to be my true self in my music." The album is a mix of jazz and funk colliding and carrying a smooth a rich alto, and Emily admits that though not traditional, and even "manic", the album has enough of a variety where anyone can pick it up and find the song that moves them.
Listen to her first single, "Reigns (Every Night)" here, where Emily tells the object of her desire exactly how to treat her without losing the vulnerability that we often lose when growing through a relationship.
Check out Emily as she talks the importance of music in schools, the evolution of women, and the music business below, and her acoustic performance of "Purple Money".
Special thanks to Quinton "QueCee" Counts for shooting and editing at a moments notice.
---