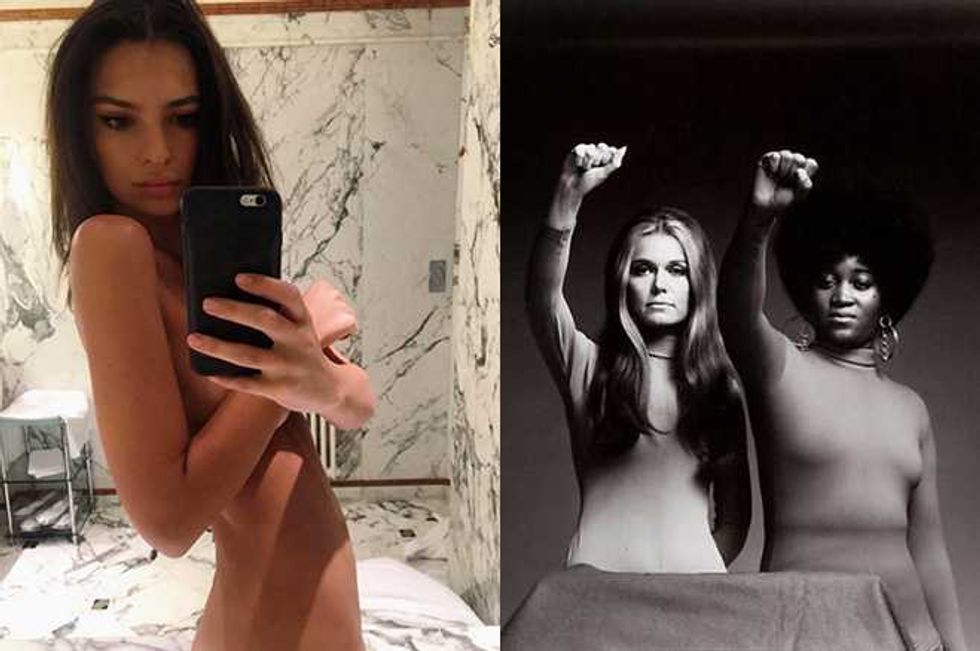 Emily Ratajkowski plans to use her Instagram fame to promote feminism, insisting that her beauty, make-up, and nudity have nothing to do with anything.
In fact, posting nude selfies is her way of expressing empowerment.
By 'owning and celebrating' her sexuality and femininity, she is not falling victim to patriarchal norms but actually working withing those standards.
Huh? you might ask and you would be quite right to wonder what the hell she's trying to say.
The young model/actress is making a big deal of her feminism lately, writing an essay for the Lena Dunham newsletter Lenny, and speaking to WWD about it.
Following her support of Kim Kardashian's controversial nude selfie, by posting a nude selfie alongside Kim, Emily appears to be drinking her own Kool Aid, so to speak.
She seems to actually equate her exhibitionism with power, forgetting that she is being objectified whether she says so or not.
Ratajkowski's arguments are kind of adorable in their nonsensical naivete, but on the other hand, they are dangerous. It's fair to assume that a number of her 5 million Instagram followers are impressionable young girls. And she's sending a terrible, scrambled message to gullible would-be feminists.
Why can't she just be beautiful and happy about it?
In her Lenny cri de couer, Emily says:
I see my naked body in the mirrors of all the places I've lived, privately dressing, going through my morning routine…I look at my reflection and meet my own eyes. I hear the voices reminding me not to send the wrong message. And what is that message exactly? The implication is that to be sexual is to be trashy because being sexy means playing into men's desires. To me, 'sexy' is a kind of beauty, a kind of self-expression, one that is to be celebrated, one that is wonderfully female. Why does the implication have to be that sex is a thing men get to take from women and women give up? Most adolescent women are introduced to 'sexy' women through porn or Photoshopped images of celebrities. Is that the only example of a sexual woman we will provide to the young women of our culture?
It's like a demented poetry slam, isn't it?
Well, naturally Emily was disappointed with the comments that were posted to Lenny, complaining to WWD:
Honestly, some of the comments are so interesting because some people just really miss the point. They don't get it. They're like, 'This is an excuse to be a slut' or 'This is an excuse to post overly sexualized selfies'. And the negative comments were coming from both men and women, it was really interesting.
Awww. Later, she called back to elaborate.
I may wear makeup that enhances my features [and] that plays into the standard of beauty that has been set up by a patriarchal society but I'm living within it. I'm not wearing the makeup to please men, I'm wearing it to please myself. I also am not growing out my armpit hair in protest of patriarchy. I wear a bra. Those are things that I don't feel I need to reject to make a statement about my sexuality.
Let us agree that it's a free country and models are free to have their say.
It would be better if they could be coherent but it's not a perfect world, is it? Jumping on the feminism bandwagon a la Taylor Swift and Beyonce may be obligatory for ambitious social media stars.
But let's face it. Emily Ratajkowski is a dunce.
I feel empowered just by saying it.