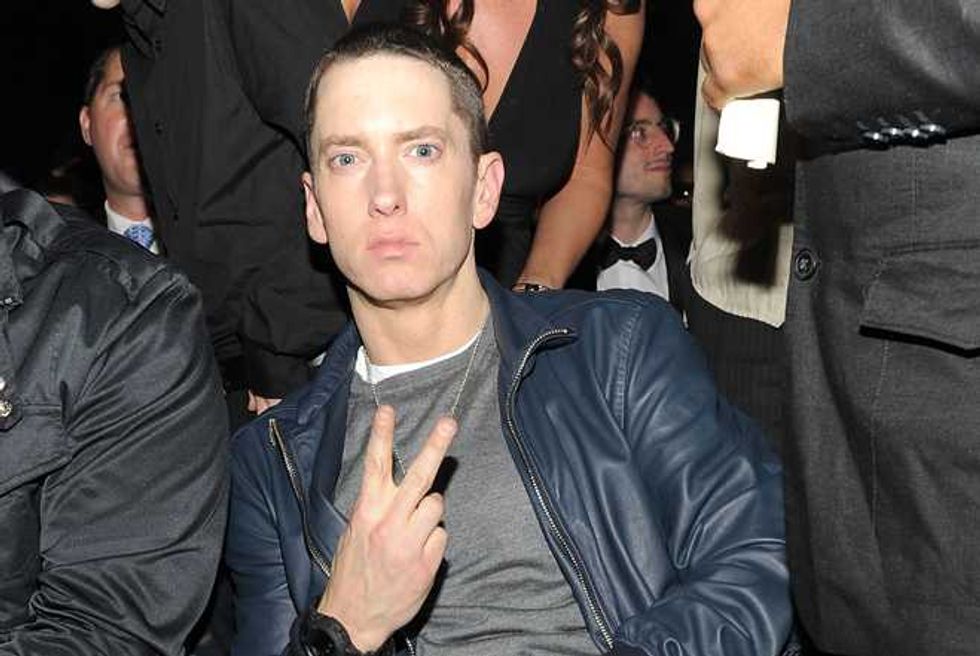 Marshall Mathers turns the big 4-0 today. It might come as a surprise, but Em was 27 years old by the time his debut The Slim Shady LP was released in 1999, making him less than a year younger than his fellow Dr. Dre protege, Snoop Dogg. In honor of his special day, and our subsequent shock to find he's been around longer than Saturday Night Live, meet an entire list of stars and music personalities whose birth certificates cause us to do a double take.
EMINEM
AGE: 40
THINGS OLDER THAN: Roe v. Wade, Pink Floyd's Dark Side of the Moon, Woodward and Bernstein's All the President's Men.
NICKI MINAJ
AGE: 29. She'll turn 30 this December, just a few months after her Young Money boss Lil Wayne.
THINGS OLDER THAN: LeBron James, Aaron Rodgers, Buster Posey.
CARLY RAE JEPSEN
AGE: 26. Sure, she hangs out with teens like Justin Bieber and Cody Simpson, but Our Girl is actually closer to turning 30 than graduating high school.
THING OLDER THAN: Lady Gaga, who is six months younger.
2 CHAINZ
AGE: 36
THING OLDER THAN: The entire Star Wars trilogy.
DAVID GUETTA
AGE: 44
THING OLDER THAN: The Beatles' White Album.
PSY
AGE: 34
THING OLDER THAN: Any memorabilia left behind at the Seoul Summer Olympic Games.
M.I.A.
AGE: 37, only a few years younger than her former roommate, Justine Frischmann of Elastica.
THINGS OLDER THAN: Apple Inc.
NATE RUESS OF FUN.
AGE: 30, so tonight he's actually not that young.
THING OLDER THAN: The Falklands War.
SIA
AGE: 36
THING OLDER THAN: The Chuck E. Cheese's franchise.
REDFOO OF LMFAO
AGE: 37, 11 years older than nephew/bandmate Skyblu.
THING OLDER THAN: The Atari 2600.
LIL JON
AGE: 41, what?!
THING OLDER THAN: Women's suffrage in Switzerland.
SANTIGOLD
AGE: 36
THING OLDER THAN: Hotel California by the Eagles.
CHRIS KIRKPATRICK OF 'N SYNC
AGE: 41 (today!)
THING OLDER THAN: The film A Clockwork Orange.
PEACHES
AGE: 45
THINGS OLDER THAN: The Rabbi Schmuley Boteach, who was born one week later.
WYCLEF JEAN
AGE: 43 (his birthday is today!)
THING OLDER THAN: Paul McCartney's solo career.
TODAY I AM 43 YEARS OLD! I look And feel 26! U cant keep à good Man down! Keep à smile when they want you to frown! twitter.com/wyclef/status/…

— Wyclef Jean (@wyclef) October 17, 2012
AND THAT'S NOT ALL!
American Idol judge Randy Jackson is AARP-eligible at 56.
Spoken-word pioneer William Shatner is 81.
And Justin Bieber's beloved Chuck Norris is 72. Believe that.