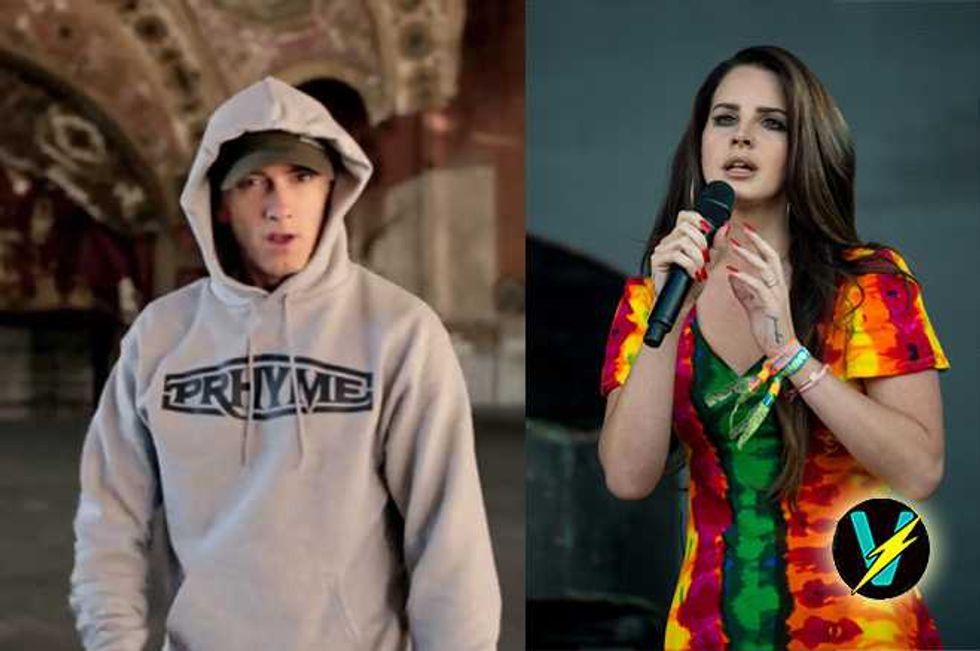 Lana Del Rey has always claimed to be an Eminem fan, but we're guessing that's going to change after she sees hears his latest freestyle rap.
In Shady Cxvpher, Eminem randomly takes aim at Lana, rapping about punching her in the face "like Ray Rice". Yes, the same Ray Rice who disgracefully attacked his wife Janay Palmer in an Atlantic City elevator and was suspended from the NFL after public outcry.
Here is what the rapper says about Lana:
"But I may fight for gay rights, especially if they dyke/ Is more of a knockout than Janay Rice/ Play nice? Bitch I'll punch Lana Del Rey right in the face twice, like Ray Rice in broad daylight in the plain sight of the elevator surveillance/ 'Til her head is banging on the railing, then celebrate with the Ravens."
The best response to his shitty, misogynist lyrics came from Lana's friend Azealia Banks, who tweeted several messages directed at the 43-year-old:
"But does Eminem know that I will personally punch him in his mouth?!" she wrote. "Tell him to go back to his trailer park and eat his microwave hotpocket dinner."
BURRRRRN!