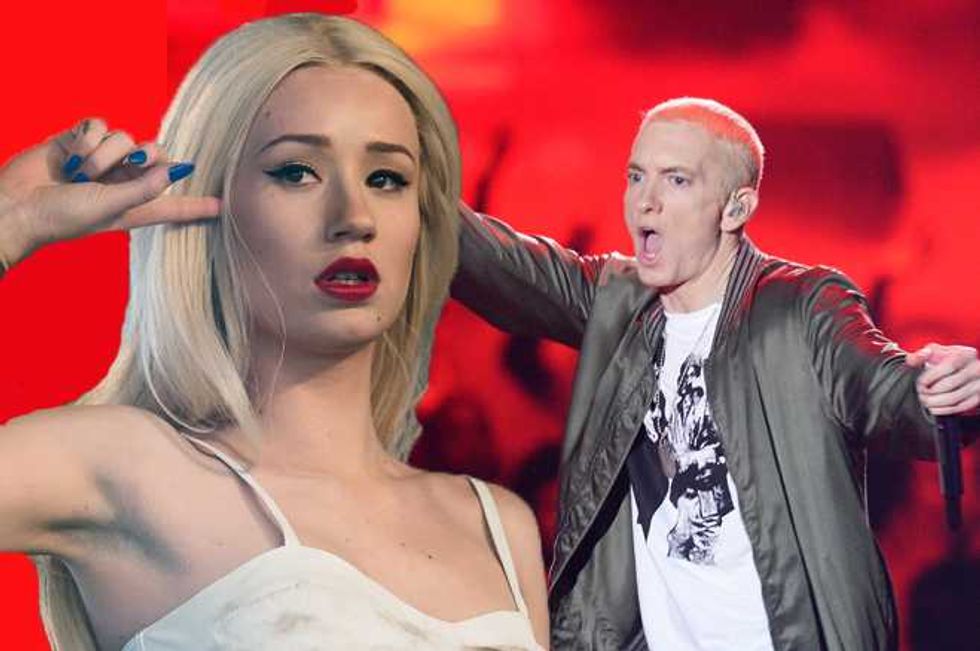 Just days after Eminem said he wanted to punch Lana Del Rey "in the face twice like Ray Rice," the Detroit native has ignited yet another controversy by rapping about wanting to rape Iggy Azalea.
The offensive song is thought to be on his upcoming album, where the lyrical poet waxes on about Azalea's behind, then describes dragging her by an SUV before raping her.
Classy.
'Bitch, shut the fuck up and get in my car/
And suck my fucking dick while I take a shit/
And I think with my dick so come blow my mind/
And it tastes like humble pie/
So swallow my pride, you're lucky just to follow my ride/
If I let you run alongside the Humvee/
Unless you're Nicki, grab you by the wrist, let's ski/
So what's it gon' be? Put that shit away Iggy/
You don't wanna blow that rape whistle on me/
(Scream!) I love it/
'Fore I get lost with the gettin' off'
This enchanting verse comes fresh off the heels of this nursery rhyme: "Play nice, bitch, I punch Lana Del Rey right/In the face twice like Ray Rice in broad daylight."
As the Daily Mail points out, Amy Winehouse, Kim Kardashian and Christina Aguilera have all been targeted by Eminem's violent musings in the past.
Azalea, as per usual, took the high road and Tweeted:
"im bored of the old men threatening young women as entertainment trend and much more interested in the young women getting $ trend. zzzz

It's especially awkward because my 14 year old brother is the biggest eminem fan and now the artist he admired says he wants to rape me. nice! Women in music have the bigger balls anyhow we endure much more harassment and critic."
Why is everybody always picking on Ig?
Last month, Snoop Dogg launched an assault on the Aussie beauty, implying that she's ugly and calling her a "fucking cunt."
The feud ended when T.I., who mentored Azalea, seemingly had a word with Snoop.
Eminem, however, does not seem as amenable to amends.
"Look, I've been doing this shit for, what, 14 years now?" he told Rolling Stone. "And I think people know my personal stance on things and the personas that I create in my music. And if someone doesn't understand that by now, I don't think there's anything I can do to change their mind about it."
In other words: I didn't MEAN IT, moooooom!