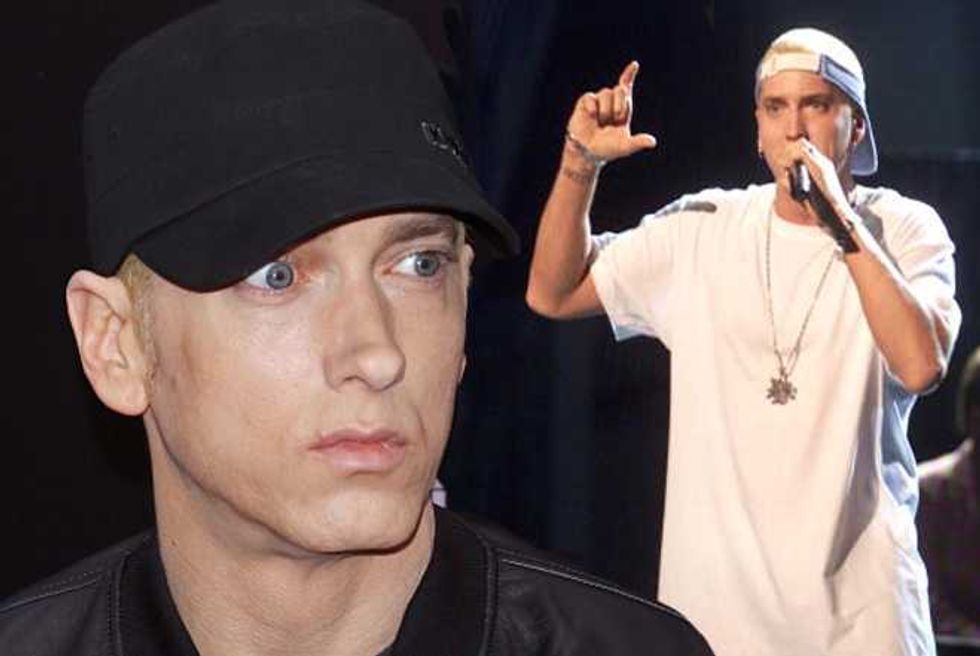 Eminem is finally opening up about his drastic weight loss—admitting that he replaced his addiction to drugs with what appears to be a pretty serious eating disorder and exercise addiction.
The drug addiction was no secret—after initially claiming he went into rehab to treat an addiction to Ambien, he came clean about the truth depth and scope of his drug use on his 2010 album Recovery.
Eminem Comes Out As Gay in Interview...Sort Of... Kind Of... Whatever
He went deeper into the subject during his appearance in the 2013 documentary How To Make Money Selling Drugs, admitting that his reliance on prescription pills, including, Vicodin, Ambien and Valium, led to his near death after progressing to methadone.
Eminem said he started taking methadone after a dealer told him it was "just like Vicodin, but easier on the liver," and he continued taking it right up till he overdosed on the heroin substitute in December 2007. Doctors told the then 35-year-old that he had ingested the equivalent of four bags of heroin and was "about two hours from dying."
Eminem's Little Girl Hailie Mathers Went And Got Herself All Grown Up
Not surprisingly, that was the wake-up call he needed, but after years of serious drug abuse, Em had worn a hole in the lining of his stomach, and he had attempted to fill that hole by binging on fast food, so, to say he was in a bad way physically would be somewhat of an underestimation.
After finally getting clean, Eminem, real name Marshall Bruce Mathers III, channeled his addictive personality away from drugs and towards exercise, leading to his recent drastic weight loss and gaunt appearance.
The Good, The Bad, And The Very Very Ugly Celeb Mugshots
He opens up about his new found eating disorder and exercise addiction in an interview with Men's Journal:
I was close to 230 pounds. I'm not sure how I got so big, but I have ideas. The coating on the Vicodin and the Valium I'd been taking for years leaves a hole in your stomach, so to avoid a stomachache, I was constantly eating — and eating badly. When I got out of rehab, I needed to lose weight, but I also needed to figure out a way to function sober. Unless I was blitzed out of my mind, I had trouble sleeping.
So I started running. It gave me a natural endorphin high, but it also helped me sleep, so it was perfect.
It's easy to understand how people replace addiction with exercise. One addiction for another but one that's good for them. I got an addict's brain, and when it came to running, I think I got a little carried away. I became a f*cking hamster. Seventeen miles a day on a treadmill.
I would get up in the morning, and before I went to the studio, I would run eight and a half miles in about an hour. Then I'd come home and run another eight and a half. I started getting OCD about the calories, making sure I burned 2,000 every day. In the end I got down to about 149 pounds.
I ran to the point where I started to get injured. All the constant pounding from the running began to tear up my hip flexors.

After finally coming to the realization that he was going totally over-the-top, Em eventually chilled the f*ck out and switched to a slightly more regular workout regime.
The Smallest Penises In Hollywood—Check Out Who's In The Teeny Peen Team
He now mixes it up with free weights, bench, and pull-up bar, in a workout called the 'Body Beast" and, although it's a much healthier level of working out, he admits it's still somewhat of an addiction.
I guess I'm pretty compulsive working out. I feel like if I step away from it for too long, if I have a crazy week and take a five-day break, it'll be like starting over. I'm afraid that if it goes beyond that, I might lose the motivation. Once you're at a place where you've made progress and you've got some time invested in it, you don't wanna quit and give up what you started.