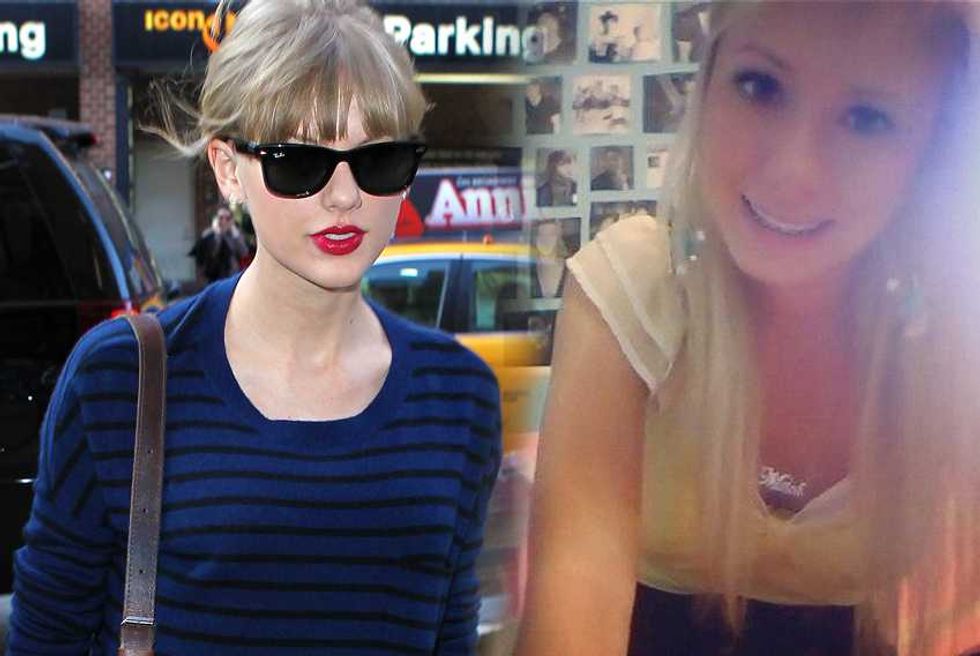 The news that Taylor Swift and One Direction's Harry Styles are at the most a couple, and at the very least, enjoying zoo trip and sleepovers complete with toiletry bags, has us in a state of flux this week. Should we support another relationship that probably won't last, for the sake of songwriting? And how does it feel to watch the object of your affection get taken off the market by someone who can apply red lipstick so flawlessly?
Count Eminem's daughter, Hailie Scott Mathers, as yet another music fan who feels personally victimized by the recent developments between two of pop's most eligible. She'll turn 17 in December, and like many a Directioner, has taken to Twitter to express her true feelings about Hazza's potential new flame:
if @taylorswift13 is really dating the love of my life @harry_styles i will not be happy.!

— Hailie Scott Mathers (@hailiejade_x) December 3, 2012
Feel you, girl. We thought he loved us!
Dear @taylorswift13, please stop whoring around with every guy you see. We all know you're only doing it so you can make another album.

— Hailie Scott Mathers (@hailiejade_x) December 3, 2012
Now, now. It's not nice to call people names, Hailie. And we tend to side with Ke$ha when it comes to dating advice anyway.
I, am never, ever, everrrrr, listening to your music againnnn @taylorswift13. LIKE EVER.

— Hailie Scott Mathers (@hailiejade_x) December 4, 2012
Nooo. Now you've done it. You've cut poor Taylor to the core. This "relationship" was supposed to have the complete opposite effect on album sales!
We're not saying it's appropriate to attack people on social media, particularly the romantic partners of your musical idols—although it's certainly not uncommon. The most important thing to take away from this one-sided exchange, though, is what in the world Marshall thinks about his precious baby girl worshipping a boy band and listening to Taylor Swift's music in the first place.
UPDATE: The Twitter account @hailiejade_x has been disabled after posting an apology for all the Taylor comments;  a rep for Eminem told E! News @hailiejade_x was not Hailie's account to begin with. Obviously Shady's daughter is too smart to get wrapped up in social media.
[Gawker]