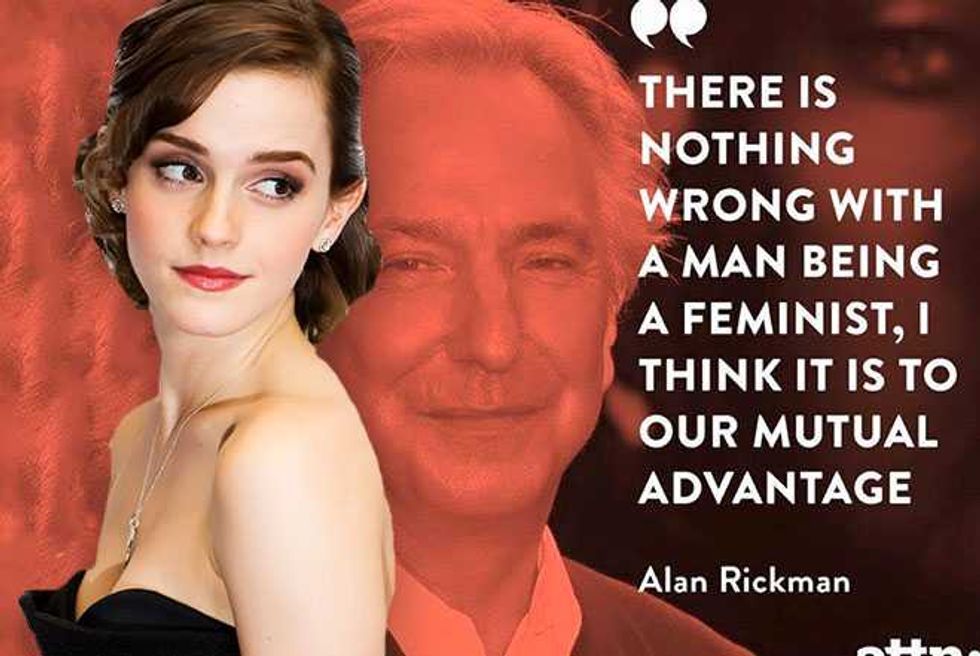 emma watson alan rickman death Emma Watson Alan Rickman Death Furor Proves People Need To Get A Life
The dumb-as-fuck Emma Watson Alan Rickman death furor proves that people need to get a life—really.
As Popdust previously reported,  the 69-year-old British actor passed away Thursday following a short battle with cancer.
Fans and celebrities alike took to social media to share their condolences, and remember the acting legend—heaping praise on Rickman's undoubtable screen and stage talent, humor and wit, in addition to the many admirable qualities that made him the great man that he was in his everyday, regular life too.
Do Women Need An App To Stop Saying I'm Sorry?
Watson was one of those celebrities, the 25-year-old took to Twitter to express her sadness at Rickman's passing—posting a photo of the actor with a direct quote of his, supporting and praising feminism—a subject very close to Watson's heart, because, HELLO! she's a woman with a brain.
Here's the quote:
There is nothing wrong with a man being a feminist, I think it is to our mutual advantage.
Feminism, and the empowerment of women, is a subject that's so close to Watson's heart that she was appointed UN Women Goodwill ambassador, and she helped launch, and continues to tirelessly advocate on behalf of, the UN's HeForShe campaign, which calls for men to support gender equality.
Sports Illustrated Covergirl Lectures Women Who Want To Look Like Her
So, it's little surprise that one of Rickman's many qualities that really drew her, and endeared her, to him, was his willingness to publicly make known his support of feminism and equality.
Now, Watson clearly knew Rickman very well, and was close to him on a personal, as well as work basis, having starred in a whopping eight movies with him—she literally grew up on film sets with the actor as they worked on the super successful Harry Potter franchise together—and she shared her feelings about his death in a number of other tweets featuring quotes he made on a variety of different subjects—in addition to re-tweeting several touching tributes to him written by others.
Among the other Rickman quotes that Watson tweeted were:
I want to swim in both directions at once. Desire success, court failure

Acting touches nerves you have absolutely no control over
Watson also posted a statement on her Facebook page:
I'm very sad to hear about Alan today. I feel so lucky to have worked and spent time with such a special man and actor. I'll really miss our conversations.

RIP Alan. We love you
But, the ever-pathetic and despicable trolls were quick to hone in on the tweet from Watson that included Rickman's feminism quote—accusing her of exploiting his death to promote her own "feminist agenda".
Seriously? Really?
And yeah, as any woman who is an outspoken and proud feminist knows only too well, accusations of promoting your "feminist agenda" is basically code for SHUT THE FUCK UP WOMAN.
Well, no, fuck you, you assholes.
Among those assholes was the TMZ sister site, Fish Wrapper—one of their tween-like fan-girl-style writers sounded off about Watson's tweet, in a post titled, Too Soon, Emma Watson, Too Soon.
And here's what they had to say:
Apparently Emma Watson can do some wrong.

Using her former costar Alan Rickman's death as an additional pedestal from which to proselytize her feminist wiles, Emma Watson is under fire from a lot of folks on the internet, saying that she's exploiting Snape's death to further her own agenda.

We don't think that Emma is that insensitive, or that selfish, to be honest, and everybody makes mistakes -- this, friends, was a big one.

Emma stated that she didn't mean to undermine Rickman's death at all, and simply shared something that was close to her heart, but man. We're all for feminism and girl power and all that, dears, but there is more to life than hardcore feminism. Let's try our best to not forget that.
Right, OK. Consider us suitably schooled.
This post was supposedly written by a female writer—with the name of Sarah Taylor—now, we're going to giver her the benefit of the doubt, if she is indeed female, and assume that's she's just a silly little girl.
Because, otherwise?!!
"We're all for feminism and girl power and all that, dears, but there is more to life than hardcore feminism. Let's try our best to not forget that."
Hardcore feminism? Really?!!!
And no "dear", you are clearly NOT "all for feminism and girl power and all that"... that much is crystal clear.
For more entertainment, world, music and pop culture updates and news follow Max Page on Twitter