After four weekends of protests that caused hundreds of injuries and over 1,000 arrests, France is in an "economic and social state of emergency," according to French President Emmanuel Macron.
On Monday, the president made an underwhelming attempt to pacify public outcry, promising tax cuts and a minimum wage increase in a televised national address.
The speech marked the government's greatly anticipated response to weeks of the "Yellow Vest" movement against increased taxes and general social inequality exacerbated by Macron's administration. Macron appeared before the country in the wake of highly publicized images of tear-gassed protesters, cars and small businesses set afire, and graffitied national monuments reading "the yellow vests will triumph." One Paris wall even read, "Hang the King."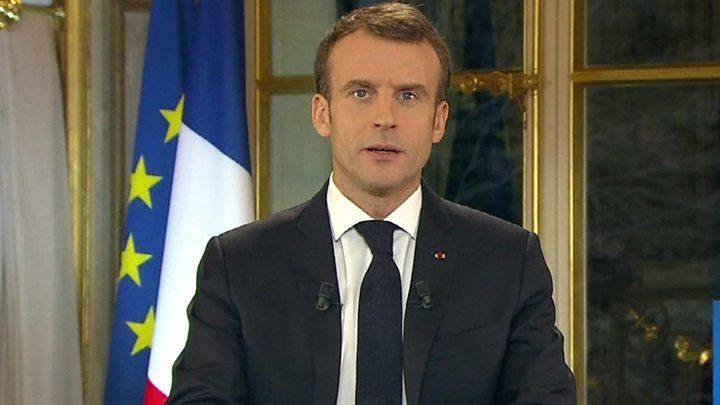 BBC
The protesters' highest hope, that Macron would announce his resignation, was not fulfilled. Rather, he condemned the violence, stating, "When there's violence, freedom stops." Macron, a former banker, attempted to placate his critics by claiming that he's been misunderstood as seeming indifferent to the working class' struggles under the strain of tax burdens. He implored, "Give us another chance."

One protester, a 68-year-old retiree named Jean-Pierre Meuneur, decried on Saturday, "Macron is there for the rich, not for all the French."
In response to such concerns, the French President announced plans to raise minimum wage by 100 euros per month beginning in January 2019, as well as cancel a planned social security tax hike for pensioners. He vowed, "We will respond to the economic and social urgency with strong measures, by cutting taxes more rapidly, by keeping our spending under control, but not with U-turns." In addition, he called attention to student debt and the need to create "a France where we can live with dignity."
He also urged all employers "who can" to give end-of-year bonuses "for all employees without any tax." Macron has been meeting with his ministers, business and union representatives, and leaders of parliament, ostensibly to present the promised reforms before parliament as soon as possible.
He claimed, "We are at a historic moment in our country. With dialogue, respect, and engagement, we will succeed. My only concern is you, my only combat is for you–our only battle is for France."
The spread of civil unrest in France has surprised the country and the international community. Fear of violence has forced profitable tourist attractions like the Eiffel Tower and the Louvre to close, while world leaders speculate over France's stability.
Over the weekend, Donald Trump was reproached by French politicians after he took to Twitter to share his own version of events in Paris. Trump took advantage of the violence to repeat his denunciation of the Paris Agreement, stating:
To date, no reports indicate any mention of Trump among the protesters.

France's Foreign Minister, Jean-Yves Le Drian, responded to the POTUS in an interview with the French television channel LCI: "We do not take domestic American politics into account and we want that to be reciprocated." He urged, "I say this to Donald Trump and the French president says it too: leave our nation be."
A more vocal rebuke came from Joachim Son-Forget, a member of the French National Assembly. He tweeted a response saying the "senile" president is "suffering from cerebral incontinence" and that Trump speaks without thinking just as one who is enfeebled and elderly "suffers from incontinence of urine or even feces and 'spoils' his sheets."
In France, this weekend will reveal whether or not Macron's assignations and promises will quell the frustration of the largely working class "Yellow Vest" movement. So far the one consistent demand that has united all the protesters is Macron's resignation.

---
Meg Hanson is a Brooklyn-based writer, teacher, and jaywalker. Find Meg at her website and on Twitter @megsoyung.
---
POP⚡DUST | Read More...
Brexit Derails: Vote Postponed, U.K. Has Power to Cancel Altogether
How Should America Remember the 41st President?
Neil Degrasse Tyson Doesn't Apologize for Alleged Sexual Misconduct