The Emmy Nominations 2015 were announced this week and Game of Thrones swept the board with a massive 24 nominations.
The hit series has been somewhat controversial, with even its fans questioning the show's treatment of women. Interestingly however, it is two of the episodes showing gruesome scenes of rape and murder that are up for awards—which goes to show that the producers who submitted the episodes are ignoring the backlash (because they sure as hell can't be oblivious to it).
Game of Thrones Recap—Poor, Poor Sansa Stark
Many fans declared that they were going to boycott the show due to the misogyny—some even camped out at last week's Comic-Con to get in front of show producers.  They gave them a good grilling, wondering whether the next season will "more overtly address and complicate these criticisms by showing them as the pitfalls of patriarchy, rape culture, and other forms of oppression."
This year has seen changes to the rules for the Emmys, including increasing the number of nominees for both comedy and drama series due to the sheer number of series in production.  Don't expect the headlines about the snubs to disappear though—surprisingly left off this year's shortlist were Julianna Margulies, Kerry Washington, Jim Parsons and (swoon) Timothy Olyphant.
See here for a complete list of nominees
Orange Is The New Black had campaigned to be moved from Drama to Comedy, but this was denied, however Glee, Shameless and Jane the Virgin were all let in.  The most shocking snub in the Drama category came in the denial of The Affair's Ruth Wilson, who won a Golden Globe earlier this year for her role.
Orange Is the Black Star Taryn Manning Arrested For Making Death Threats
The Affair Finale—You NEVER Saw This Shit Coming!
Traditionally the Television Academy sticks to regular shows and actors with just a sprinkling of newbies, and this year there was a big cheer that Tatiana Maslany was finally recognized for playing 10 different roles on Orphan Black with a nomination for 'Lead Actress In A Drama'.
Downton Abbey was nominated again in a classic stick-with-the-old-standby move—it's been recognized as a great drama for the last umpteen years, how about moving it aside and giving something like Empire a look in?
Kids Reenacting Breaking Bad, Downton, Game Of Thrones, Is Pretty Damn Fab!
Perhaps the biggest surprise (and snigger) was a nomination for Grace of Monaco, the shockingly bad Lifetime movie starring Nicole Kidman as Grace Kelly.  How on earth it got nominated for 'Outstanding Television Movie' is beyond us—it begs the question, just how bad could the others have been??
Make Gushing Awards Speeches More Bearable With Ultimate Emmys Drinking Game
The awards ceremony will be held on September 20—come back to Popdust for news on the winners, the losers and of course, the all important dresses!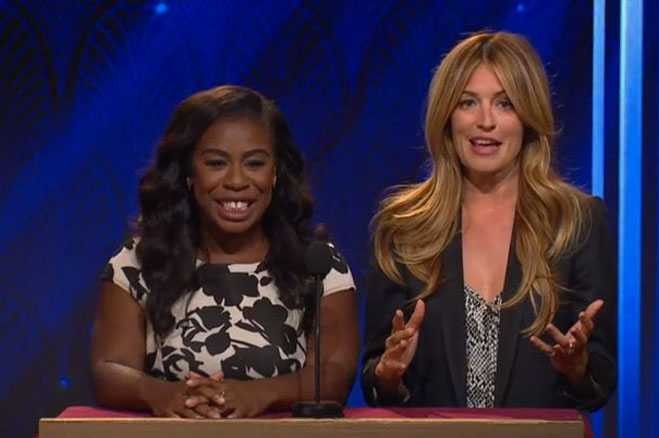 Uzo Aduba and Cat Deely announce the nominations.