Top Stories
MUSIC | The urban-pop duo discuss each track, their personal journeys and leaving a legacy.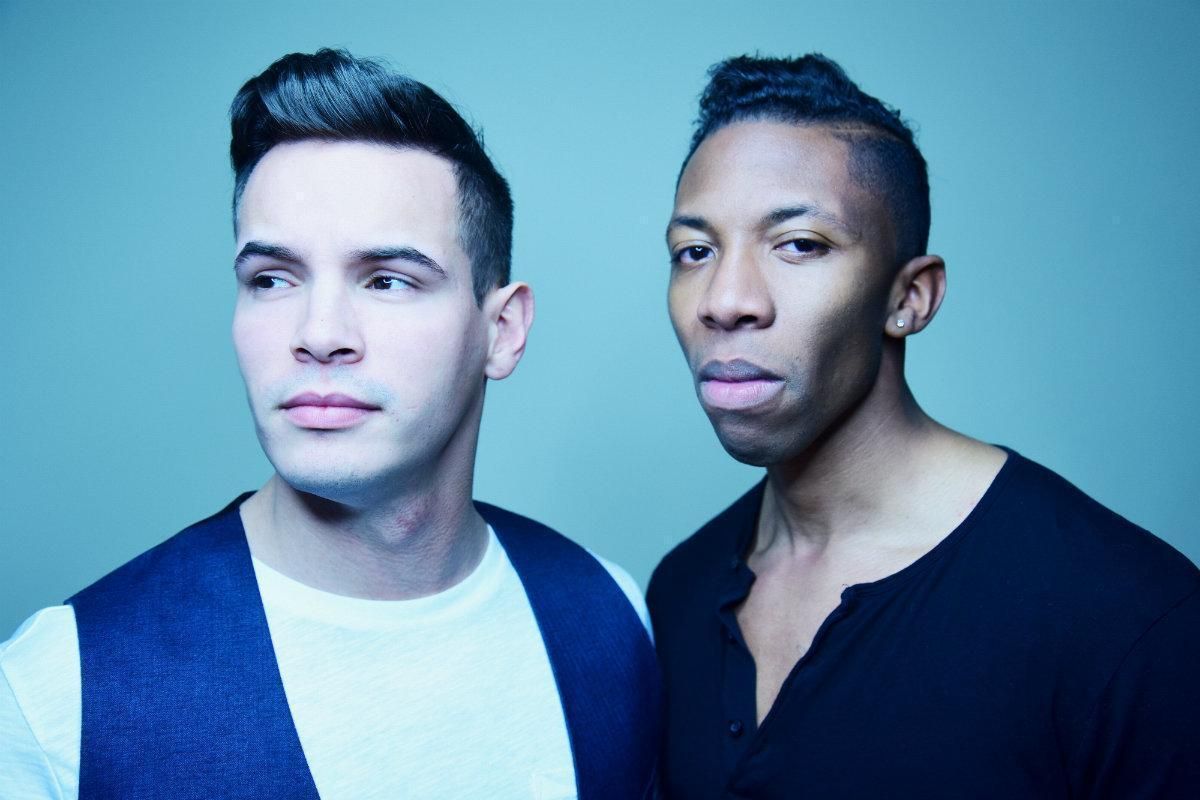 North Star Media
"I would love for my words to serve as sparks that ignite other people's hearts and creative visions," says band member Nick Young.
The legacy you leave behind in your wake is something we all attempt to uncover. Whether we are a musician or a doctor or an iron worker or a schoolteacher, the considerations of what we could possibly leave behind plague us, haunt our dreams, propel us forward. "Who're gonna be?" urban-pop duo Epoch Failure urge on one of their new cuts called "Legacy," a thickly-produced anthem about not only their story but ours. "I hear my soul say 'take a look in the mirror,'" they recount later. Given the state of the world in 2017, the propulsive track is eerily timely, set to trigger a rebellion across a nation of marginalized individuals and egregious abuses of power. The song is just one of five found on the duo's brand new Warrior's Hymn EP (out this Friday), and Popdust is beyond humbled to get our hands on the exclusive first listen.
"Much in life is perishable, but art can live forever and never die. I hope my legacy will be that my art inspires future artists," muses Nick Young. "Ideally, I would love for my words to serve as sparks that ignite other people's hearts and creative visions." Band mate Billy Joe Marrero adds, "I want us to be known as two guys who did what they believed in and never compromised--two guys who followed their hearts, did what they loved and embodied that spirit in their art."
The grungy, dirty, intense opener and title track rumbles from within. "My time is now, no more waiting," reads the first lyric, anchored with heavy rock licks and throbbing, intoxicating percussion. It is certainly tone-setting for the entire project, which sees the two dig their heels into the dirt and pour their hearts out: from the glossy energy of "Let the Fire Glow" to a retelling of Bon Jovi's iconic 1986 hit "Livin' on a Prayer" (from the rock band's Rock Star LP). And when they consider whose legacy they would love to emulate the most, they are stylistically divided. Young eyes "the legacy of Tupac Shakur," he admits. "Tupac was not just a rapper: he was a poet, actor, dancer, and writer. His art is what ultimately inspired me to start writing my own poetry, which eventually evolved into lyric writing. Most people fail to recognize all the good, positive contributions from Tupac, and instead just focus on the negative. There are several documentaries that actually highlight his more human and vulnerable sides."
Marrero turns to Billy Joel for inspiration--still clutching onto that raw, authentic storytelling but vastly dissimilar. "He's an amazing singer-songwriter, a hell of a performer, and he seems like a good person," he says.
Warrior's Hymn follows their splashy 2015 self-titled extended play, and with impressive streaming figures to their credit ("Champion" has nearly 260,000 streams on Spotify alone), Young and Marrero wanted to prove their ripened creativity. Young explains, "We always try to keep the music true to ourselves and steeped in our own experiences. Our first EP was more of an introduction to the minds and hearts of Epoch Failure; we tried to keep it fun and inspirational, without being too heavy. On this release we wanted to show a sense of musical maturation, both lyrically and in terms of production."
Their blood, sweat and tears pay back in dividends. The record chugs along at a feverish pace, weighty and enthralling, ranging from the darkness of "Warrior's Hymn" to the slickness of "Legacy" and the expansive intimacy of "Let Love Be That Light," which features prominent acoustic guitar overtop a syrupy, echoing pulse. It is evident what kind of statement they are making here, one of hope and love and resilience. "The new record says, 'We are warriors in mind, body and spirit. Life, with its many peaks and valleys, is our battlefield,'' Young describes. Marrero chimes in, "In a time when lots of people are looking for handouts and making excuses, I feel we made a statement that the classic American fighter still exists. Life is more fulfilling, more fun, and way more badass when you go out there and fight for what you want. Go get your hands and hearts dirty chasing down your dreams."
Young and Marrero then discuss their own personal journeys through writing and recording the EP, how they approached "Livin' on a Prayer" and other topics. Dig into our exclusive Q&A below: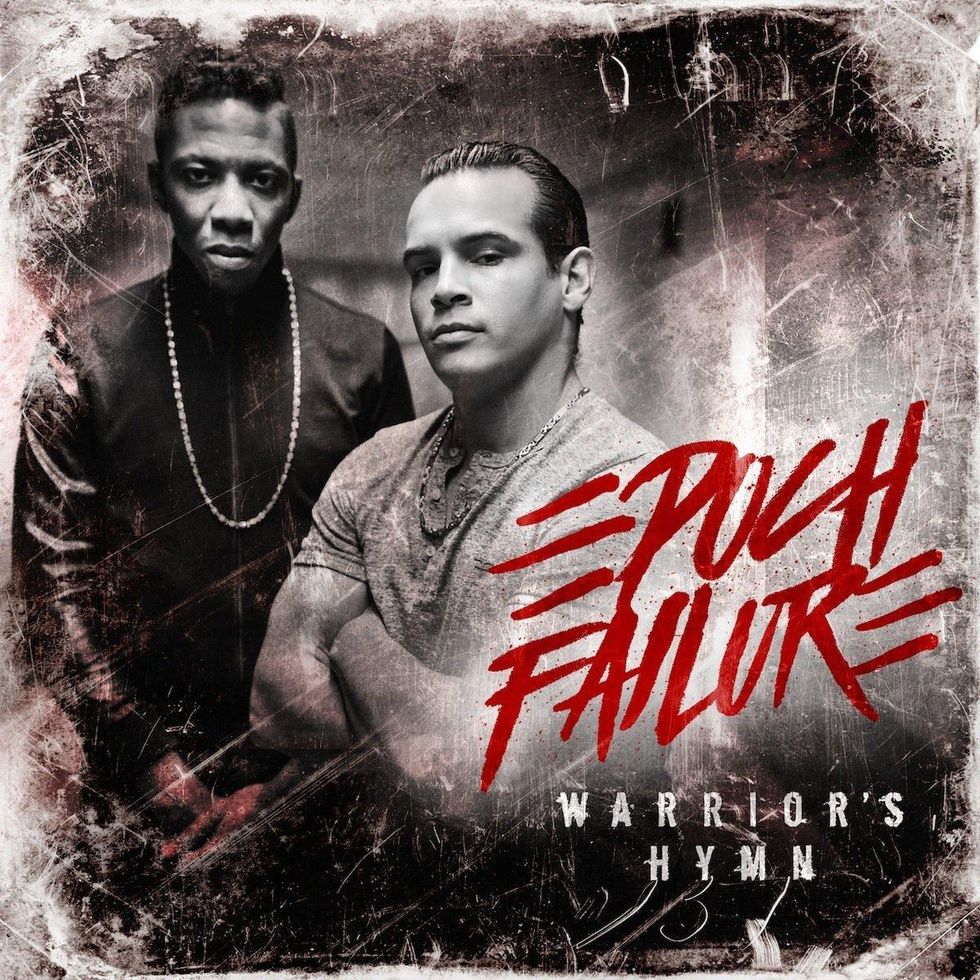 North Star Media
What was your personal journey through writing and recording this EP?

Young: This was some of the hardest writing for me to date. Lyrically, I felt the bar was set high by the amazing tracks and hooks. I didn't want to deliver anything less than fully worthy. On top of that, in my own life, I encountered some personal setbacks while working on this. The stress resulting from those challenges created some episodes of writer's block. Overall, these songs did not come to us easily; there is pain and struggle behind every lyric. Ultimately, I think they embody everything we went through individually, and together.
Marrero: I went through a serious breakup, moved a million times, questioned nearly every decision I made, and sometimes felt as if life was coming straight at me like a freight train. But each time I was writing and recording, things would become a little clearer, and I'd find some peace. Looking back now, I think I needed this EP on many levels. Nick and I were both in some tough and tight places, but it resulted in our most badass tracks to date. Intense pressure and heat creates diamonds. Or something like that. [laughs]

What did you learn about yourself in this process?
Young: I learned that I need to trust myself more in order to be free with my own feelings. Music is (and always has been) my way to escape my own problems and the problems of the world. However, this time around, rather than escape the problems, I learned to work through them and make sense of things with my own words.
Marrero: I learned what I'm made of and what I'm capable of. In doing so, I proved to myself that I'm meant to do this at a high level. Also, I discovered that sometimes art and personal passion can be the best medicine for tough times.
How did you approach "Livin' on a Prayer"?
Marrero: To be clear, we didn't sample anything from the original recording. All the music and vocals were recorded from scratch; they're our own performances. Overall, it was a hard and stressful process. When you're taking a run at a song as big as this one, you can't settle for anything mediocre or ordinary. No room for half-assed. So that pressure can get in your head, and it can make it daunting and intimidating. We wanted to honor the spirit of the original, while also doing something original ourselves. There was tons of trial and error and "back to the drawing board" action. It took us nearly a year to find the sweet spot. But nothing worthwhile is easy. If you're gonna do a job, then do it the right way, and do it with love and passion. Even though sometimes that passion can drive you mad. We're really pleased with how it turned out, as well as with the reaction it's gotten (especially the reaction from Bon Jovi).
Did you face any copyright issues?
Marrero: Honestly, our label dealt with all that stuff behind the scenes. Everything ended up in a great place, and they said the Bon Jovi camp was super cool about everything, so I don't think there were any tangles or hurdles.
What was it like to get his seal of approval of your retelling?

Young: Bon Jovi is definitely one of my childhood idols. You know, it's impossible to grow up in Jersey and not know of the man and his legendary musical status. Therefore, it was kind of surreal for us when the Bon Jovi camp discovered our new interpretation, and shared it across all their platforms. It was like getting the official stamp of approval, which was huge. Huge beyond words.
Marrero: It was amazing. I actually got teary-eyed several times as things were playing out. I remember thinking to myself, "Well, we must be doing something right."
What is it like having such huge streaming numbers from songs like "Champion"?
Young: "Champion" was definitely one of my favorite songs to write, and it's still my favorite to perform. However, I honestly can't say we expected (or could've predicted) "Champion" would become as popular as it has. It's been incredible watching the play counts continue to climb, and it's awesome how many people are still discovering us for the first time by way of that song. I think the universal appeal of "Champion" means we obviously struck a chord that resonates with a broad cross-section of humanity. The song came from such a real place for us and straight from the heart. That probably has a lot to do with the reaction.
Marrero: It's truly an honor. When you're young and starting out, it's easy to have big dreams. But even when you work hard and keep believing the whole time, you never know how things will turn out. There are no guarantees. We've been blessed.
The duo also gives Popdust a play-by-play of the EP down below.
Track-by-Track Commentary
"Warrior's Hymn"
Young: We often record tracks that we call our "flex" tracks, meaning we treat it as a lyrical exercise to go head-to-head and try to best each other. In the process, we'll play around with rhyme patterns, production and other elements. "Warrior's Hymn" started off this way, but we quickly realized there was something much bigger there. We took elements from some of our favorite genres including trap, pop, rock and hip hop, and we mashed them up to get what you hear now. The lyrics are meant to wake up the warrior inside each of us, so we can face the "battles" in our own lives, and go after our dreams and goals. There's so much satisfaction when you achieve your goals by facing your fears and running the gauntlet. Do things your own way, stay true to yourself, and don't depend on anyone else.
Marrero: This was the last track we finished for the record. So, it was the light at the end of the tunnel following a long, emotional musical journey. In that sense, it was like our victory song.
"Let the Fire Glow"
Marrero: This song was fun all the way through the process of writing and recording. Initially, I was going for a pop-punk vibe with the track. Then, it went through a lot of experimenting, at times going more rock, then more hip hop, then back to rock, and so on. End of the day, I think we found the right balance. The underlying message is simple" be who you are, do what you want, and have fun doing it! It's a song for the dreamers and everyone who doesn't want to just blindly tread the beaten path.
Young: My lyrics in this song were about getting over and around obstacles that pop up. They were about having the perseverance to follow your spark and let the fire glow.
"Legacy"
Marrero: This is pretty straightforward. How do you want to be remembered? What does your legacy mean to you? And what are you doing to shape and influence people's perception and opinion? This was kind of a followup song to "Champion." The idea being that once you achieve some of those goals you've been fighting for so long and hard, how do you handle that success as a person? Ultimately, these actions will have the power to define you as much as your achievements do. This was a co-write we did while in Nashville, and it's the first time we worked with a producer other than Billy Hume. Chris Caminiti was the engineer and producer.
Young: In "Legacy," I treated my verse as if it was a conversation with myself. I presented myself with the options of mediocrity or greatness; it was my decision to choose my path, and steer my own destiny. To leave an honorable legacy, I think we have to choose the path of the extraordinary. We all hope we live to see how our greatest acts and achievements may have influenced people, but we often aren't around long enough to experience that.
"Livin' on a Prayer"
Young: I wanted to retell the story of Tommy and Gina through my own eyes and perspective. We've all toiled and slaved at crappy jobs for little pay just to make ends meet, and most times, they never do. Yet, inside, we have faith that things will get better. Somehow. Some way. So, regardless of how bad it seems and how much it hurts...every day the Tommy and Gina in each us returns to that diner or dock and keeps fighting the good fight.
Marrero: Production-wise, I think this was probably the hardest thing I've ever worked on. There was a lot of self-imposed pressure. This is THE legendary and beloved Bon Jovi anthem. If you don't do it right and nail it, you might as well go live in a cave because the diehards will be coming after you with pitchforks and torches. [laughs] It was a true labor of love and, more than anything, we wanted to do justice to a song that we really love, by an artist we admire.
"Let Love Be the Light"
Young: This song was by far the hardest for me to write. It took the longest for us to finish, and it was (ultimately) responsible for this EP release being delayed. The soul of this song is so deep, I didn't want to come at it wrong and without giving it the lyrical weight that it required (and deserved). Somewhere during the process, I began reading this amazing philosophy book about the light that dwells in all of us. Then, the words started flowing: "Nowadays we chasing views over vision, going live over living, persecuting the hero and celebrating the villain. Vindicating our wrongs, disintegrating our rights, intimidation of love, an imitation of life." We've become so accustomed to having every aspect of our life open for public scrutiny, and doing things for "views" and "likes" that hardly anyone even takes time to reflect on their own vision. We've vilified people that stand up for their beliefs, and accepted tyranny of thought in its place.
Marrero: This song means so much to both of us, as people and as artists. The message is big and worldwide. It's for anyone and everyone. Love is universal and everyone deserves and needs it. In a time where love is in short supply, fear not, we have plenty to go around.
---
READ MORE ABOUT MUSIC...
Listen | FINN MATTHEWS calls out the devilish "Julia" in new song
Premiere | Passafire scavenge the jungle for "Longshot" music video
Interview | MAGGIE ROSE is a poser and a poet
---