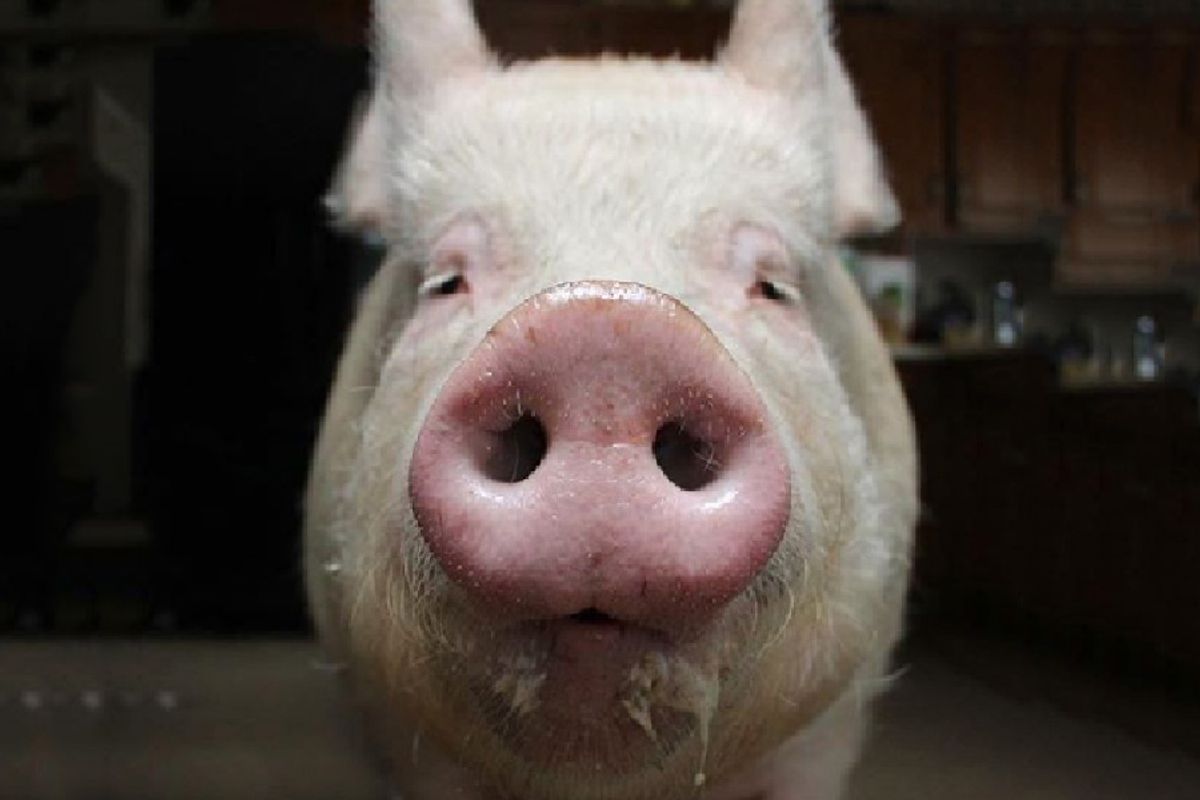 esther the wonder pig— Esther's piggie parents have used her social media fame to launch a whole career around the sassy swine…

Esther the Wonder Pig is a social media super swine—and with good reason.
The beautiful boar is 650 pounds of pure unadulterated porkie piggie love, and then some.
Esther was adopted by her piggie parents, Steve Jenkins and Derek Walter back in 2013.
At the time of adoption, the two believed Esther to be a "micro pig" but, she just grew.
And grew, and grew.
Jenkins and Walter clearly adore Esther, and she lives as part of the family—with free reign of the house, cuddles, treats and kisses galore.
However, they both advise AGAINST adopting an Esther of your own, explaining on her Facebook page:
We absolutely DO NOT advise anyone to take on a pig like Esther in their homes.
We have made this decision for two reasons. First of all; we were misled regarding what Esther was when we got her. People need to know the potential risks you're opening yourself up too with a pig.
We expected a mini pig, Esther is what we got. Please do plenty of research and consider adoption of your pig if you really feel you are up to being a piggy parent.
It is an amazing experience and she has changed our lives in amazing ways however; it was a ton of work.
The second reason we kept her is very simple. This isn't Esther's fault, she didn't ask for the life she was given.
We have the chance to provide her with the life she deserves, not the one she was bred for.
What kind of people would we be to deny her that? She deserves everything we can ever give her.
For Esther and for all the other pigs out there we haven't been able to save......yet.
Yet indeed.
Esther has made such an impact on the lives of her porky parents that they've converted their small home into an animal sanctuary, with hopes of rescuing and providing a safe home for other unwanted or abandoned animals.
Awwwwww….
The proud parents share that Esther's favorite activities include:
Rooting in the gardens
Sleeping
Snoozing
Napping
EATING!!
Apples
Granola Bars
Dozing
Power Naps
Catching Z's
Shut Eye
and sleepy time cuddles with my 2 dads and my other furry friends
And, just one look at Esther's hugely popular Instagram account confirm all of the above.
There's super cute pics of Esther sleeping, eating, napping, snacking, dozing, munching, chillin', nibbling…
Well, you get the idea.
Jenkins and Walter have used Esther's social media fame to launch a whole career around the sassy swine.
There's T-shirts, calendars, a book, mugs, caps…..you name it.
There's even an Esther the Wonder pig cruise!
Departing next year from Florida, proceeds from the 8 day Caribbean cruise will go towards benefiting the Happily Ever Esther Farm Sanctuary.
The cruise will feature plenty of "Esther Approved" dining options, a $50 on board credit for each guest, private "Welcome Cocktail Party", private film screenings, guest speakers, a gift bag full of exclusive Esther goodies, and countless fun activities throughout the trip.
We're guessing bacon will be strictly off the menu.
Scroll down to check out Popdust's pick of the cutest esther the wonder pig photos—and remember folks, a pig isn't just for breakfast.
To learn more about the pig farming conditions that Esther so luckily escaped, head to PETA's website.
For more entertainment, music and pop culture updates and news, follow Max Page on Twitter and on YouTube
---
READ MORE..........
The Canine Queen Of Instagram! Marnie The Dog Fun Facts

Meet The Russian Couple Who Live With A 300Lb Brown Bear Called Stepan

21 Of The World's Hands Down Very Ugliest Animals
Who Knew?!! 90s' Sex Symbols Barbi Twins Are Awesome Animal Rights Activists!
---
Check out Popdust's pick of the cutest esther the wonder pig photos: