Fashion
In New York's most hectic week, 2016 Playmate of The Year and model Eugena Washington keeps her focus with faith and family, and a history of freedom fighters.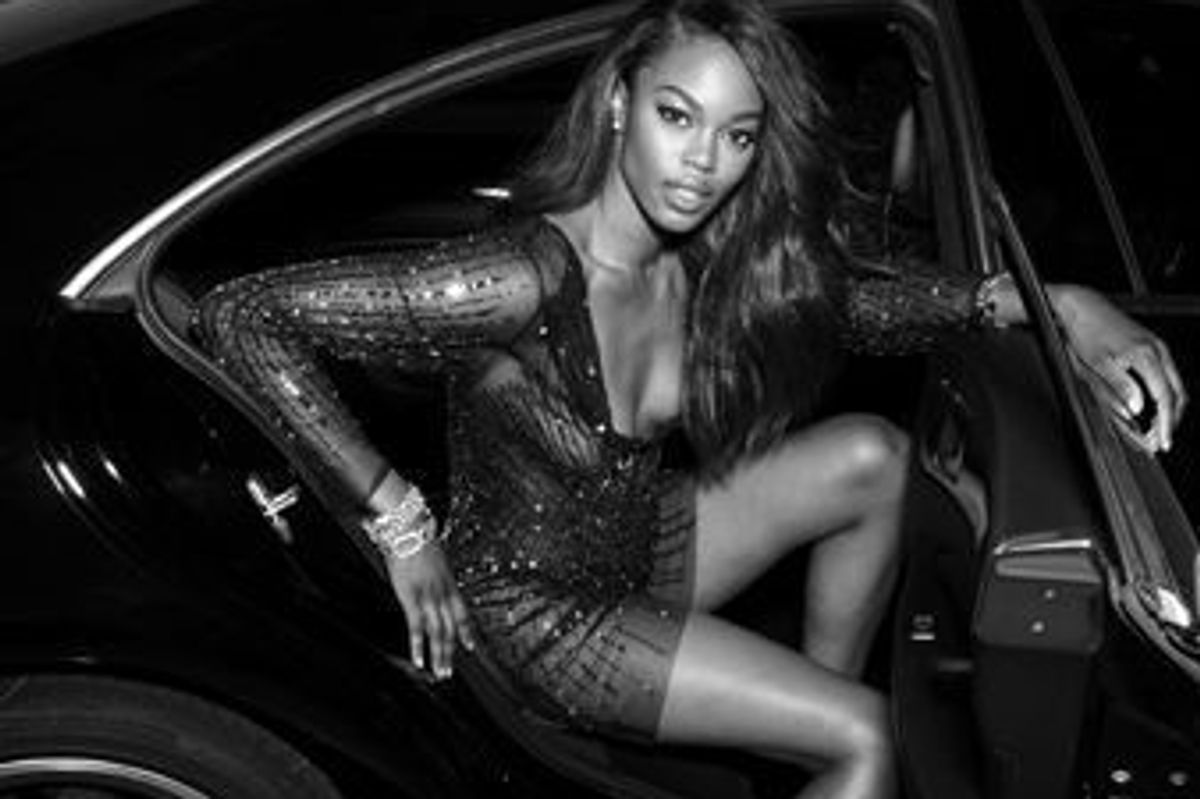 New York City is a beautiful, hot, mess this week, in the most literal sense. In what has been described as the last heat wave, New York City's annual New York Fashion Week (NYFW) has commenced, bringing with it models, designers, aspiring fashionistas, journalist, photographers, and anyone who has taken a picture in the park with heels, sunglasses, a wide brim hat, and an off the shoulder blouse with embroidered gauze.
In a city already known for it's beautiful people, fast paced movements, and unique sense of fashion, one model, Eugena Washington, keeps her cool. Fresh off of a train and sick, I enter New York City, scheduled to have a pre-fashion week night on the town with the beautiful super model. From the social media stalking I've conducted, it is a great time. Rooftops, pools, sunsets,bottles, and models, the scene looks like an R&B video from the late 90s to eearly 2000s—think professional friends celebrating success and the weekend. Eugena is smiling, and taking over Galore Magazine's snapchat. Seeing the shapely yet svelte beauty in her bright orange-red bikini top, it is no wonder the 2016 Playmate of the Year has not seen a shortage of work since debuting her strut in September of 2006 on the seventh cycle of America's Next Top Model. But what really stood out, were her eyes. The same eyes judges called dead ten years ago held so much life and wisdom that seemed to span way beyond her 31 years. I had questions, but they would have to wait until the next day, because that night, I had to forego my glamorous night of models and bottles for a lackluster night of rest and recuperation.
Tomorrow comes sooner than expected, and I wonder if the super model is going to be able to make this early call after a night of Empire State madness. She does, sounding much better than I do. Her publicist, Kenny, and I chat about last night's festivities as I sip tea (the green kind, not the shady kind) and try to regain my voice. From there, Eugena and I delve into an hour long discourse that has the familiarity of a conversation of good girlfriends. At one point I even said, hold on, let me switch rooms, I'm going to call you right back. For just an hour, the city that never sleeps took a pause from its pre-NYFW buzz so that I could enter into Eugena's world, a world of juxtapositions that somehow not only make sense, but successfully culminate to define her as a boss woman who knows her history, lives in her present, and looks forward to her future. Here is an expert from that conversation:

---
On Doing Her
Brittiany Cierra: I stalked your social media since I missed hanging out last night. You have that carefree personality I like to see in boss women, so that's just something I had to get off my heart this morning.
Eugena Washington: (laughter) Thank you so much. Sometimes I feel like I'm doing too much and it's hard to focus and I'm too all over the place but I'm just doing me. And that's how I conduct myself. So thank you so much for enjoying how I do my thing.
BC: I do! You know, the whole 'doing you' thing is very interesting. The brand I see online, whether intentional or not, seems very authentic. There's not an issue that you shy away from. We find out a lot about your music tastes and also one thing I like about you too, is that you aren't afraid to speak up for black people. And you do it tastefully but still fearlessly.
---
On Her Foundation
EW : Right because, here is the thing... my parents are from the south. My mom and dad are from Georgia which has the last standing slave auction in the south, and it's like a national monument. My dad has always been like a freedom fighter. He has always been the one in town that people would go to when things were happening. It's like,'Go see Eugene, somebody got put in jail,' you know? And he basically led the first high school class to be integrated in Georgia. He led the first successfully integrated high school class. We were taught growing up to know exactly who we are, exactly where we come from. To know our power, to know our importance, you know what I mean? We were watching "Eyes on the Front", we were watching "Cry Freedom", we were watching "Malcolm X", we were watching the Martin Luther King documentary. We were watching all of this growing up because my parents—that's what my dad was so passionate about. If anything he is still doing those things today. He wanted us to know who we were and how special we were. So of course it affects me, the things that are going on in our society right now. What makes me so— not upset, but it's frustrating, because if we knew the extent of our power, if we knew our history, if we knew where we come from, if we knew what we could actually do because we come from slaves and now we are where we are in the present. That's powerful. Sorry I'm rambling, but when we are growing up, they don't teach us black history. There is like a chapter in the history book about slavery and all kinds of stuff, one chapter, and the rest of the time we are learning about someone else's culture, someone else's history, as if we weren't even a part of it. That speaks to how a lot of African Americans don't really know where we come from, and I feel like if we did, we would not have these hashtags, these protests, we could take a strong scene. I ask myself all the time, who owns Sunday? Black people. The NFL owns Sunday. Who plays in the NFL? Black people. If everyone decided just not to show up on Sunday, what kind of change could you create? This is where I come from, and that's why I feel like it is so important, especially a person in my position and knowing what I know to speak up about it. If not we just get frustrated and angry, but it's not bout getting frustrated and angry. It's about encouraging each other, lifting each other up, and educating each other and everyone else.
BC: Was there ever a moment where you felt like being authentically you would hurt you professionally?
EW : I don't care. I don't care. Because doing anything can hurt you professionally... That's just how I am. People know I do what I want to do, so you can't expect anything different. If I was fake, or never spoke out about anything, if I was a follower and only followed the trends and then decided to speak my mind, then it would be a surprise and something to judge me on. But no—everyone knows that I will do and say and post exactly what I feel at the time. So no, I don't care, essentially, because I would not align myself in an industry, or in a situation where someone has complete control of my future. At the same time it takes a finesse in the things that you say, and we can speak candidly about the things that are going on, like how we feel about the cops being killed.
---
On Reality TV
BC: When we met you, it was through "America's Next Top Model". That's when reality TV was not as much of a scripted, organized, mainstream business as it is now. Is there anything that you learned about yourself or the business, just—
EW:(interrupts) Girl No! I'm going to tell you something about reality TV. It is a show for entertainment. So everyone is themselves to the tenth power. It's about entertainment. No one is going to watch the show if you aren't being you times 10. I know for me, my show specifically, there were no phones, no radio, no TV, just all of us together. Just 13 girls in a pressurized situation like that makes for drama. They did tell us, the casting directors, that you have to find something about yourself that is appealing, and then play up on that. I wouldn't say I was my authentic self, everyone had a role to play. If you were shy, you had to be shy. If you were outspoken and assertive you had to be outspoken and assertive. It was that type of thing. I didn't learn anything about myself...at all. I just went through the motions to be honest.
BC: Would you do it again? A reality show, I mean?
EW: A reality show? Hell no I wouldn't do it again. Absolutely not. Girl I don't even remember how I was. I don't even think i was entertaining. It was just so (giggles). It was so unreal to me, that I was just turned off by the whole thing.
BC: I would watch it if it was something you could control. You, your day.
EW: If it was my reality show. My life, my family, I would do it like that. But I wouldn't be a part of nobody's ensemble cast.
---
On Doing Playboy
BC: I wouldn't expect you to Eugena, I wouldn't expect you to. What should we talk about next... Playboy! Let's talk about Playboy. In December, you were "Playmate of the Month", fast forward five months, and in May you are announced as "Playmate of the Year". I don't even know how this process works. Do they tell you in advanced? Is there a vote?
EW: You know what, I don't know. I would just say the timing is right. Playboy wanted to move in a different direction with the non-nudity. They wanted to be more diverse and appeal to a different crowd, and I think I just came along at the right time to lead them into a new direction.
BC: You looked so comfortable and I just get the feeling you don't do things you don't want to do. I feel like if I ask if you had any reservations you are going to say no, but I am going to ask you anyway, did you have any reservations?
EW: (shouts and laughs) Yes!
BC: (laughing) You surprised me. What were they?
EW: This is how I first got into playboy. My friend Josh and I shot for a magazine two years ago. We remained friends over the years, and that was just it. Then he text me and was like, 'Hey Gena. I shoot for Playboy now, would you like to come in and do a test shoot?', and I just never considered being a part of Playboy because during the last couple of years, I really didn't like the direction they were going artistically. So the answer has always been no, but I said, 'You know what Josh, you know me and I know that we always put out great work together, so if you are shooting it, that would be the only way that I would do it.' And he said, 'Absolutely. I'll shoot it. I'll make sure I do your pictorial, and it will be a collaboration between you and I and it would be something that will be a representation of you.' So that's why I did it. And then it rolled over into Playmate of the Year. But posing nude? No i didn't have any reservations for it because as a model you know you are going to do that. It was just who was going to shoot it, and the creative direction of it. If it was not going to be the way i want it, then absolutely not.
---
On Colorism in the Industry
BC: So I moved here from DC about two years ago, and my best friend is up here for a couple of months. This guy I know was like, she's going to get a lot of attention. I was like, yeah, I know she's beautiful, but why do you say that? And he was like basically, shes every Black man's dream, light skin, long weave, slim. And I asked him, 'Is that really people's only criteria for beauty?' and he said, 'In New York it is.' I haven't experienced that to be much of a real thing, but for you being in the beauty industry, do you see that internationally, nationally? Because you are a model, you have a wide reach. Do you see yourself not being picked often for someone who has more European features?
EW: Ummm...No, because in the type of modeling I do, in fashion, that is not an issue. Because I don't do Urban modeling it's not a competition between dark skin/light skin modeling, it is more so just the fact that there is not a lot of room, well there wasn't at one point, a lot of room for African American women, as a whole. That's definitely changing right now. And it's funny because even though I am darkskin, people tell me I have European features, or they ask me what I'm mixed with, because I can't just be Black, you know?
BC: Of course Not!
EW: Yeah, but that's never been a thing and I never paid attention to that. And I never paid attention to what men preferred, because if you don't like me, then I don't like you... I feel like everyone has their preference, and that's ok with me.
---
On Influencers Penetrating the Marketing World

BC: What I do see, which kind of goes back to the reality television field, is that a lot of entertainers are starting to cross over into modeling. I'm thinking once you get to your level that's not an issue, but there was something not too long ago where Kendall Jenner walked in a Victoria's Secret Fashion Show and models felt like they were slighted because she was so popular versus talented. Do you think that's starting to become an issue in the industry, where it is more about pop culture than skills?
EW: The industry is definitely changing. Right now everything has to do with your following, and basically your popularity, and I saw that a couple years ago when I was doing Fashion Week, going to a casting, and they asked your name, agency, and put your Instagram down there. And I was like, 'Oh my God. This is really crazy.' This is something that never happened before. I mean, it's frustrating, definitely, but at the same time, I have to realize people have to make money. This is an industry, it's not just about models. It's not just about taking pictures. The designers have to make money as well, and if that is where design is moving into, you just have to move with it. It is definitely frustrating, but it is something you have to get used to. Fashion is forever changing, just like everything else, so you have to change with it.
---
NYFW Prep
BC: I imagine NYFW get's pretty hectic. Tell me how you keep in shape and keep your energy up this week?
EW: Fashion week is always so hectic. It's fun, but it's hectic. I drink a lot of water a week leading up to it. I have to clear my mind and schedule and know that I am going to be running around. I keep a bunch of snacks in my bag because you def need energy. I try to keep a sense of calm and stillness inside of myself. If there's too much going on, I just stop, take a breath, and decide to only do the things I can do, because it can be overwhelming, for sure..
BC: How do you keep calm? Is there a soundtrack? A playlist?
EW: I have my earphones on at all times, and it's always on Gospel. It has to be. I have to call on the Lord during Fashion Week for sure.
It's funny, at the end of Washington's run on ANTM, Tyra knowingly asked Eugena, "Are you going to keep going, and say, 'What you saw on Top Model is not who I really am. I want this.'" Tyra knew. Eugena knew. Even Melrose and Caridee knew. And now, so do you.