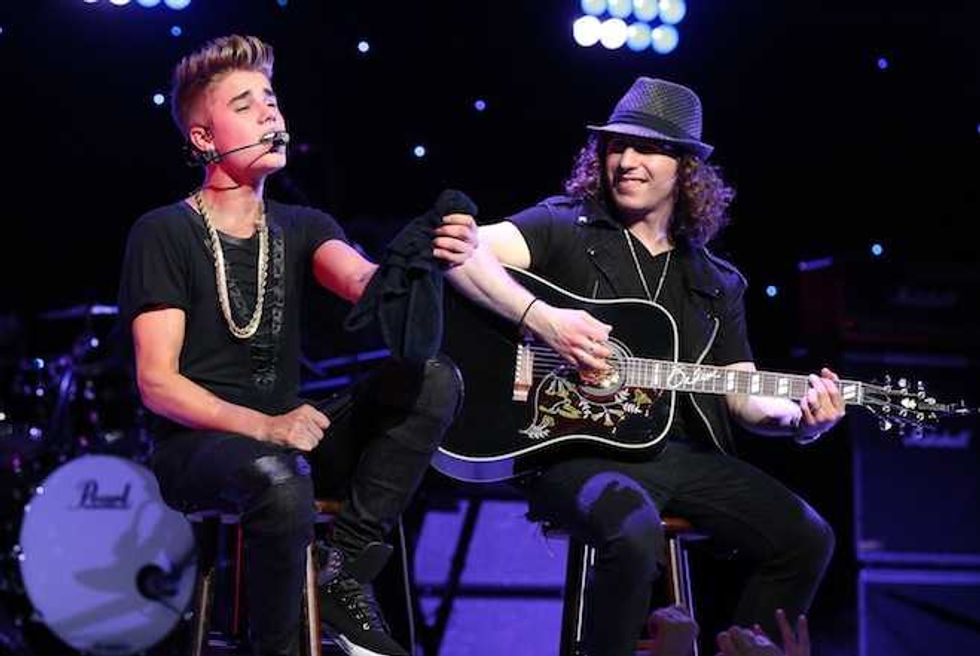 It appears things are finally going Justin Bieber's way. After a horrible March, it looked like some tone-deaf statements at the Anne Frank House ("Truly inspiring to be able to come here. Anne was a great girl. Hopefully she would have been a belieber,") would continue the drama all the way through May. But in the wake of a horrible week, we're seeing a lot more charitable interpretations of Bieber's comments, some of which come from the most unlikeliest of sources. (As well as, it must be said, from the likeliest.)
Let's start with the likely candidates first. Would you believe that a person on Bieber's payroll thinks the pop star's remarks were totally fine? Yes, we laugh, but that snarkiness does a disservice to the writing ability of Bieber's guitarist and artistic director Dan Kanter, who penned an artful defense of Justin:
What Justin wrote in the Anne Frank House guestbook was not ignorant or disrespectful—it was in fact thoughtful and profound. Having grown up in a Jewish family in addition to attending Hebrew day school and Jewish summer camp, the Holocaust is a topic I have studied extensively. When conceptualizing the events of the Holocaust, it is common to imagine ourselves and our loved ones in the places where people were persecuted by the Nazis. This is to forge a personal connection with those who suffered—so that we remember, and of course so that it never happens again.

[...] Anne Frank was 13 when she and her family went into hiding, and 16 when she died in a Nazi Concentration camp. Justin is 19 years old, only 3 years older than Anne was. Furthermore, everyday he meets hundreds of girls of the same age and performs for thousands more. The fact is: no one in the entire world has a stronger relationship with millions of teenage girls than Justin. Therefore, it only makes sense that he would connect with Anne this way
Elsewhere in the music industry, rapper 50 Cent took time out from the Pain and Gain red carpet to tell Vulture that he agreed with Bieber's note:
She probably would have been [a belieber].
Not content to leave the Bieber defenses to the rubes, Matt Weinstock of the New Yorker also waded into the debate:
I think Bieber can be forgiven for thinking of Anne as someone who's still breathing. The writer Shalom Auslander dubbed Anne Frank "the Jewish Jesus," and like Jesus, Anne Frank is constantly being resurrected. Anne's defenders seem not to understand that her appearance in irreverent sequels to the diary are crucial to keeping her alive as the "little bundle of contradictions" that she was. Our collective vision of Anne is always in peril of drifting into somber martyrdom (if you haven't read the diary in a few years, it's easy to think of her this way), and the so-called trespasses on her memory are really vital acts of defibrillation.
But the most apt defense came from the least-likely source: Frank's step-sister and childhood friend Eva Schloss. As someone who actually knew Anne Frank, Schloss pointed out that she was a real teenage girl, with real teenage interests:
She probably would have been a fan. Why not? He's a young man and she was a young girl, and she liked film stars and music.
Now that Bieber's got the coveted Eva Schloss endorsement, could his latest meta-meltdown be avoided?