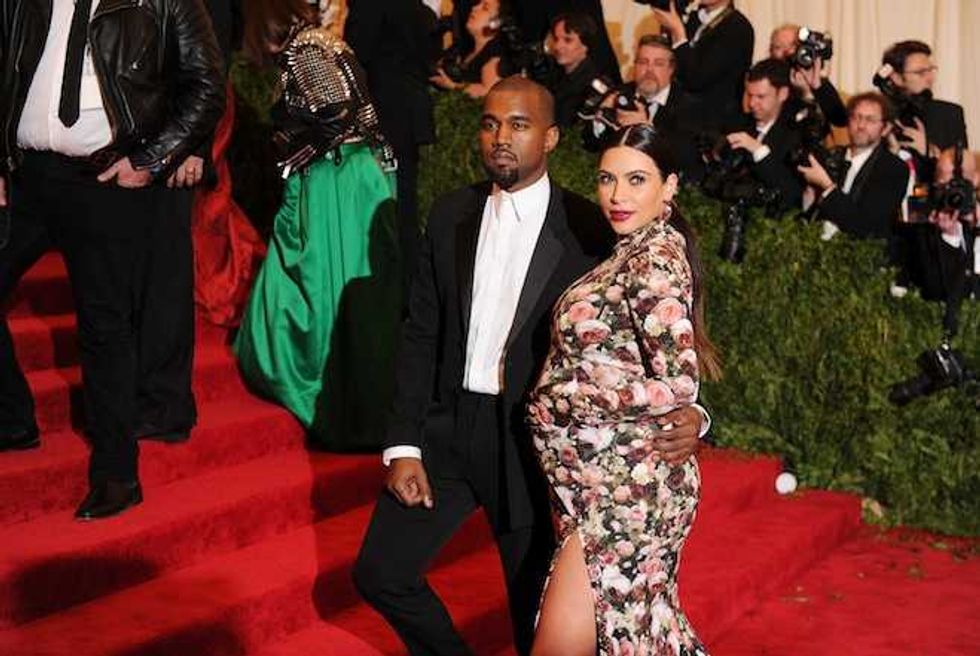 It's been over five months since Kanye West revealed that he and Kim Kardashian would bring a child into the world. Considering the normal waiting time of three months to announce a pregnancy, it seems likely that the Kimye baby will arrive sometime in the next few weeks. As the momentous date approaches, we've got answers to all of your most pressing questions.
First off, boy or girl?
Does it have a name yet?No, but Kim has previously joked about naming the child "Easton." If they don't go the directional route, CNN came up a whole list of other possibilities.
Have Kanye and Kim announced an official due date yet?
No, but Kim did have her baby shower on Monday. It had a "garden brunch" theme.
Can I win prizes from a British tabloid for guessing the day the baby will be born?
Sort of! The Mirror is organizing a sweepstakes for guessing the correct due date, but it's more of an office pool situation than a contest. America's own OK! magazine has a poll, but there are no prizes involved.
Is there a chance that the Kimye baby will be born on June 18, the same date Kanye's Yeezus drops?
There is a small chance, yes!
Do you think Kanye could convince Kim to have a c-section on his album release date?
If Kanye was having a baby with anyone else, we would say there's absolutely no chance of a thing like that happening. But these are the Kardashians we're talking about. Of course they'd do it. Heck, there's a good chance it would be their idea.
What does Kim want to do with the baby's placenta?
She wants to eat it, because she thinks it will help her stay beautiful. As Fox News helpfully reminds us, "humans are actually one of the only mammals that don't regularly eat their own placentas."
If Kanye wants this birth to overshadow Jay-Z and Blue Ivy, what should he do?
Jay-Z famously sampled the cries of a just-born Blue Ivy for his song "Glory," making baby Blue the youngest performer to ever appear on the Billboard charts. You know Kanye is gunning for that record. There's only one way to break it: Record the exact moment his daughter is born, and release it as a single. Maybe he won't even rap over it. Just add some weird synths, maybe a little AutoTune, add a Stevie Wonder sample... Yeah, we like the sound of that.
Could Kanye West replace the blank artwork of the Yeezus album cover with an image of his daughter's head crowning during labor?
There are some people who work in the Popdust office who desperately want this to happen. These people are disgusting perverts.