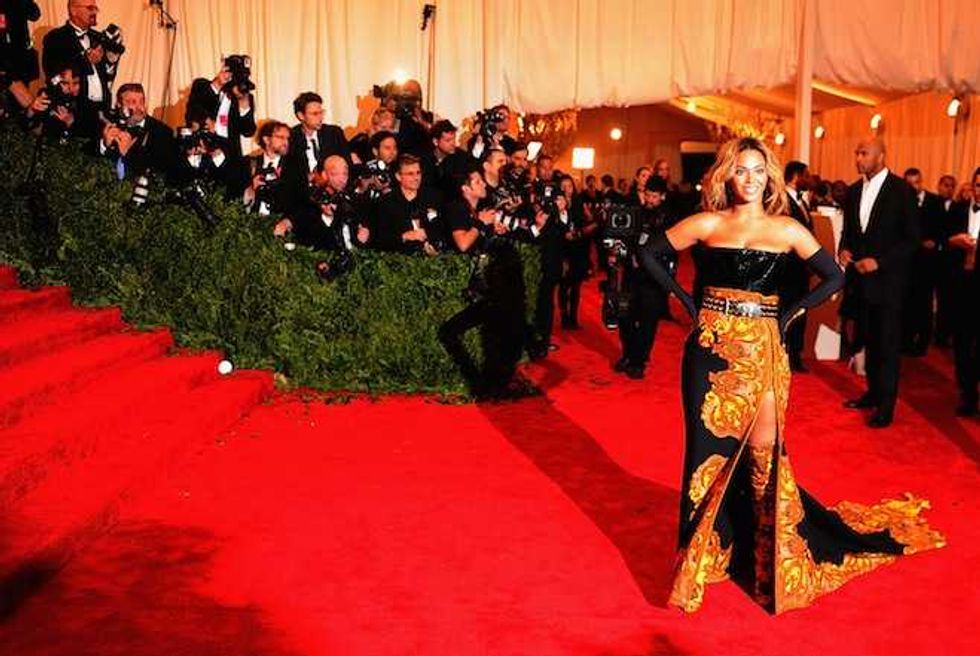 Good news: There's new Beyonce music! Bad news: It's not an official Beyonce song, but a collaboration with The-Dream and 2 Chainz. More bad news: It's also only a 90-second snippet. (UPDATE: The-Dream has released the full version of "Turnt" online a week ahead of its official release.) If you can handle all that, listen to "Turnt" below:
Let us ponder Beyonce's choice of title. This is the second "Turnt" reference we've got this spring, after Ciara's forthcoming "Super Turnt Up." And Ciara, for her part, seems intent on making "turnt" happen. As Idolator noted, she used the word twice in the first 90s seconds of her 106th and Park interview with Bow Wow.
Super Turnt Up www.youtube.com
So, odds are good that "turnt" will replace "ratchet" as music's new instantly ubiquitous slang words. This is, of course, very troubling. As a Popdust editor so memorably put it, "the word sounds like Medea saying 'taint.'" But if we're stuck with "turnt," we might as well try to understand it.
Like most slang terms, this one didn't come out of nowhere. "Turnt" has been an alternate way of saying "turned" for a while now (brief Googling suggests it originated in coal country), but by the early 21st century "turnt up" had become a slang term for "horny drunk" or "generally drunk and/or high." As Urban Dictionary put it:
Turnt: A state of altered consciousness induced by alcohol or narcotics, also being happy and excited and energetic! And/or having fun. (Verb.) The term started In Los Angeles, California in late 2007.

This was enough to get "turnt" its first hip hop music name-drops. First came Lupe Fiasco:
Then came Roscoe Dash and Soulja Boy getting all the way turnt up:
Then came Chris Brown ft. Tyga:
Fine musicians all, but not exactly people who get taken super-seriously these days. But now, with Queen B leading the charge, and the word's popular meaning shifting from "drunk" to "excited," "turnt" finally has all the pieces in place to make a major run for the slang term crown. We don't particularly like it, but we're just going to have to accept it. If they start mixing it with #YOLO, though, that's where we'll draw the line.
UPDATE II: And now Miley Cyrus has gotten into the mix with more African American culture appropriation in her lyrics.
Miley Cyrus - We Can't Stop (Official Video) www.youtube.com
From Your Site Articles
Related Articles Around the Web