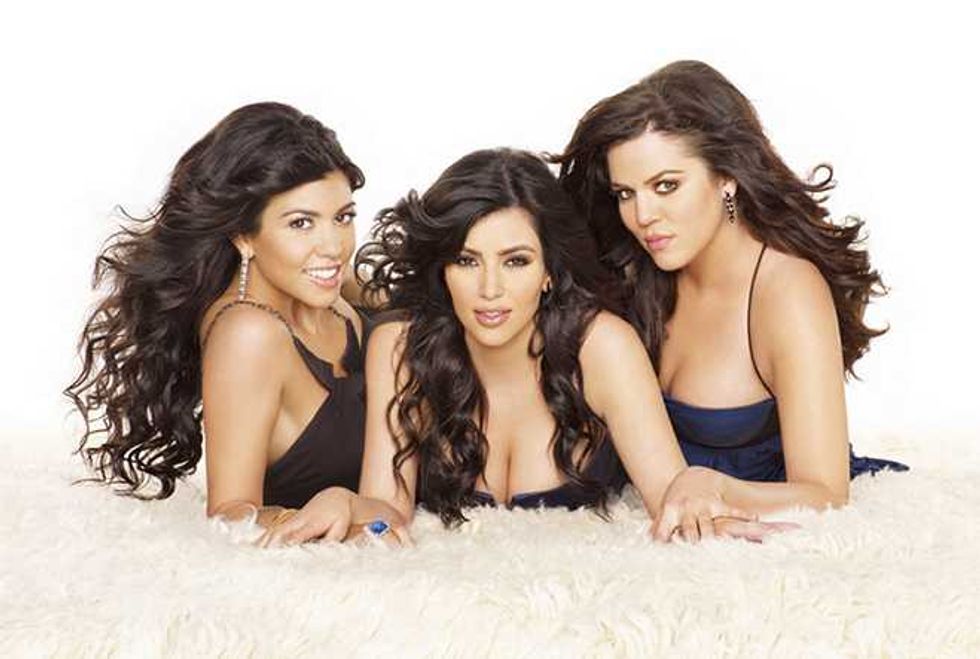 Ah! The Kardashians!
Just like Herpes, they are the gift that keeps on giving—and yet, somehow, even more unpleasant.
If you are anything like us here at Popdust, you've never spent one single moment pondering the finer things in celebrity life, like the state of Kim Kardashian's pubic hair.
iPhone Lardass-Kardashian Autocorrect Absolves Apple Of All And Any Sin
But, luckily for all you out there who are dying to know, little sister, Khloe, has kindly filled us all in.
Such a mensch.
So, if you really have to know—Kim is as bare as baby's butt, Khloe has a neatly manicured landing strip, and the oldest of the KK sister atrocities, Kourtney, has a full on 1970s Penthouse style bush.
Kris Jenner Thinks Kylie's Bondage Sex Doll Bare Ass Photos Are 'Beautiful'
Khloe took to her app today to share all—thankfully sparing us the pube status of her two younger half sisters, Kendall and Kylie Jenner, and momager Kris…..shudder.
First up, her good self:
You guys know I'm not gonna beat around the bush (no pun intended), so let's get straight to it: I'm all about the landing strip. I like to be clean; I like to be manicured. When there's nothing there, it's weird, in my opinion — especially when you have t*ts and an ass. It just freaks me out a little bit.
Conspiracy Theory Thursday—Khloé Kardashian's Real Dad Is OJ
And then the fragrant Kim:
I know Kim is completely bare, and now she says she wishes she still had a lil' somethin' going on but she lasered it all off. But I like that if I ever want to go bare, I can just shave it and change my mind later.
Kris Jenner Cops To 'Handful' Of Mistakes But Always Puts Family Before Money
Finally, the newly single Kourtney:
I always think of Kourt as large and in charge with a full '70s-style bush — it just matches her personality. Lol, very boho chic. She swears that's just a joke and has a landing strip … sometimes.
I think it's safe to say that we can all rest easier at night now....
Kim And Khloe Kardashian Plot To Snag Kourtney Some Hot Revenge Tail
For more entertainment, music and pop culture updates and news, follow Max Page on Twitter