It's no secret that rap is a male-dominated field. Case in point: for the twenty years the category has existed, Lauryn Hill is the only female to win the Grammy Award for Best Rap Album. Too frequently the female rappers that do receive popular success have been forced to be hyper-sexual beings. Lil Kim's legs spread far apart on the cover of Hardcore while wearing leopard-print lingerie is the best example of this oh too frequent "sex sells" approach.
While Lil Kim's promiscuous album cover was released in 1996, the '"sex sells" marketing method is being employed by female rappers more than ever before. For example, the lenses through which Nick Minaj is presented to viewers in DJ Khaled's "Do You Mind" is the best example of no matter how much success or talent a female achieves in the rap world, she may always be forced to play the more submissive role of "video girl" during a featured appearance on a male's song. The visual for "Do You Mind" features over 6 artists, the only female on the song beingMinaj. Each featured artist receives their own set up, the plot lines largely revolving around them sitting somewhere counting money while a female dances for them. Heck, there's even 30 seconds of DJ Khaled riding his jet ski around in pure glee. Yet, Nicki's set up is a largely gendered one (which is commonly the case for her featured appearances). It's centered around her sitting on a couch dancing for another man. There's a stark contrast here. A female who has secured more than a dozen's worth of number ones, sold out more arenas than some of the men on the song, and collaborated with the best of the best, is forced yet again to play the simplistic role of seductress.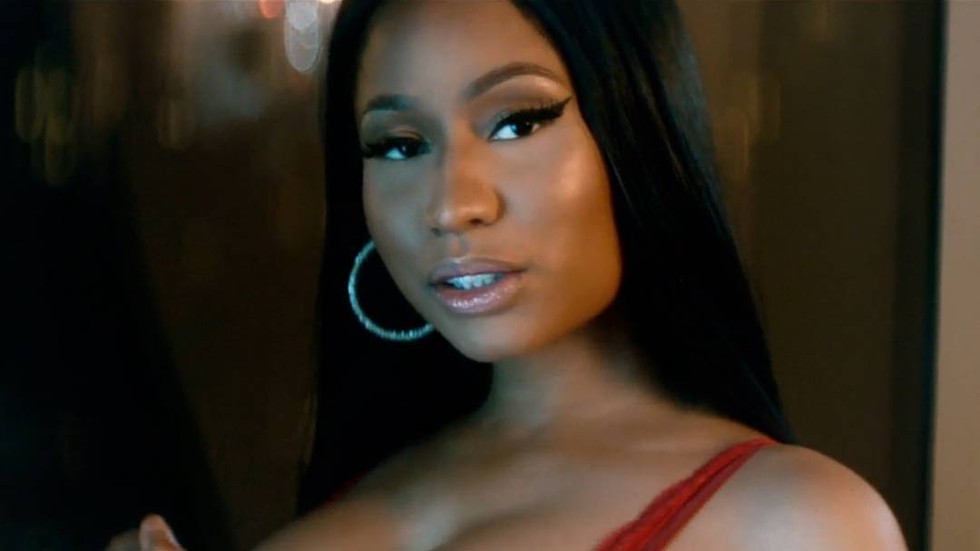 Still from "Do You Mind"
Sadly, image over substance is the reality for a lot of female rappers. Of course, there are notable exceptions to this rule: Lauryn Hill, Missy Elliot, Queen Latifah. But somewhere along the way, as female rappers like Nicki Minaj, Iggy Azalea, and Azalea Banks desired top 40 success, raunchiness was adopted as an image aesthetic ad nauseam. And it worked. All three artists have achieved monumental crossover success.
But what's interesting is that these women have become more famous for the drastic changes they've made to their body than their rap skills. The hyper-speculation and attention their body modifications receive shows an overt public concern with what woman do or don't do with their body.
Today, Iggy Azalea took to Instagram to wish her plastic surgeon a happy birthday, which received a lot of OMG coverage from the media. Which raises the question: Why is admitting to, much less being proud of, plastic surgery still a taboo in pop?
Last year, after heavy speculation over what changes she had or not made to her body, Iggy admitted to receiving breast implants and undergoing nose augmentation. In a lengthy article on the subject, Iggy toldSeventeen: "Plastic surgery is an emotional journey. It's no easy feat to live with your flaws and accept yourself—and it's no easy feat to change yourself. Either way you look at it, it's a tough journey. There are things that I didn't like about myself that I changed through surgery. There are other things I dislike but I've learned to accept."
During the happy birthday post, Iggy took the moment to admire Dr. Ash's emphasis on encouraging woman to do what makes them happy and not shaming them for the physical modifications they make.
Iggy is not the first to receive more media coverage on her looks than on her music. Lil Kim's physical metamorphosis outshines her impressive hit catalogue, the tabloid papers having a field day with the change, running stories that suggest the rapper is addicted to plastic surgery.
Azealia Banks was more than proud to show her of her breast implants earlier this year, which went without much public criticism. But then thee "212" rapper faced the brunt of social media when she admitted to bleaching her skin and defended the process, posting a lengthy status on Facebook arguing that she did not have internalized self-hate. When that didn't calm the masses, she posted a 21 minute long video to further make her argument. The video has received over 77,000 views.
And perhaps the female rapper that has come under scrutiny (and toyed with it) the most is Nicki Minaj. Since the inception of her career there have been Youtube videos and blog posts dedicating to figuring out if her butt is real or not. Minaj has never publicly addressed any body modifications, only explicitly saying that she's never done anything to her face but leaving the other 90% of her body up to mystery. During a 2013 interview with Extra she said, "I've never had surgery on my face. They'll see contour and they'll think you had surgery on your nose, no no no, look at 'RuPaul's Drag Race' and you'll see how you can make your nose look any shape you want." But she perhaps confirmed that she did indeed receive butt shots during her verse in Big Sean's Dance A$, rapping, "It's finally soft. I don't know man guess them a** shots wore off!" Regardless of if her butt is fake, Minaj has given it a lot of TLC. Her pop hit "Anaconda" serves as a tribute to not just her backside, but the big backsides of brown woman around the world. Either way, the toying with the public's assumptions shows that, just like Iggy and Azealia, Minaj is either proud or indifferent to them.

It will be interesting to see if as Banks, Iggy, and Nicki's careers progress if they focus less or more attention on their bodies. But, more importantly, if we will care less or more about what they do with them.