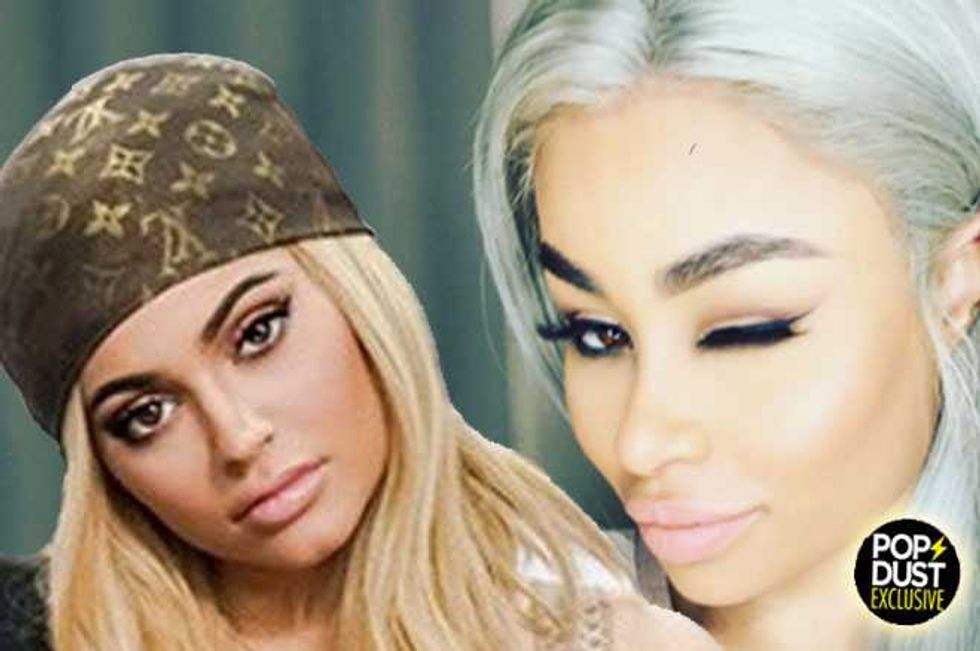 Blac Chyna's masterplan of Kardashian domination may be running smoothly, but that doesn't stop her obsessing over Kylie Jenner's every move according to our exclusive source.
It was revealed last Friday that 27 year old Blac Chyna is pregnant with her fiance, 29 year old Rob Kardashian's baby.
We've had a lot of fun imagining the screams of despair from Kris Jenner when she discovered she would be sharing a grandchild with Tokyo Toni and the howls of horror when the K-sista's realized that the only kid to bear the Kardashian name would be kourtesy of their nemesis.
The internet has been busy gleefully drawing up the complicated family tree. Should Tyga and Kylie eventually wed, the lip queen would be both step-aunt and step-mom to King Cairo and Blac Chyna's two children would be both half-siblings and step-cousins. Now that's keeping it klassy.
Chyna had hoped to announce her pregnancy on Mother's Day but was forced to confirm it early after news leaked out. Far from being mad about it however, our exclusive source confirms;
"Blac Chyna is over the moon now that the pregnancy news is out—she needs the Kardashians to know that she is here to stay and now, not only has Rob put a ring on it, but by falling pregnant, she's guaranteed she's going to be linked to the family for ever."
However, our insider goes on to reveal that the momma-to-be's mind is not totally on her baby, but rather the teenager who stole her ex;
"[Chyna] may have the new baby and a wedding to plan for, but that doesn't stop her obsessing about Kylie.

She spends hours and hours on Kylie's Instagram.  She wants to see what Kylie's doing, what Tyga's doing, what she's wearing, what she's promoting, where she's going...anything and everything...she's obsessed with her.

She's on the way to getting everything she ever wanted, so everyone tells her she just needs to let the Kylie stuff go now...but she won't....she will never ever forgive her."
Things aren't quite as bad as they seem though;
Everyone just thinks Chyna is using Rob to get back at Kylie and the rest of the family but that's not strictly true.

Don't get me wrong, it definitely started out as revenge for Kylie hooking up with Tyga behind her back, plus she was really hurt when Kim dropped her as a friend...but she really does love Rob—she's a great mom and would never have let King Cairo bond with him if it was all just a big game.

Her and Rob are good together and make each other really happy."
Well we at Popdust wish them a long and happy life together, filled with Blac Kardashian's, record breaking reality shows, sponsorships galore and kountless kash!
Check out our three favorite tweets about the impending K-Baby...
There's a new Karma Level called Blac Chyna 🌚

— ANDY X ™ (@DJANDYX) May 6, 2016
Kim: Hey cutie, wanna play with North & the rest of ur cousins?

Blac Chyna's child: Are they even Kardashians? pic.twitter.com/tSg8mWNdVt

— ✨ (@Chidinma_xo) May 6, 2016
When Blac Chyna's child finally meets Kris Jenner pic.twitter.com/l4LzZESrFn

— ✨ (@Chidinma_xo) May 6, 2016