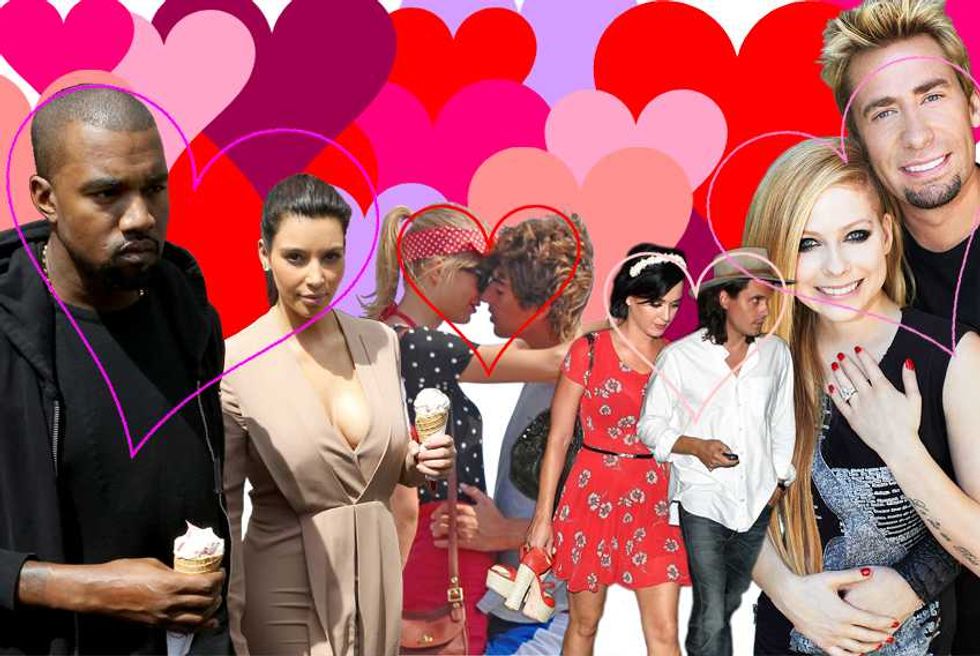 With the end of summer drawing near, the free-form relationships many of us get ourselves into begin to feel a bit more stifling: September's cooler temperatures remind us about the deadlines, responsibility—and romantic standards. Three leading couples emerged onto the pop scene during 2012's warmer months: Kanye West and Kim Kardashian (who became impossible to ignore after 'Ye dropped a massive hint about their togetherness on "Cold"), Taylor Swift and Conor Kennedy, Katy Perry and John Mayer. As it turns out, that last couple may already be proving how these romances tend to pass with the season: Us Weekly claims that Katy and John have called it quits. The theory there is that Katy was on the rebound. And there are reasons to be cynical about those other match-ups, too (Kanye likes the attention, Taylor's living out a fantasy to help inspire new songs). But what do the experts think? We asked folks whose collective knowledge bridges astrology, numerology, matchmaking and pop culture history, to measure the chances of True Love in each of these burgeoning unions—and are letting you weigh in, too, by voting for your favorite couple. Don't worry: We included that late-breaking pair already known as Chavril! (Chad Kroeger and Avril Lavigne.)
[poll id=8]
KANYE WEST AND KIM KARDASHIAN
Born: June 8, 1977 (35) and October 21, 1980 (31)
MOTIVATION
"Kim is benefiting a lot from Kanye in this relationship because [based on their birthdays] he's an 11 [6+8+1+9+7+7=38; 3+8=11], powerful. She's playing this like a chess game." —Gary "The Numbers Guy" Grinberg, numerologist
"He likes her for publicity and I feel like he really likes her, but I don't think his agenda is the same as hers." —Maria Shaw, astrologer
BODY LANGUAGE
"Kanye and Kim are so openly huggy that it seems like they want, nay, ENCOURAGE the fan fiction." —Heather Mock, Go Fug Yourself
"They seem typical but nothing overwhelming. A picture's just a picture but it seems almost like contrived; I didn't see the love in the pictures that I've seen in other things. They always look like they're in a rush and they're always on the go." —Lori Zaslow, co-founder, Project Soulmate
GENERAL OBSERVATIONS
"He likes being in a position of power and he lives in the limelight. He's an extremely materialistic and karmic soul. If he does anything bad, it comes right back to him. Kim is a 4, she's extremely witty and extremely materialistic. They have a very good sex life." —G.G.
"I think they feel like a good couple, they've known each other for awhile and they seem to be definitely more aligned than Kim and Kris. Money's not an issue and they're both constantly reinventing themselves and seem to be a well-matched couple. He's confident enough, he's successful, this just seems more equal." —Emily Morse, sex & relationships expert
"He's a Gemini, and Geminis tend to have multiple personalities, so I think this is a little bit of a rebound for her. I think that she's attracted to him but I think that he's attracted to her for just the time being." —M.S.
"I think that because he's older and more established, it's something different from what she's done in the past—that helps her because she needs that older guy a little bit. They're not going to have issues with money, like with who makes more, I think it's really something that's helping them." —Jenn Zucher, co-founder, Project Soulmate
OVERALL PREDICTION
"This is not a match whatsoever. He's very beneficial to her. They have a very good sex life, but that's about it. The fact that she's a 4 and he's an 11? Not compatible. The fact that he was the Year of the Snake and she's the Year of the Monkey? Not compatible. There's not enough that's compatible for it to last." —G.G.
"I think Kim and Kanye win it in a landslide. Their appetites for fame and Twitter followers seem perfectly matched, in a way that she in particular is not going to find anywhere else. He's probably the only person in the world she could date who not only wouldn't mind their entire life being encircled by rabid photographers, but who would be disappointed if they ever stopped showing up. Also, they have so much in common. Like... you know. Leather, and... zippers, and things." —H.M.
"I think Kanye and Kim will ride this train as long as they can for publicity—as long as people care, as long as they make headlines." —M.S.
"I think he should love it and jump on the bandwagon, or else he's going to be jealous and they're all going to be fighting for the spotlight. It's only going to work if he jumps on that bandwagon and makes himself a part of the family." —L.Z.
KATY PERRY AND JOHN MAYER
Born: October 25, 1984 (27) and October 16,1977 (34)
MOTIVATION
"I think she's young right now too and she knows what she's attracted to, too. But if this relationship ends in a similar way to the Russell Brand thing then I think it's time for her to start looking at her own patterns." —E.M.
"[John] has a weird Bizarro Russell Brand quality to him right now—slouchy, dour-yet-sarcastic-seeming, poor taste in pants. It's likewise not a great sign for your future if your girlfriend seems like she picked you out of a book called People Who Remind Me Of My Ex, Except Maybe A Bit Cleaner And With Lusher Hair." —H.M.
BODY LANGUAGE
"Katy looks like she's not entirely sure she wants to touch John Mayer in public. Her facial expression is very, '... Am I really about to do this? I am. Am I? ... Yes. But he can't leave his hat on.' —H.M.
"They look distant." —L.Z.
GENERAL OBSERVATIONS
"Look at their days: 1+6=7, 2+5=7. Seven is the number of loners; they are both loners at heart and are both highly, highly intelligent—especially John. He's a 3 and she's a 5. That's actually a pretty compatible couple. John has a good mouthpiece on him [and] he can hypnotize people. [Katy] knows a little bit of everything, but she doesn't know a lot of things on a deep level. Also, she can sense danger in her gut. That's a talent she has." —G.G.
"I would be worried for Katy Perry, coming off Russell Brand, to jump in with John Mayer, but you have to learn your own lessons. I could try to give her advice right now but she probably won't listen because she's following her heart, although it's kind of like lust at this phase." —E.M.
"He's a Libra, and Libra men have an idea that there's a certain ideal woman in their lives and absolutely no one can become that. It's unrealistic what Libra men have in their minds sometimes." —M.S.
"John Mayer is a player... she doesn't need that right now. [The way he's talked about relationships in the past] that's not protecting their relationship, and anything you don't protect, you lose." —L.Z.
"That's more of a rebound, I think. They're both sort of out there as sort of being free-spirits, laid-back, don't put too much pressure on life..." —J.Z.
OVERALL PREDICTION
"It seems unlikely Katy Perry will end up with HER rebound guy, especially when said rebound guy is someone who the tabloids claim is trying to convince you that he's not a womanizing douchebag." —H.M.
"She's got a couple tough years coming up, she won't stay with him." —M.S.
"If his relationships are boundary-less, without protection, good luck. Relationships need to be protected, through good, through bad, through horrific, through amazing." —L.Z.
TAYLOR SWIFT AND CONOR KENNEDY
Born: December 13, 1989 and July 24, 1994
MOTIVATION
"They have soulmate compatibility, that's why Taylor—who would normally probably never date a younger guys—likes him. She probably feels stupid for liking him and doesn't know why she likes him... she likes this guy's energy but doesn't know why." —G.G.
"I think she's attracted to the name [and] the power." —M.S.
"He seems kind of like, 'YEAH, check out my hot girlfriend who can legally buy beer,' and she seems perhaps like she is experiencing writer's block and needs some new song material." —H.M.
"I'm sure there are a lot of things attractive about him that attracted her to the situation, but it just seems like a really awkward age difference if he's in high school and she's out in the world." —E.M.
"I think she's trying to move in, be in the mother figure right away. Let's go right to that Oedipus/Freud complex. I think he's still a boy and he needs to grow up, so even if they're a good match, he needs to feel it out—he's just in fantasy stage, his libido is like, come on!" —L.Z.
BODY LANGUAGE
"It's summer. They have a boat. Of course they're wearing day dresses and board shorts and holding hands. That's what you do when you're basically rich college kids and it's summer and you have a boat." —H.M.
"They looked engaged, there was that friendly touch. The body language looked really happy, but that doesn't mean they're a good couple because body language emanates love and care." —L.Z.
GENERAL OBSERVATIONS
"Their birth date numbers have soulmate compatibility, but he's having a tough year—just like all people who were born in 1994. Those people were born in the Year of the Dog, and that's the enemy sign of [2012's Year of] the Dragon." —G.G.
"She really got hurt by somebody and I think that she's going to date for a little awhile. I think that she's going to fall for this Conor guy she's seeing but I don't think it's going to last until death do us part." —M.S.
"I mean, it's puppy love if it's anything, right?" —H.M.
"He's like a baby. The difference between 18 and 22... that just seems really young to me." —E.M.
"He's not legal until he's 18 so a year ago it would have been considered illegal, no? Like four years is nothing but those four years are huge. He's not a man yet." —L.Z.
OVERALL PREDICTION
"I predict they make it no further than winter, no matter how many articles come out in which a) it's suggested that Ethel Kennedy feels this is a perfect match, or b) Taylor's obsession with the Kennedys is again documented. In fact, that all somehow makes it even LESS likely to me that they'll make it. Nobody, at 18, really wants to date someone their GRANDMOTHER thinks they should marry, do they? Talk about pressure. Dudes at that age don't like romantic pressure, if I remember correctly. Which I might not. It was a century ago." —H.M.
"There's a lot of maturity that hasn't happened yet and she's lived a very mature life. To me it just seems like it's a temporary thing, I don't think it could really go anywhere." —E.M.
"I think that she likes him but I don't see this lasting until death do us part. She's in that cycle right now that she's going to have to chose between two men in the next eighteen months, somebody from her past, coming back in. I think it's going to be kept under wraps, but she's going to be dating this man and then somebody from her past is going to come back in and she's going to have to choose between two. But it's somebody that she wrote a song about that she's like, 'Oh, he's a jerk. I would never go back to him,' but she still has feelings for him." –M.S.
"It sounds like a summer romance to me. But he's going to really be dependent on her after such a HUGE loss." —L.Z.
And then there's the couple that caught us ALL by surprise: Chavril. Now that Avril Lavigne and Chad Kroeger have announced their engagement, will they be the one couple of the summer who can really last, or should we expect some break-up songs from either artist in the next six to eight months? Vote!