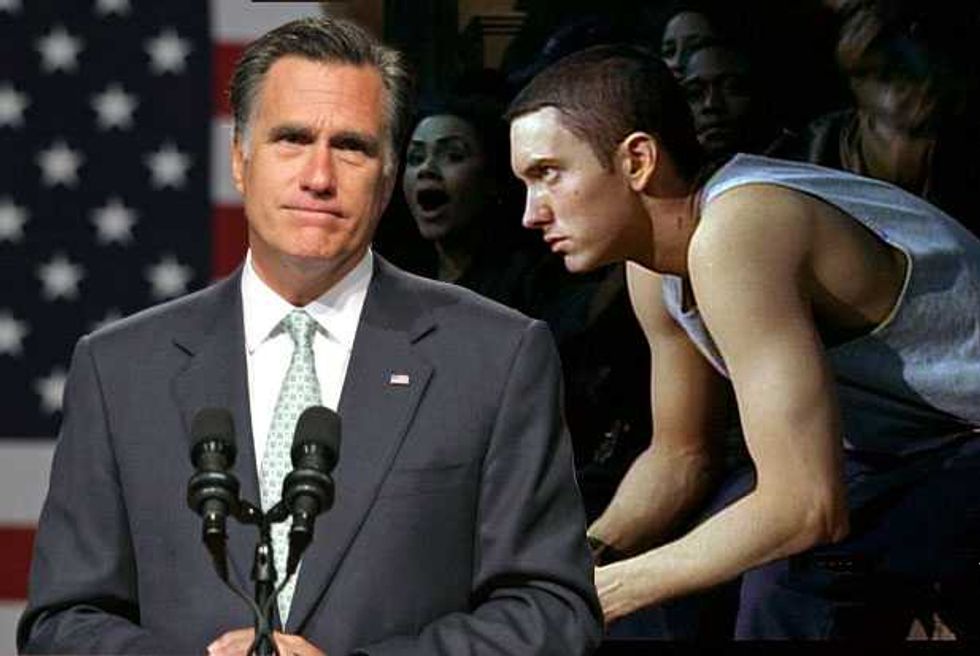 Presidential hopeful Mitt Romney has had his High School past called into question an awful lot lately, thanks to reports surfacing that he had bullied a gay classmate at the prep school he attended in the early '60s. The name of that prep school didn't sound immediately familiar to us, but those joint hip-hop/Curtis Hanson buffs over at The Wrap were able to spot it from a key moment in 8 Mile, Eminem's 2002 film breakthrough. The reference comes during Em's proxy character Jimmy "B-Rabbit" Smith's climactic rap battle with rival MC Papa Doc (played by Hurt Locker star Anthony Mackie), in which Rabbit pulls a sneak attack on Doc by revealing that he knows about his prep school past. Rhymes Rabbit:
Don't never try to judge me dude

You don't know what the fuck I've been through

But I know something about you

You went to Cranbrook, that's a private school

What's the matter dawg, you embarrassed?

This guy's a gangster; his real name's Clarence

And Clarence lives at home with both parents

And Clarence's parents have a real good marriage

This guy don't wanna battle, he's shook

'Cause ain't no such things as half-way crooks'

He's scared to death, he's scared to look at his fucking yearbook, fuck Cranbrook
It sounds especially devastating ("Ohhhhhhhh!!!"-worthy, you might say) over the beat to Mobb Deep's "Shook Ones (Part Two)," trust us.
Interesting stuff. It would appear that Romney might not be able to count on the Free World or 313 votes in the upcoming primaries. You got anything to say on the matter, Marshall?