When my son turned one last year, I was determined to throw a memorable party -- not really for him (I mean, he's not going to remember it), but to celebrate all the hard work my husband and I have put in over the last year.
The exhausting sleepless nights, the crying that went on for hours, it all really tested us, but now our healthy and happy one-year-old is the joy of my life. I organized the coolest dinosaur-themed party, complete with a pterodactyl cake and even Jurassic Park-a-ritas for the parents. I really enjoyed throwing myself into party planning; it reminded me that I have a lot of creative individuality outside of being a mom. One of my mom's friends was even generous enough to bring a gift for me that really helped me realize I need and deserve more self-care after a baby -- a FabFitFun box. Over a paper cup of park-a-rita, she told me that one of her colleagues at work had gifted it to her right after she had her daughter, and she loved it so much that she wanted to pass on the new-mom joy.
I thought that my friend had been exaggerating, but after a year not even being the third thing on my own priority list, getting quality self-care gifts with FabFitFun really helped me rediscover that I deserve to spoil myself, too. The box is a seasonal subscription packed with only the top beauty, wellness, and fashion treats from around the world. Their experts spend months scouring the globe for elite products to ensure every box contains the very best. It's a nice way to send yourself a gift every now and then. All the products they send are full-size, which I absolutely love because my dresser drawer currently looks like a hoarders dream- dozens of half used samples of products that never really worked well for me. RIP sample size perfume and tiny lipstick. Each box is $49.99, but it's always worth at least $200 or more, and the contents come from brands I love, as well as new amazing ones I've never heard of. In my first box, I got so many amazing things, like a Catherine Malandrino floral umbrella, Vince Camuto vegan leather tote, a GLAMGLOW deep cleansing facial mask, and a bunch of other great products - they really have something for everyone! I honestly was so excited to unbox all the surprises and couldn't believe how many different products were in the box.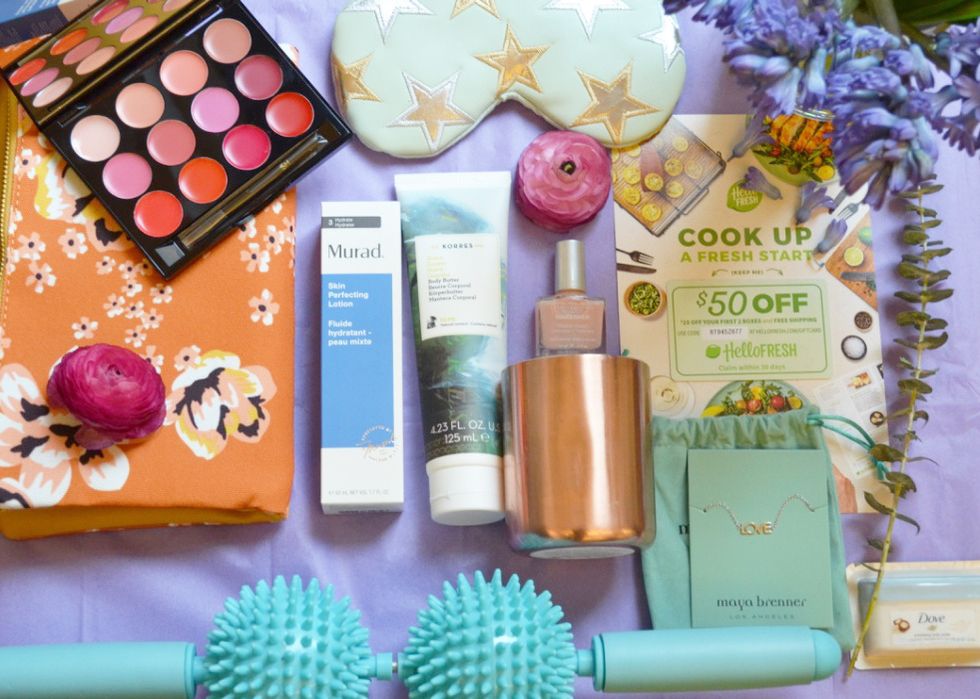 Prior to joining FabFitFun, I had no idea how in-demand these boxes were. With the membership, I never have to worry about securing one of these coveted boxes (because they always sell out!). I know a new box is coming to my door without having to give it a second thought. Throwing on a face-mask and having a glass of wine is exactly the kind of indulgence I need after a day at the office, followed by a Peppa Pig marathon.

I have received two boxes from FabFitFun so far and can't wait for the third, which is shipping out soon. I love the freedom FabFitFun gives their customers. If you're like me and hate decision making but love surprises, what's in the box is always an unexpected treat. I love that the only thing I had to do was sign-up, and they took care of the rest. I make decisions all day long, and having someone else take care of the heavy lifting for once is a relief. But if you're someone that is a little more particular, you can have an input on the goodies you get. Literally, everything about this box has brought me joy, and it has made me realize the value of regularly treating myself. Not only have I discovered so many new and useful products, but FabFitFun has also reminded me of the things I used to love before becoming a mom, and that I deserve to spoil myself a little every now and then. I'm a mom, but I'm still a woman – I'm still grateful for a warm shower and a latte, but I love my FabFitFun membership.
Update: FabFitFun is offering 40% OFF Winter Editor's Box! That's up to $429+ worth of products for just $29.99. New Members, Follow This Link To Snag A Box Before It's Sold Out!