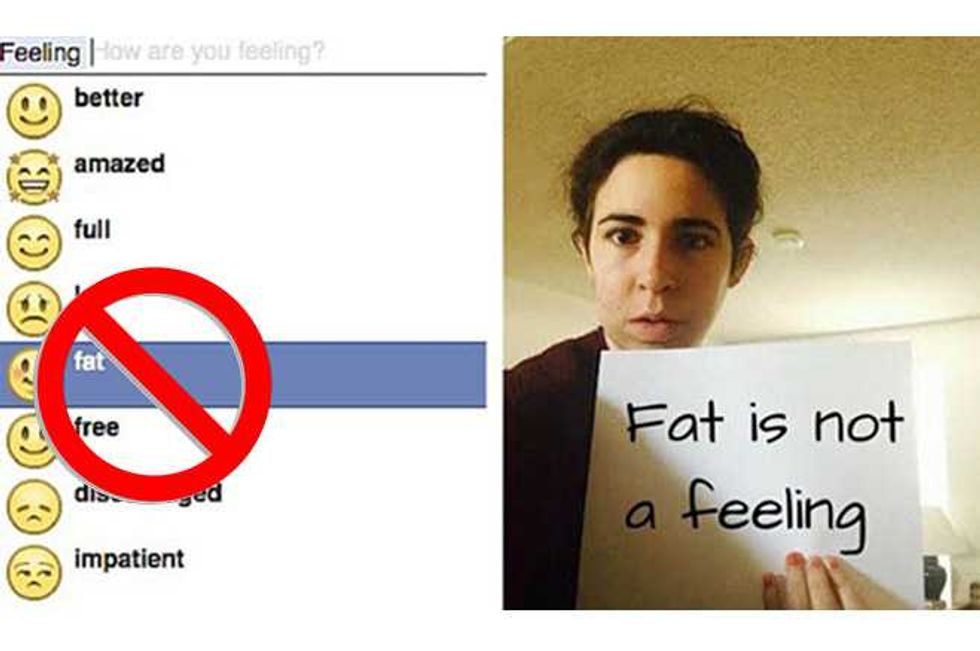 Responding to pressure from a Change.org petition and accusations of fat-shaming, Facebook has removed the 'feeling fat' option from its drop-down status box.
WHAT? I didn't even know about this option! I feel fat right now!
But it's not okay to feel fat or to acknowledge that people sometimes feel fat.
In its statement, Facebook explained the action:
We've heard from our community that listing "feeling fat" as an option for status updates could reinforce negative body image, particularly for people struggling with eating disorders. So we're going to remove "feeling fat" from the list of options. We'll continue to listen to feedback as we think about ways to help people express themselves on Facebook.
Wow.
Facebook also reportedly removed the "feeling ugly" option and emoticon from the list as well.
Everyone knows that online bullying is inexcusable. But making it politically incorrect to feel fat or unattractive seems pretty uninclusive to me.
What next? Will it be not okay to say we're depressed? Isn't it helpful to discuss our feelings, or is it only acceptable to discuss positive feelings?
Weigh in, Popdust readers! No pun intended, obviously.