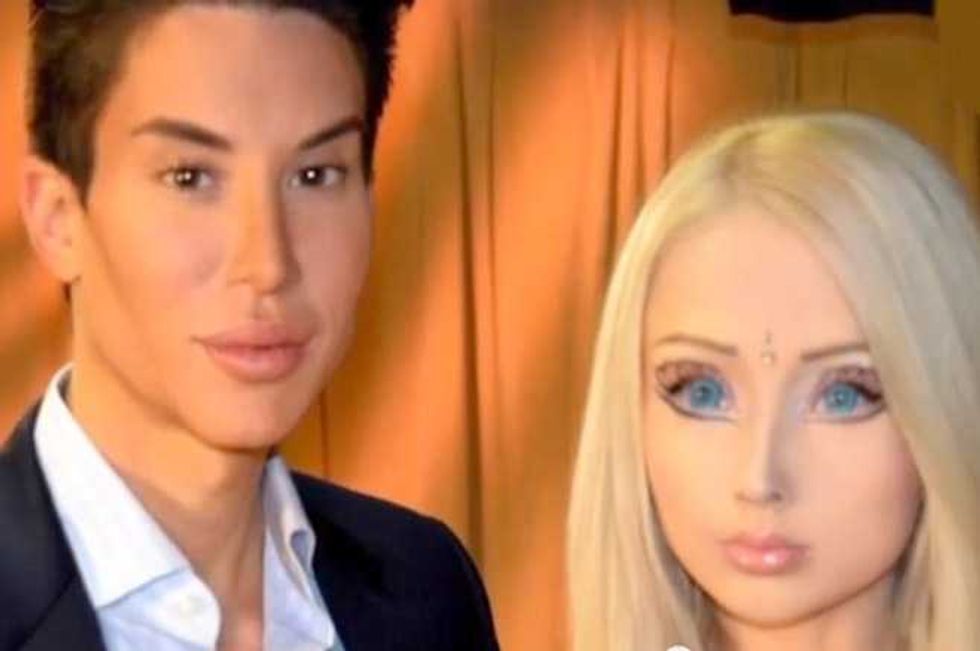 Justin Jedlica, aka "The Human Ken" has some choice words for his female counterpart, Miss Valeria Lukyanova, otherwise known as "The Human Barbie."
In this unofficial Mattel doll look-alike contest, Valeria is kicking Justin's silicone ass and he is so mad he would make an angry face if only the Botox would allow for it.
As Popdust previously reported, Lukyanova has become a web celeb because of her uncanny transformation into a Barbie Doll through plastic surgery and incredible makeup skill.
On the other hand, despite dropping more than $150,000 dollars on 140 plastic surgeries to look like a living doll, Jedlica doesn't really look all that much like Ken. He's probs a bit jealy, so he talked some shit to GQ magazine.
"I don't really get her. I don't get why people think she's so interesting. She has extensions. She wears stage makeup. She's an illusionist," he bitched.
And in the doll transformation world using makeup is like corking your bat. It's a totally bogus move. Man up and slice your shit open like a pro.
When asked what his favorite surgery is, Jedlica's glass eye lit up as he dished:
"My baby is my shoulders, because nobody has anything like them. I divided these so there's six pieces — front, middle, and back. Just like the actual anatomy…
"I'm working with a silicone-fabrication company to do an artistic muscle-augmentation-implant line. So all the implants I'm paying custom for myself right now, like my shoulders, my quads, my abs, the lats… they'll hopefully be available to plastic surgeons."
I don't know about y'all, but I have a boner.