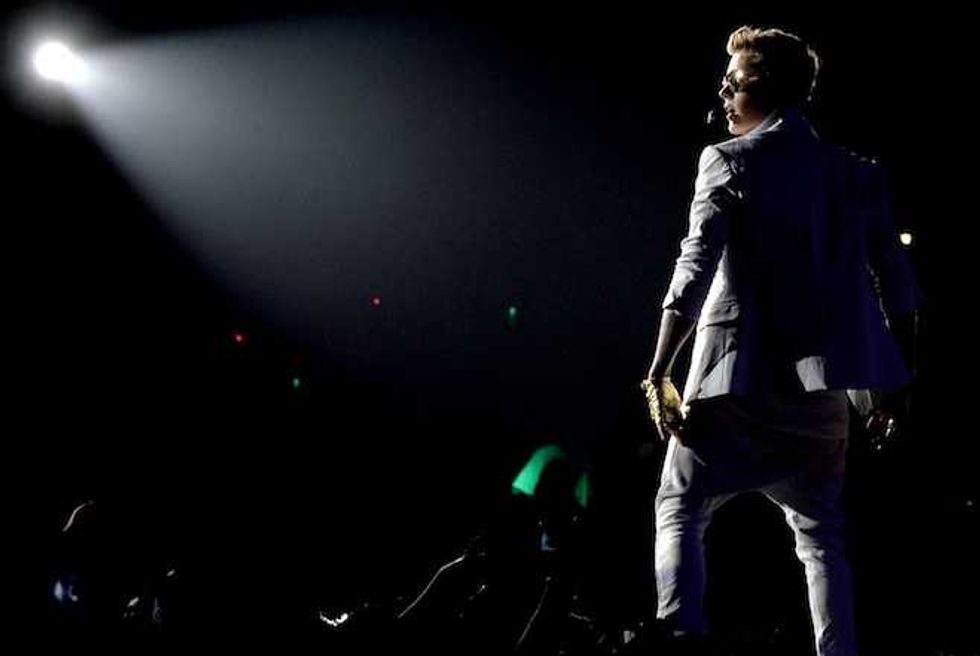 Welcome to Fan Friday, our new weekly series where we give fans a chance to speak out on the issues that matter to them. Today, Vivian Pham speaks for the Beliebers.
Let's cut Justin Bieber some slack. Yes, the media has been all over him over the course of this year. Stop the negativity, though, and let's focus on all the goodness that Bieber has brought to the world. Even if you narrow the scope down to just this week, Justin's got an impressive set of accomplishments.
4 years in a row. #tcas . That's love. Thank u. Enjoying the break. But always here. Thank u. This is forever :)

— Justin Bieber (@justinbieber) August 12, 2013
Bieber made philantropic history this week, when he granted his 200th wish with the Make-A-Wish Foundation—the most wishes fulfilled by any recording artist.
Justin has been an avid Make-A-Wish Foundation supporter since the beginning of his career.  In the past he received the Make-A-Wish Foundation Chris Greicius Celebrity Award, for a star who displays outstanding dedication to wish granting for the sick and terminally ill.  In the music video for his song "Pray," Bieber made room for appearances frm four Make-A-Wish children. And Justin doesn't just grant wishes—he even donated a portion of the proceeds from his first Christmas album, Under the Mistletoe, to support the foundation.
Make-A-Wish isn't the only foundation Justin contributes to, either.  At the start of his Believe Tour, Justin teamed up with Pencils of Promise and agreed to donate $1 to the foundation from every ticket sold. With help from the Beliebers, the Believe Tour has officially raised enough money to build an entire school in a third-world country. This week, Pencils of Promise shouted him out for all the work he's done:
Incredible that every time he performs, @justinbieber donates $1 per ticket to PoP and basically builds a school a night

— Pencils of Promise (@PencilsOfPromis) August 11, 2013
Beliebers, pat yourselves on the back, this is a huge achievement.
The tour may have ended on Saturday night, but that doesn't mean Bieber's accomplishments did as well.  Even though Bieber didn't attend the Teen Choice Awards, he walked away a winner in the Male Artist, Choice Single, Male Hottie and Twitter Personality categories.
Congrats @justinbieber on Male Artist, Male Single for BAAB, and Twitter Personality at the 2013 Teen Choice Awards! pic.twitter.com/ro3QDzISos

— Justin Bieber Crew (@JustinCrew) August 12, 2013
Way to go Justin! Justin is off for the next few weeks until his second round of international concerts for the Believe Tour start back up.  Who knows what else is in store for this guy? If he keeps this up, we can expect a lot of good things.