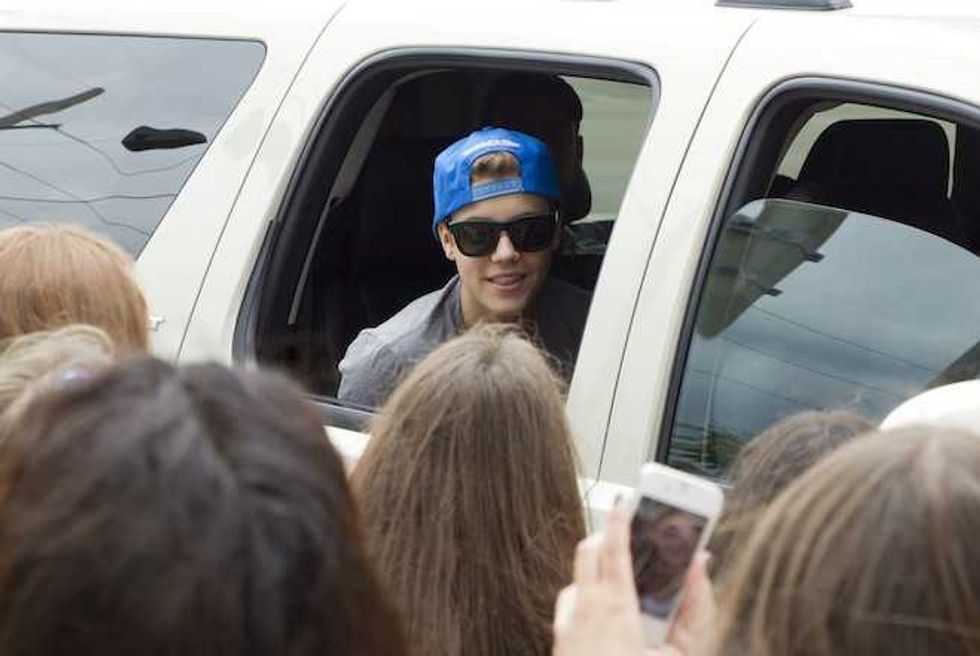 Welcome to Fan Friday, our new weekly series where we give fans a chance to speak out on the issues that matter to them. Today, Vivian Pham and Alicia Tamboia speaks for the Beliebers.
For people who don't know what goes on inside Justin Bieber's world, it's quite common to judge him based upon the stories the media reports. Do you ever stop to wonder why the bad stories are always making headlines, but when a celebrity does something good it's so hard to find any coverage on the topic?
Justin recently claimed the title of most Make-A-Wish wishes granted by a recording artist. Yet when all of this was going on, what was in the papers? Stories about him getting naked with a guitar for his grandmother and him peeing in a mop bucket.
Before the "fame," Justin was just an ordinary guy from Canada, facing many childhood struggles. Beliebers know this and see Justin as a way of hope, inspiration, motivation, and so much more—it's different for every person.
Knowing what it's like not to have a lot, Justin donates food items to food drives, toys to children, and also supports a variety of charities. Bieber is currently giving $1 of every ticket sold on his Believe Tour to the charity Pencils of Promise. Currently, Justin has helped raise enough money to build an entire school in a third world country, and the tour isn't even over yet! With Justin constantly giving back, he's inspired so many fans around the world to do the same. Over this past summer, Beliebers helped raise over $20,000 for the Cure AT/RT foundation which is in honor of "Mrs. Bieber," Avalanna Routh.
Justin's story is not the only thing that keeps Beliebers around. Justin is hardworking, dedicated, and passionate about what he does. He is constantly recording, touring, doing interviews, shooting music video or being photographed. Despite his busy lifestyle, Justin goes above and beyond to stay closely connected to his fans. Whether it's tweeting them on Twitter or stopping for a few pictures on the side of the street, he tries his best to make each and every one of them feel special.
Any individual who likes music knows that albums take years to make, and they don't happen overnight. Justin is aware of this, but that doesn't stop him from working around the clock to do the best he can to make music for his fans as often as possible. His work ethic has showed his friends that anything they set their minds to is achievable. So many fans have met Justin and when asked how or why, often times their response with be "well Justin taught me to NEVER SAY NEVER."
Justin is talented, and there's just no denying it. Singing, dancing, writing, playing instruments, performing—the guy does it all. As Justin continues to grow as an artist, Beliebers will continue to support and encourage him. Imagine having your life displayed in the public eye 24/7 – how would you handle it? He can't always be perfect, but instead of trying to tear him down, maybe it's time to start supporting all the good he does.
Beliebers! Find out how you can be a part of Fan Fridays. Just check out Beliebers Say, our new tumblr that allows you submit article ideas, opinions, pictures, videos, and more.  You can influence the next Fan Friday article or even be featured in it!