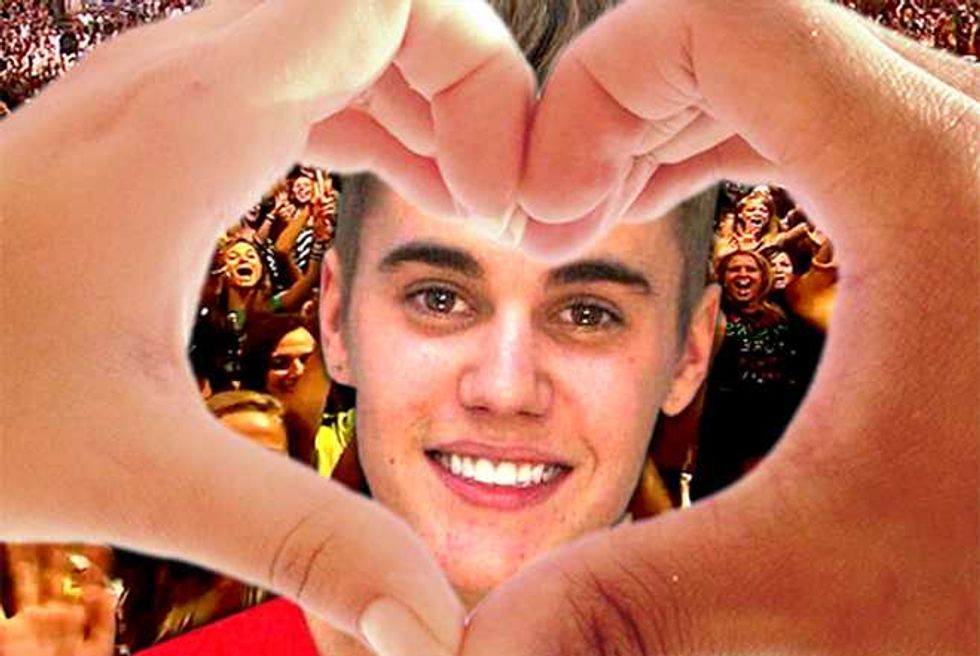 Welcome to Fan Friday, where we give fans a chance to speak out on the issues that matter to them. Today, Vivian Pham speaks for the Beliebers.
Not even one month into the new year and Justin Bieber's name is all over the internet.
Surprising? Not really. It's no doubt that Justin is a huge a celebrity. Being a celebrity, has its great luxuries, but it also comes with a price.
The 19-year-old Canadian superstar lives in front of a camera, meaning his every move is being watched. How does that even feel? Well, imagine a camera following you all around a beach, or even a quick stop to grab some dinner.
Now, some people may argue and claim "Justin signed up for this life. He knew what type of thing he was getting himself into by becoming an artist." Here's the catch, Justin is an artist, because that's his passion – he loves music.
Would you give up on your own passion/ dream just because people are trying to doubt you with whatever you want to do? Chances are, you wouldn't listen to the negativity and follow your dreams.
That's what Justin is doing – following his dreams.
Justin has a very powerful fan base, although people come and go, there will always be those fans who say they will stay forever, and they mean it. Through the public eye, everyone is always anxious to see him fall. No one is perfect, and believe it or not, Justin isn't either – he's human.
The public says all sorts of things about Beliebers, such as "you're dumb, get over him, he's not a good role model."  Here's what those people don't see—I asked Beliebers, why they would never leave Justin, and lots of them had a huge list.
For many of us, music is an escape – something we run to when we're down, it helps us calm down when we're angry, relaxes us, makes us happy, and so much more. Music in many ways is therapy for lots of people. Before you think this sounds corny, Justin is a hero to a lot of people all over the world. His story has inspired millions and helped them believe in themselves.
The best part is, Justin didn't just help people believe in a dream they had, but to overcome anything (a battle against an illness and more).
His music? Music is written so those that listen to it, can connect to the message. That's exactly what Justin's music holds, it has saved lives and helped people overcome their daily/life battles. That is the power of music.
Justin has worked very hard to satisfy his fans. Ever since he got signed, he has never taken a break until this year. He's either in the studio, doing an interview, on a TV show, or on tour. What does that tell you? He loves what he does, and always wants to give his fans what not only they want, but he also wants.
Justin could have easily taken a break a long time ago, but he wanted to keep his fans happy, and travel the world to see them all. Even on his break, Justin still stops to meet fans, and interacts with them over social networks (Twitter, Shots of Me, Instagram, etc). He wants to ensure his fans that he is never letting them down, and wants to keep them happy. Even though he is on a break, that doesn't change the connection he has with his fans.
Beliebers feel that Justin saved them, helped them, and was there when nobody else was for them. They won't give up on him, because he never gave up on his fans. Fans know that Justin's decisions are not always right, but no one's decisions are always 100% right either.
Noura, @BluntBieber says "no matter how hard it gets, Beliebers will NEVER leave Justin's side. Our relationship is unbreakable."
Justin also has a good heart and no one should doubt that—he's always trying to give back to charities—he's had a huge impact on his fans to make a difference in the world.
Caro, @cahsabs says "he saved me when I needed him most.  I can't just leave him now.  He needs us."
Justin also takes them time to read the messages he gets from fans and gives them advice. He cares just as much as his fans do for him.
Criticism and negativity is the last thing someone needs. Would you like to get negative texts to your phone? Negative texts or comments such as criticizing what you wear, how you look, what your voice sounds like, pointing out all your flaws, etc – would you like that? Most likely, your answer would be "no."
Why does that change when it comes to Justin Bieber? Is it because he's a celebrity? What kind of an excuse is that? He still has feelings, and you may not think he will see your comment out of the millions he gets, but he sees everything.
Spread positivity. Put yourself in someone else's shoes before you make judgement.
People come and go, but lots of people will always be by Justin's side.