Do fans own artists? Is social media damaging the culture?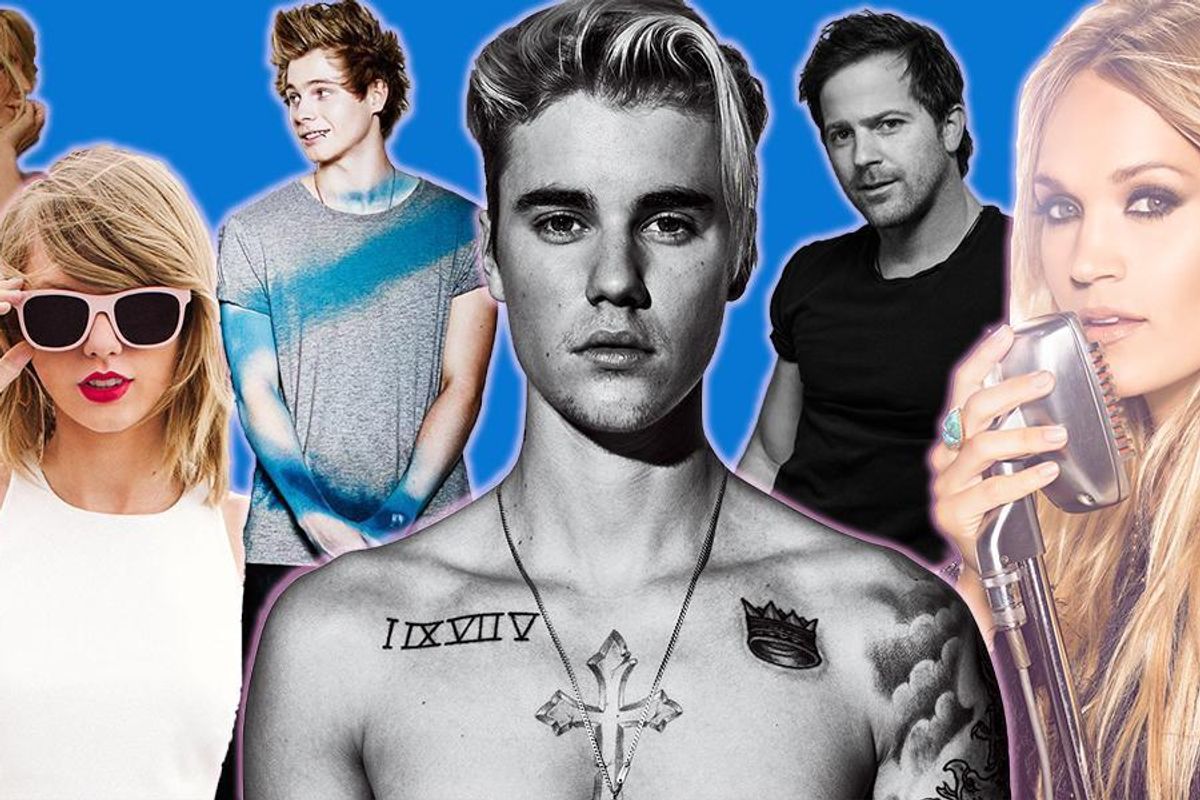 The term "hater" has become synonymous with the hypersensitive, often reactionary, mindset of the rabid online fan. As Urban Dictionary defines it, a hater is "a person that simply cannot be happy for another person's success. So, rather than be happy they make a point of exposing a flaw in that person." This is not to be confused, however, with thoughtful, engaging criticism -- no one person on the planet receives special exemption from critique, not even the great Linda Ronstadt -- particularly as it relates to the analysis of art in all its forms (music, film, television, literature). The kind of "hater" mentality I speak of resides in the deepest and darkest abysses of the fandom world; only since the advent of social media has the vocal minority found a lively breeding ground for their unsolicited, vicious attacks -- mostly of the personal variety with an intent to damage another person's well-being. Social platforms give complete control to anonymous eggs on the internet, and for better or for worse, we live and breathe this culture every single day.
For musicians, that means heightened sensitivity to fans's online behavior -- which undoubtedly spills over into the live concert arena and the meet-and-greet setting. As the New York Times proposes in a resonating piece following the tragic murder of YouTube star and The Voice singer Christina Grimmie, "interactions...are becoming more fraught as artists, responding to industry and fan expectations, must make themselves increasingly accessible while also contending with a barrage of online harassment and the threat of violence at concerts."
The surge of concert-related deaths -- reaching an unsettling high last November when terrorists attacked a Paris theatre and 130 concertgoers were slaughtered -- has resulted in heightened security initiatives, but many "artists say they remain concerned about navigating the need for fan engagement and their own safety anxieties, especially in an age in which their every move is chronicled" on social media, the NY Times story asserts. Sites like Twitter and Facebook allow artists to create personally-rich bonds with their fans -- whether you are Taylor Swift combing Tumblr fan accounts and vetting them for in-home album parties or a Texas-circuit band building a tightly-knit fan base, the implications of what-ifs is profound.
In the age of streaming, album sales have reached new lows. According to Billboard's July 2016 report, albums fell 16.9 percent in the first six months of the year, while overall units dropped 13.6 percent (totalling 100.3 million). CDs continued to deteriorate by 11.6 percent for a 50 million tally. Digital album sales have sunk to 43.8 million this year, down from 53.7 million. Even track sales have eroded: 404.3 million from 531.6 million. Meanwhile, streaming has exploded -- 208.9 billion songs have been streamed so far this year, a commanding 58.7 percent increase. More than ever, brand partnerships, artist-lifestyle launches (including fashion and athletic wear, perfumes and colognes, alcohol and even furniture, thanks Eric Church) and the live concert arena are increasingly essential for artists to continue making money. Thus, deluxe VIP and meet-and-greet packages are the new normal.
"As Chely Wright wrote, there is more of an expectation to do all the fan interactions now. Part of it is because album sales are dropping and there is more focus on touring. There is more focus on merch and fan interaction and cultivating the kind of super fans that will keep an artist's career going. You need those super fans who will plow thousands of dollars into your career," For the Country Record founder and music critic Vickye Fisher reflects, "but there's a fine line there."

In country singer Wright's Facebook post, she recounted her own personal experience with uneasy and frightening fan interactions. "I can't count how many times I've been at the merch table signing and had a real, reasonable fear that I was in danger," she wrote. "Often, it was because my management team and/or record label had made me aware that '________ might be in the audience tonight,' as there were several people over the years who'd made threats to my safety."
She continued, "I once had a man drive from Colorado to Louisiana to whisper in my ear that he intended to watch me bleed out of my ears. That same man would go on to rape several women the next year, at gunpoint. He spent very little time in prison. I still look for him in every crowd at my events."
There is an overwhelming irony here which should not be brushed aside. When discussing Wright's experience, in-person fan interactions are simply a small puzzle piece to the greater conversation of the role of social media in exacerbating and amplifying these kind of troubling situations.
As Fisher also points out, many such incidents often stem from the entrenched sexism which has run rampant for centuries, but it's only become more obvious in the internet age. "The whole crazed fan mentality goes hand-in-hand with that. If you've got some crazy person online saying they're going to rape you, they might turn up at your show and try to do that. Whenever you hear of these stories, it is often women who are being pursued by male criminals. I'm not necessarily generalizing, but that does seem to be happening most of the time. Until that is properly tackled, the situation with fans won't improve," she says.

Chvrches singer Lauren Mayberry has had her fair share of sexism from fans -- last fall, a man yelled "marry me!" from the crowd during one of their shows. To which she replied, "What's the hit rate on that? Does that work out well for you, sir? I assume, because you're here, that you know a bit about our band. And I'm very grumpy. I don't want that shit." But that wasn't the first time the electro-pop outfit have had to deal with sexist nonsense. Previously, the band received a Facebook message in 2013, saying "we'd make superior love together." And when Mayberry lashed back, she was told it was a "very puritanical stance." Soon after, Mayberry penned an urgent op-ed piece for The Guardian, in which she examined the "barrage of sexually explicit abuse" they receive daily. If you've got the time, it really is an illuminating read into what female musicians must suffer at the hands of fans.
Do Fans Own Artists?
Earlier this summer, Justin Bieber canceled the rest of his Purpose Tour meet-and-greets -- an unexpected move from the pop star who built his entire career on his close relationship with fans both on- and off-line. "I enjoy meeting such incredible people, but I end up feeling so drained and filled with so much of other people's spiritual energy that I end up so drained and unhappy," he wrote on Instagram. "Want to make people smile and happy but not at my expense and I always leave feeling mentally and emotionally exhausted to the point of depression."
"The pressure of meeting people's expectations of what I'm supposed to be is so much for me to handle and a lot on my shoulders. Never want to disappoint but I feel I would rather give you guys the show and my albums as promised," he concluded.
"Justin's been at the height of fame for a long time, and he's done more fan interaction than most other stars. He has the craziest fans. Can you imagine what he has to go through?" Fisher ponders. "Also, there are mental health issues that can come with being a child star. He's perfectly within his right to say 'I can't handle it anymore...or at least for the time being.' Just because he's in the public eye doesn't mean he owes his fans anything."
The sense of "ownership" among fan groups is not a new trend. The infamous murder of singer and performer Selena stands as one of history's most harrowing tragedies (and a patently extreme case). In 1995, The president of the singer's official fan club named Yolanda Saldivar, who also managed several boutiques, lured the star to a hotel room and shot in her in the back. This speaks to the expectation artists owe their fans intimacy and complete transparency 24/7, an even more troubling problem in 2016.
Swift, who has treated fans to personalized Christmas gifts and Secret Sessions numerous times over the past 11 years, could probably tell you an unsettling story or 100. "I imagine she, of all people, has heightened security at all times. She has to be careful. If she seems to be coming down hard on anyone, some fans may feel like it's being too heavy-handed," Fisher ascertains. "There's a problem with the way she's built up her career and how she's been so fan-centric. With the digital world and how she's been so focused toward fans, social media and streaming, she could suffer from it the most."

A self-proclaimed former Swifty, circa-2007, Fisher shares her own experiences of traveling down into the rabbit hole of fandom culture. "I became a fan halfway through her first album cycle. I joined the Taylor Fan Forum in January 2008. I was on there for just over a year, religiously using it. I met a lot of different people there. It was quite a small forum but it was one of the first few major ones. There was another one called Absolutely Taylor, or something like that. There was a guy named Steve -- he was the one who got access to 'Sparks Fly' and 'American Boy,' all of those songs early on. I remember him paying $300 for the 'American Boy' single. That's how everyone has heard it. It was his copy of 'Sparks Fly' (the live version) that everyone shared around."
She continued, "The forum was a strange place. On one level, I was crazed but in an innocent, teenage-way. I wasn't a 'I want to wear your skin' kind of crazy. I always felt on those types of forums that I was sort of one-of-the-crowd but also not quite bizarre enough. Steve was in his late 30s and married and obsessed with a 17-year-old girl. He devoted all of his free time and attention to Taylor. He spent so much money on meet-and-greets and VIP packages. He thought nothing of paying $300 to get that single, when there was basically none in existence. He did that time and time again. He ended up finding between 50 and 100 very rare Taylor demos -- some of which only a handful of people have heard. Everyone who hears them is so closely vetted."
But, she says, the environment became toxic, and soon, she felt unwanted by the same people who had been so accepting. "It became really suffocating in there. The reason why I left is because I didn't like 'Fearless' as much as I liked her debut album. I thought she went a bit more pop, and I wasn't so sure about it. When I voiced this opinion, saying 'I do like the album but it is a little too pop for me,' they all shut me down. I was considered a bad fan, and I got ostracized from a group where I had made really close friends. A couple of them I still have in my life."
Several years after Fisher flew the coup, she says the original forum shuttered and morphed into what is now referred to as the "Inner Circle." She explains, "[It is] supposed to be this inner circle of diehard Taylor Swift fans. It's a very strange, obsessive world. They really do devote their entire lives to her. There is a girl from the UK a couple years younger than me who somehow started going to all these Taylor events. Her parents would give her loads of money to go over to America and go to all the Taylor tea parties. It got to the point where Taylor knew her name and who she was. She would end up volunteering for all these fan events. She was at the 'Red' album live stream, one of like 10 fans. She considers herself Taylor's friend, but she's really not. She's just a fan who Taylor just happens to know of."
Country radio programmer and personality Bill Bert of Country 92-5 FM agrees. "I think some people believe they're friends with the artists because they've met them a dozen times. It's kind of freaky. It not only makes them look silly, but I promise the artist is freaked out by some of their behavior as well," he says.
The Mind Of The Crazed Fan: Haters And Death Threats
Now a prominent tastemaker on Americana, folk and country music, Fisher has admittedly had her fair share of bizarre, distressing (and hilarious) fan run-ins through the years. "I've had quite a few [bad experiences with fans]...I've honestly forgotten half of them. That's probably bad. My first experience was with Jason Aldean fans. It was by-far not the worst one, but it was a bit of a shock. I had technically been blogging for nearly a year, but had only been doing it properly for about six months. I decided to write an article slating him. I think the title was 'Is that Jason Aldean? Turn off the radio,'" she says of the blog post published on NashvilleGab.com four years ago -- in which she wrote, "Ever since that scandal blew up last year about Jason Aldean cheating on his wife on a drunken night out I knew I had to write this article"; and later, a cutting comment on his music, "I suddenly realised that his songs, they were all the same, in one way or another. The majority of the songs, about country pride, but pitched in a kind of alpha-masculinity that feels a little aggressive. I realized that his singing doesn't feel friendly, and that this enhanced his music in a way that made his heavily patriarchal songs appear slightly menacing."
Not surprisingly, Fisher was inundated with hate. "I got a lot of tweets from people creating Twitter accounts just to send me abuse. At first, it was distressing. I see Twitter as my personal online home. It prepared me. About a month later, I had my first brush with Blake Shelton, which is weird -- his fans are not as aggressive, but they were larger in number. Jason Aldean fans were really aggressive, in kind of a dumb way. BS fans were a culmination of younger men and women and also middle age people, who were a bit more polite. They weren't technically as abusive but more passionate."
Comparatively, Fisher found Brad Paisley fans to be of the snarkier variety. "I had posted a review of 'Moonshine in the Trunk' [on ForTheCountryRecord.com], which was pretty balanced. I led in on social media with the line 'why his new album isn't his best.' I thought his best was 'Wheelhouse.' But he thought it was a negative review. So, without reading it, he then tweeted out something snarky, and I was attacked by his fans. Their tweets were more snark."
On the extreme end, Fisher has received a death threat or two."The one [instance] I remember the most came from a Stella Parton fan. I have had second hand experience of Stella's personal behavior towards other people, and I'm not a fan of hers whatsoever. Her music isn't too bad, but as a person, she doesn't seem that nice. I decided to review a collection she put out on Spotify," she says of this story on ForTheCountryRecord.com. "It was a load of poorly remastered old songs, and I said as much. Somebody commented saying 'Vickye, please go kill yourself.' I was like '...thanks.' I felt I was fair. It wasn't like I went and slated. I've said way worse things."
Another instance is particularly troubling, but it involved a diehard Stella Parton fan reaching out to Fisher for what could have been a deadly situation. "Stella went on tour in the UK in March. A guy emailed me in January or February asking me to know which hotel she was staying in for one of her dates. He asked me if I knew or could investigate what hotel because he wanted to surprise her. They were coming over from somewhere in Europe," she remembers. "I thought 'this is creepy.' I forwarded the email to her publicist. I never replied to him. I didn't want to exacerbate it. It could have been very bad. He also said 'I don't want Stella to know I'm coming and I don't want her tour manager to know I'm coming.' I've never experienced anything else quite like that."
Country Perspective music critic Zackary Kephart shares a recent experience, in which a brief music comment turned into a wildfire. "My worst experience with a fandom came pretty recently. The founder of the blog, Josh Schott wrote a piece about the newly formed Billboard Americana/Folk Chart. He stated that he wasn't familiar with some of the artists on the chart and continuously updated the piece as he listened through more and more artists on the list. One update he made was in regards to an artist named Sawyer Fredericks. Josh wrote a very brief paragraph stating that Sawyer's music simply wasn't his cup of tea. Sawyer's fans quickly found out about the piece. They flocked to the blog, with some fans calling Josh things like an 'idiot' and also questioning his music taste. Stupidly, I jumped up to Josh's defense and was 'confronted' by a few of these fans. Never before had I seen such a passionate response from a fandom. I don't know how Sawyer fans found the piece but they most certainly did."
He later recounts another instance when having an opinion brought out the sharpened knives. "There was also a time I was attacked over on the Pulse Music Board. There was a thread for a single by Keith Urban called 'John Cougar, John Deere, John 3:16,' which definitely saw its share of Keith fans in the discussion. There was a scuffle on the thread between two posters, one of which was obviously a huge Keith fan. The other poster was a man who called out the first poster for proclaiming Keith's single as a breath of fresh air on country radio. Once again, there was an intervention by yours truly which quickly dissolved into me being told to 'get a life' along with other insults."
The Mob Mentality
In many ways, the artist themselves create such an inclusive environment surrounding their music and their public persona, it leads fan vulnerability to deepen the potency of acceptance, dedication and unassuming ownership of the artist. "It does feel self-perpetuating because if you go above and beyond, that's the new normal. If Taylor Swift sent Christmas presents to her fans last year, she has to this year, right?" The Shotgun Seat's founder and reporter Annie Dineen considers -- the surge of expectation versus reality is of particular note here. Fans have the expectation their favorite artist will only acknowledge their existence if they send up a barrage of "please follow me"s and "I love you mom"s in a bid to feel wanted and needed. But, if you are like Swift and invite your fans into your personal bubble, you sacrifice a part of your humanity -- something you will never get back. Once you get to that point, there comes a despair, too. "You know the people who tweet 'omg, please follow me, please RT'? Aren't you so embarrassed? I wonder if that desperation and internal fear they will never get acknowledged breeds fanaticism because it seems to be the only thing that might work," she says. "You could extrapolate that if the most fanatic ones are getting attention. It's self perpetuating."
Fanaticism breeds ownership, which, in turns, breeds rabid negativity and delusion. For one 5 Seconds of Summer fan, that means skirting the lines between one woman's public and private life. Luke Hemmings's girlfriend Arzaylea came under fire earlier this year for dating the superstar and living a semi-normal life behind her social media pages. "I don't know Arzaylea personally," one fan said about her deep-dive research project into Arzaylea's personal history. "I'm totally judging by how she makes herself appear online. But you don't have to be pessimistic or even biased to see that she's thirsty for fame, inconsiderate, and an alien to anything but a privileged life. Seeing our young, awkward, adorable Luke dating someone like that made the majority of the fandom upset. When I did the extensive research on Arzaylea, I questioned if I even knew the Luke that I thought I knew. My Luke wouldn't date someone like that."
Instagram, Twitter and Facebook read like a voyeur's wet dream -- giving fans private snapshots into every aspect of a star's life. As a result, fans become falsely enamored with what they think they know, and the boundaries between reality and fantasy are forever blurred. "Social media is the best of times and the worst of times. It does have that accessibility to anybody, but that almost relates a little bit to when we were kids and internet became a thing and cyberbullying became a real issue -- it was something no one had ever dealt with before," says Dineen. "You see them and feel like you know them, but you are not watching their face as they are saying these things. You may never have to deal with the repercussions of your negativity. It connects you to them just enough to feel like you could be involved. If you are not one of the ten a major artist has time to acknowledge, is that going to make you want to be harsh? Or a supporter? It's easier to be critical and negative. You are not going to have to deal with that face-to-face."

A link can also be drawn to the mob mentality within society at large. Tamara Avant, psychology program director at South University in Savannah, Georgia, spoke with South Source about the phenomenon. "Social psychology does offer relevant explanations for group or mob mentality and violence. When people are part of a group, they often experience deindividuation, or a loss of self-awareness. When people deindividuate, they are less likely to follow normal restraints and inhibitions and more likely to lose their sense of individual identity," she said. "Groups can generate a sense of emotional excitement, which can lead to the provocation of behaviors that a person would not typically engage in if alone. Think about the last sporting event or concert you attended. It's unlikely that you would have been yelling or singing the way you were if you were the only person doing it. The group seems to make some behaviors acceptable that would not be acceptable otherwise."
In a Time story issued earlier this year, which examines the role of mob mentality in mass violence, Harvard psychology professor Mina Cikara and a postdoctoral researcher Adrianna Jenkins (at the University of California, Berkeley), support these claims with their own independent investigation. "We investigated another reason why crowds can promote anti-social behavior: acting as part of a group may cause people to lose touch with their moral compasses. That is, people may get swept up in the excitement of acting as a member of a crowd, making them less attuned to whether or not they're adhering to their personal moral code and, in turn, more likely to violate it."
The concepts of behavioral ownership, lack of moral identity in a group and seeking out like-minded thinkers are prominent in online fan activity. Social media has allowed artists to embrace community and form lasting connections with and between their fans. But it's all a double-edged sword, however: social media enhances the camaraderie and dedication but gives license to say/do things you wouldn't otherwise say/do in real life. You live your life behind a computer screen, emboldened to tell strangers to "fuck off" or even worse, to kill themselves.

Music criticism is often at the blunt end of fans's wild imaginations and sense of right versus wrong. "People feel so connected to these artists. They are the only ones who get to criticize an artist. They are also the first to defend them. If we say something negative about an artist or release, their super rapid fans will post 'well, how can you say that?' But they are also going to be harsh on the artist, at times. It gives and it takes," Dineen says. "Fans have a lot of pride in the artist they support from the beginning. That's probably healthy. Then, fans expect that artist to always be exactly how they were when they had nothing. That can be dangerous. You can't acknowledge every single fan, like when there were five of them. As much as you want to acknowledge the people who got you there, every artist struggles with that. They stay after every show and meet people at the merch table. Then, if you are Luke Bryan, you can't do that. Or if you are Kip Moore and you do do that, you stay three hours after a show."

Zackary Kephart chimes in, "I have definitely seen fandoms where people believe that the artist they support is invincible and should be shielded from any criticism possible. I don't agree with this at all. There is nothing wrong with people having differing opinions on a certain subject whether it be on music or something else. After all, discussion can lead to some truly stimulating conversations."

Fandoms Speak Out On Ownership
The intimate artist-fan relationship circles back to what fans have come to expect, what the industry dictates and the role of admiration versus obsession. To get a closer, more in-depth glimpse into what fandom culture is like in 2016, Popdust spoke with several major fan accounts on Twitter for their insight. We'll start with @HilaryNews, a dedicated account for pop singer and TV actress Hilary Duff. The page runners were gracious enough to offer a recent example of "ownership" among the fandom online. "The perfect example of fans thinking that they own Hilary happened recently. Hilary was in New York shooting Season 3 of 'Younger,' and she posted a picture of her son, Luca Cruz Comrie, on her social media pages and she stated that she missed him. One fan attacked Hilary and said she didn't know what it was like to be a real working mother because she had only been working for four days. The fan also brought up how she didn't promote her last album and attacked her on every level. This sparked an outrage within the comments on Hilary's Instagram page and fans were going back and forth on the topic of Hilary and her work ethic. People tend to think that just because other artists do the work, doesn't mean that Hilary is required, too. She's her own person and does what she thinks is possible for the good of her son."
Emily Vontom, a diehard in the Britney Army, agrees. "I think ownership is a little too strong of a word, but there are fans who think [Britney Spears] owes them something - new music, appearances, Instagram posts - whatever. There are fans out there who believe they are more important than the rest. I think you find that in every fandom, though. But, for the most part, the Britney Army is just very protective of Britney and, at the end of the day, we just care about her happiness over everything else."
One of Carrie Underwood's biggest fan accounts, @NY4Carrie, sees the CareBears as having nothing but "pure and good" intentions when it comes to the proposed ownership mentality. She writes, "We get so passionately invested in wanting her to win and succeed that sometimes we forget that it is her career, not ours. We genuinely want nothing but the best for Carrie. I think we just sometimes have bigger dreams for Carrie than perhaps Carrie has for herself? I admit that I am guilty of that sometimes. Another example is in radio single choices that her team disagrees with or is unaware of, etc. As fans, I think we all wish we could have a bigger say in that."
Fan account @TeamErikDylan, who also admits to being a huge fan of Kip Moore and Dierks Bentley, shares a few thoughts. "There are some that think that they are owed a meet-and-greet or personal interaction with an artist just because you support them by buying music or going to shows. Being a fan should be just about supporting the artist and their work. With social media, these artists are so much more accessible to us as fans and that's mostly a good thing but you can't assume or expect him/her to personally interact with you. The M&G opportunity and even just having an artist sign at the end of a show or appearance is a special, usually once-in-a-lifetime, experience and should not be expected."
Michael Read, a Underwood loyalist and BSC-TV sports director, has mixed emotions when it comes to fandom ownership. "I feel like there is [a sense of ownership], and I don't know how to feel about that. I feel like we gave Carrie her career. We the fans, voted for her on 'American Idol' and have supported her the past 11 years. Buying albums, singles, tour tickets, tour merchandise, fan club memberships. But Carrie also has done a lot of work on her own to make the career she has. She has her own athletic clothing line, Calia, she does the opening for Sunday Night Football, she's the ambassador for Almay, she ventures out and does cool and exciting things and she can do that because we voted for her."
In the pop world, Ariana Grande is arguably one of the biggest stars on the planet. She grew up in the TV spotlight -- starring in Nickelodeon's Victorious and spin-off series Sam & Cat -- before successfully forging an impressive music career. Much like Bieber, her life reads like a tabloid at the supermarket -- every single moment of her online life becomes a headline, whether she's tweeting about Whole Foods or taking a candid from the studio. All eyes are on her, and especially when it comes to her personal relationships, nothing is off limits. "For certain reasons, I do think that some fans think Ariana is their property -- for example, in her relationships, fans seem to think they can control [her] and have a say in her relationships, saying she should have stayed with him, she shouldn't be with him," fan group @ArianatorAmazex tells us. "I just think they need to respect Ariana and her decisions because at the end of the day, we are here to support Ariana for her music not to try be apart of her social life."
The sense of ownership throughout many of the fan groups we interviewed is alarming. @KipNSlowHearts reflects, "You see such entitlement from some fans just because Kip [Moore] is nice to them. One particular [unnamed] fan page definitely acts like [they] own him. It's tough to see and really makes me feel for any artists that have to deal with that kind of person."
@EGrifMusic, who works extensively in artist development and production, says "this [notion of ownership] is perpetuated, in large part, by award shows."

The Big Debate: Carrie Underwood V Miranda Lambert
Following this year's CMT Music Awards in June, I was sparked to reconsider exactly how (potentially) dangerous and (ultimately) damaging fan culture can be. When Carrie Underwood performed her hit "Church Bells" and later walked away with several of the night's fan-voted buckles, a small army of fans came out of woodwork to aim cruel and bloodthirsty charges toward the format's other leading lady, Miranda Lambert -- who was, in fact, absent from the proceedings. Why did her name even come up at all? That tale goes back eight years.
The long-standing Underwood-Lambert fan rivalry is entrenched in the political environment of the country award shows themselves. Whether you are discussing the CMA Awards, the ACMs, the American Music Awards, the Grammys, the CMTs or even the Billboard Music Awards, you can not have a conversation without addressing fan wars. As Mjs Big Blog reporter and music critic Windmills Music has stated on numerous occasions: the award winners are determined through pulling votes from managers, promoters, journalists, radio programmers, engineers, singers, musicians and songwriters who all have something to benefit from winning. Awards are nothing more than promotional tools used by PR companies to pad press releases. Additionally, voting blocks have been around nearly as long as the award shows themselves.
As Ron Swanson would say, "I'm just saying that awards are political. Everybody has an agenda. If you spend your life chasing them, you'll drive yourself nuts."

Vickye Fisher considers Underwood fans' sometimes knee-jerk behavior and whether sex has anything to do with it. "Carrie fans are quite bitter about the lack of awards and general industry feedback she's gotten. They always feel like the underdogs, even though she's obviously not. It's the thing of the other popular female at the time. When Taylor was winning all those [country] awards, Carrie fans hated her. It comes down to the two popular females in country. They saw Taylor as a threat. That rivalry was really vicious, to be honest. I'm not sure which side started it or which side was worse. But they were both as bad as each other. They was so much unnecessary hatred."
There is considerably less excessive mud-slinging between fans of male singers, a glaring indication of sexism and misogyny. Fisher admits as much, but also cites country radio's narrow playlists as gasoline for the fire. "You don't have Luke Bryan fans and Blake Shelton fans yelling at each other. Country radio narrowing the female playing field has made it worse. Radio can really make an artist's perceived career. There's nothing ever like that going on with male fans. It's all about camaraderie and buddies together."

In an attempt to be a rallying cry for female empowerment everywhere, Underwood and Lambert teamed up for 2014's hit "Somethin' Bad" -- perhaps, unintentionally, many saw the collaboration as an attempt to ease fan tensions between the fan bases. "Carrie and Miranda tried to do that with [that song], but it fell flat. Their fans weren't willing to play ball. Carrie and Miranda are probably aware of what goes down. That was probably part of the reason for the collaboration," Fisher says. "If somebody else comes up and becomes a superstar of a similar level, I think the rivalries will shift and change. As soon as someone else is winning the female awards, that'll be the person [who will be attacked]."
Annie Dineen finds the competition between females to be a precarious one, at best. "Why are we in a culture where it's one or the other? Because people only have two. No one is saying Luke Bryan or Jason Aldean. And that's country music. Two of anything can be dangerously rivalrous. In Romeo & Juliet, would it have been less dramatic if there had been a third family? Maybe. Are we now going to have Maren Morris fans who hate Carrie and Miranda? Or do Carrie fans reject Maren because she's not Carrie? If there are more people in the ring, people can just like who they like without tearing down another person because there's only one in the way, so to speak."
Mob mentality is the obvious culprit for fans losing their moral codes the internet. "On a basic, human level, it is mind-blowing the things people will say about each other -- that's something on all of internet culture," says Dineen. "Obviously, when you hope to be a public figure, as a successful musician, you'd want to know what you are getting into. It is amazing to see what people will criticize each other for. There's no subtlety. People are willing to say anything."
"It's a dangerous culture. You are not just making a comment to your friend in your living room anymore," she continues. "If you look at someone like Kesha, obviously her fans have been super supportive, but through this whole process, she's also had a ton of detractors. For someone like her who has done something incredibly personal and incredibly vulnerable in the public eye, if you let yourself read the wrong things (from someone you don't even know), that can be incredibly damaging."

Specific to the Underwood-Lambert fan war, hardware gives even the most casual of fan a sense of validation for their contribution to an artist's career. Both singers got their start on singing competitions, American Idol and Nashville Star, respectively, and there is an obvious parallel of voting someone through a competition and feeling their post-show livelihoods belong to the fans. "Awards are the most visible thing -- it is the most digestible benchmark for people who aren't that involved in the industry. It's a quick and easy designation of good versus best," Dinnen concedes.
"What would be more satisfying for something like that? I feel like Kip Moore fans get excited when he does anything because any sign of success is just great. They are happy for him no matter what. What appeases one fandom but is unappeasable by another, by even the highest awards?"
As she later points out, perhaps the competitiveness is a sign of something much deeper and far more distressing below the surface. "That goes back to: what do fans want? Are they just frustrated that they don't feel as acknowledged by her and so they hate on anyone else? I feel like fandoms, in general, want recognition for the sacrifices they've made to support this artist so heavily. If they are looking for things more than that, I almost wonder why…"
Popdust reached out to some of the most dedicated Underwood and Lambert fans to get their side of the story.
"I have seen a lot of ugly fan wars, in general, online between Demi Lovato fans and Miley fans, etc. [It] seems to be very common among the younger teen fandoms. While I am an adult and not really into their music, per se, it is impossible not to see the nasty fan wars going on among [those fan bases] almost daily. In country music, there have been a lot of fan wars between Carrie and Taylor fans, but that has died down since Taylor finally went to pop music. Now, the main fan war in country music seems to be between Carrie and Miranda fans -- due, almost in sole part, to being pitted against each other constantly at award shows. But if it wasn't for the award show competition, I think that Carrie and Miranda fans would get along better, as they did before Miranda won seven years in a row. Carrie and Miranda are friends, and I think their fans respect that. But, right now, it is getting really competitive between the two fanbases, as seven years is a very long time for Carrie fans to tolerate the snubs. I, for one. understand the frustration and feel it acutely. But, I still respect Miranda greatly as an artist. I think I just wish the CMAS and the ACMS would be fairer and share the love between them instead of cutting Carrie out completely." -- @NY4Carrie
"When Miranda wins an award, Carrie fans feel that Miranda 'stole' it and doesn't deserve it -- I admit, there's been some years when I think that's true -- but I think the difference between people like me and others is that I don't take my frustrations out on Miranda and her fans, personally. I also think that another cause for this beef is that the fans always want their idol to be the best. They want to believe that their idol is superior to others; that they are at the top of country music -- they view the other person as the 'competition.' This causes some to try and tear others down. They try to make their idol look better by minimising and disregarding the accomplishments of the other. I think this feud is very similar to the Taylor and Carrie one from several years ago (although this has mellowed out since Taylor left country)." -- Janine Dacanay
"Miranda's fans aren't competitive with each other (minus a couple very isolated examples) and hers exist as a fandom of comrades. These fans are a strong music group but they will fight to the death to stick up for Miranda against other fanbases. Basically there is little internal fighting but the external can be huge IF they are provoked. A certain type of badass who appreciates real country follows ML and I think she has the correct fanbase for herself as a result." -- @NYMirandaJunkE

Fan Wars: The Plague Of The Millennium
Widening the reference point: Fans of Britney Spears, Adele, Kip Moore, Hilary Duff, Melanie Martinez, Dierks Bentley, Ariana Grande, Brandy Clark and more share their own observations of fan wars and personal stories of being attacked.
"Personally, I think the fandoms that used to and still have the most beef are Beliebers and Directioners because they're both strong and very powerful fandoms. They always seem to clash -- they're very rude to each other and start arguments and once one person starts, [more] join in. Because it's online, they just get carried away with the drama. I don't think the arguments damage the enjoyment because it's between fandoms. Honestly, some of the things they come out with are just silly, and it all starts over unnecessary things which I've never understood." -- @ArianatorAmazex
"There is a lot of jealousy [in the fandom], especially because a friendship between Kip and I developed, and people see pics of us and go nuts. I have had people create profiles pretending to be me attacking Kip or copying my fanpage and attacking fans. It has been going on for almost 3 years. It has gone so far that Kip and his management have gotten a legal team and plan to take action once they have the information traced." -- @KipNSlowHearts
"I have personally been attacked. Someone found me on Facebook and said horrible things. I'm not sure why and I don't think they were part of any fandom. Maybe they felt bad about themselves and had nothing else to do with their time." -- Carly
"We have learned that being in this fandom, comes with some bad negative experiences with fans. A lot times when fans are unhappy with Hilary, they seem to like to cut her down. They will call her 'fat,' 'a lazy bitch' and just drag her to pieces. We understand we all have our moments as fans. But, we could never stoop to their level by tweeting something so vulgar to her or commenting on her social media pages. Some people just like to take it too far. It's really upsetting to see sometimes, because these people call themselves "fans,' yet they will constantly cut her down. Fans need to focus more on the positive side of things, and appreciate what Hilary has done for us and what she continues to do. In the case of Hilary fans, we usually have the biggest beef with the 'second level' Disney Channel stars fandoms -- Miley Cyrus, Demi Lovato, and Selena Gomez. Every fandom is out to prove that their favorite is the Queen of Disney. It's like a battle of the old vs. the new and we must say, that none of these girls, besides Miley, can compare to the success and power Hilary had at the peak of her career. We don't let these fans wars damage the enjoyment of the music." -- @HilaryNews

"In every fandom, there's at least one other artist that people pit their artist against. It's been Taylor, Miranda, Jessica, etc., with Carrie over the years. With that comes the war of the fandoms. Whether it's about awards, or he said/she said, it happens. People tend to get ugly on social media. I personally don't think it damages an artist's 'brand' that much. If people don't like an artist based on things their fans do/say, then they don't know that artist well at all and probably didn't like them to begin with." -- @CUNews4Fans
"I can see people thinking we [Dierks Bentley fans] are 'whiny' because we get rather defensive and indignant (okay, fine, angry) when it comes to Dierks's lack of recognition at the major award shows. But I also think that's more true of his more hardcore following versus the more casual fan club member. I also roll my eyes when people just assume we like Dierks because he's hot. I also don't subscribe to the theory that to love Dierks is to love everything he releases. I definitely experienced some backlash (mostly via subtweets) when I voiced my displeasure over 'Somewhere on a Beach,' which is fine. Can't please everybody! I once was 'attacked' by Thompson Square fans because I tweeted that I was confused by one of their past award show nominations. I actually found that hilarious." -- Carrie Sbreros
"I can remember a particular Instagram post by a fan after the ACCAs. She posted a photo of Carrie's dress, with the caption 'I wasn't too keen on Carrie's dress last night. What do you think?' Or, something to that extent. This fan had tagged Carrie, who actually commented on the post, 'I liked it.' I'm not sure if Carrie was just joking, but it seemed to really upset that fan." -- Jodie Price
"I've never had bad experiences with other Adele fans, except when I see some foreign fans criticizing the Brazilian fans. I think there is some xenophobia in some of those types of comments. I do not really accompany these 'wars' between existing fandoms and think it's a waste of time. Someone once said that there is room for everyone and that everyone can shine, respecting their work is critical. I do not like some artists but I don't waste my time criticizing about them." -- @AdeleBrasil
"The biggest 'war' I've seen so far is when Miranda broke the record for most consecutive CMA Female Vocalist of The Year wins. I mean let's be honest, Carrie can blow Miranda out of the water. She doesn't even hold a light to Carrie and for her to win that many times? It's a little ridiculous. It's all politics." -- @Hannah_Kulski
"I wouldn't say I have been 'attacked,' but I remember tweeting LeAnn Rimes 'Happy Mother's Day!' this year and totally, like out of nowhere, this random hate account replied to that tweet, saying that LeAnn is 'ridiculously insecure' and that 'she's not a mom and will never be.' All I did was just send her a wish out of a kind gesture and I got a negative tweet. Another one was last December. I was in NYC for Kip Moore/Michael Ray/Chris Cavanaugh's show, and the same thing happened. Immediately after tweeting about how good and energetic Kip show was, one of his haters tweeted me and mentioned something about how stupid I am for supporting a 'criminal.' Being curious who this person was, I clicked on his/her profile and found him/her tweeting many fans about how Kip is 'screwed up' and bribed the court/rape victim to avoid facing criminal charges." -- Jeremy Chua
"I see a lot of beef between Britney and Beyonce fans, and when Lady Gaga was just starting to get big, there was a LOT of animosity between Gaga and Britney fans. Obviously Katy Perry and TayTay have some beef, so their fans are amped up at the moment. All these artists are constantly supporting one another (with a few exceptions), so you'd think their fans would support each other to. For example, I am not a fan of Beyonce, she's just not my cup of tea. I just cannot get into her music, and I cannot relate to her at all. However, that doesn't mean I don't think she's an extremely talented vocalist and performer. Her and Britney are completely different artists and have completely different styles -- there is no reason to compare them to each other or tear the fandoms of the other down. Appreciate each other for what we are and leave it at that, you don't have to like it or agree with it, you just have to respect that someone else feels differently than you do, and that's OK." -- Emily Vontom
"The worst online experience, hands down, was trying to defend poor Carrie to rabid haters following the 'Sound of Music Live' broadcast. Carrie got death threats and vile, obscene hate tweets that would shock even the worst of cyber bullies. In fact, the hate started a year before the show even aired, as many theater snobs or jealous fans of other artists began trashing Carrie a year before she even took the stage, never giving her a fair chance. There were moms bashing her with their friends, hosting hate watch parties. It was disgusting and way over the top. Other bad experiences online with other fandoms include including ones with Kelly Clarkson fans. She is a wonderful artist and I adore her, but some of her fans can be quite cruel. It must be an 'American Idol' competition thing. Taylor Swift and Miranda Lambert fans have also gotten into heated exchanges with Carrie fans on the internet due in part to awards shows." -- @NY4Carrie
"Social media is a great way of meeting fans and befriending them if we feel like it! It can be a really positive place, but it can also be a hateful place. Some people see social media as something to hide behind so they can be rude and say hurtful things they would never say in person. That is part of the reason why Melanie [Martinez] is on a break from Twitter. We try to stay out of social media 'wars,' but the only drama we have seen is when Miley Cyrus copied Melanie's style in her music video. Fans were pretty upset because Melanie puts a lot of hard work into the concept she tries to create." -- @UpdatesLBBH
"This is a bizarre and interesting one. It's the result of Brandy [Clark] being non-discerning about the types of people she gains as fans and overly encouraging of them. Brandy gives attention, awards for 'support' as she always calls it until the group are essentially working for her voluntarily. I left because I felt like an employee. If you don't produce, she will champion and blatantly spotlight another fan who she felt did more or to make you feel as though you need to do more to get the regram or the cupcakes at her show -- yes, she does that. She DMs instructions about what she wants you to do, be it an iTunes link or a hashtag she wants used. The result is a small, isolated tribe of obsessive misfit women who have never experienced such attention and near fame in their lives. She even encourages an obvious stalker. They travel around to her shows obsessively putting in miles because she gives comp tickets to her favorites. It's a bizarre situation." -- @NYMirandaJunkE
"I will have to say that Miranda Lambert fans are the worst I've ever experienced. Carrie fans don't mind Miranda; we like Miranda, except for during the CMAs and ACMs -- then it's war. Joking aside, her fans are rude not only to the Carrie fans but also to the Blake Shelton and Gwen Stafani fandoms. Whatever happened in their personal lives should stay out of the fandoms. I've never been personally attacked, but I have gotten into arguments with other fans over awards and recognition. I have seen other fans get attacked and told to kill themselves and that is awful and uncalled for. That kind of cyber bullying should never occur and I can speak for myself and the whole Carrie fandom when I say, we've never told anyone or any other fandom to kill themselves. We represent Carrie, and we don't want that to reflect that on Carrie." -- Michael Read
Should Artists Be Held Accountable?
Generally speaking, the fandom culture can be an enjoyable, fulfilling experience -- but it's when the most intense fans cross the line, that feelings of bitterness and resentment bubble to the top. "I kind of blame our culture. Everything is very instant. We live in such an on-demand culture. It's hard to say 'let's put fandoms in the hands of tastemakers or gatekeepers.' That's not how our culture works," says Annie Dineen, contemplating exactly what can be done about fandom culture moving forward. "We are very want it and want it now. I almost wonder if it is in some ways related to crowds at a show. Are Brantley Gilbert fans more likely to get in a fist fight than Maddie & Tae fans? I wonder if there is a correlation there. I saw Brantley at Rock the South last year, and someone did get in a fight in the pit. He came off stage to smoke a cigarette. His tour manager came out and told him. He came back out onstage and said 'we are not fighting here. That's not what we are here for.'"
Does responsibility lie with an artist to be aware of their fans's online behavior and seek out a solution? Maybe. "If you are Carrie fan, you should feel guilty being harsh because that is betraying her. She would feel disappointed in you if she knew you were writing death threats to someone who criticized her. She should lead the charge and say 'it's OK if people critique me,'" Dineen says.
Taylor Swift built her entire career on playing the underdog. As her star power rose, so did the level of very public personal experience she utilized in her storytelling. In 2014, the singer-songwriter dropped her fifth studio album, the multi-platinum 1989, and her single Bad Blood took direct aim at her adversary Katy Perry. The whole song is constructed as a defensive shakedown of another woman. "You know it used to be mad love. So take a look what you've done," she lurches on the chorus. The music video, too, strings together Swift's self-made coven, stirs the "hater" mentality and serves as a reminder to her fans they can do the same online. Also, Swift's 2010 hit "Mean" is, reportedly, a barb to veteran music reporter Bob Lefsetz -- a response to this blog post in which he critiqued the singer's 2010 Grammy Awards performance and supplied this inquiry: "did Taylor Swift kill her career overnight?"
Swift's immortalization of her Perry and Lefsetz beefs isn't anything new in the industry. Artists have been doing this for decades. Mariah Carey and Eminem; Drake and Common; Fergie and Perez Hilton; Tupac and Biggie; Nicki Minaj and Lil Kim; Jay Z and Nas; Justin Timberlake and Britney Spears; Madonna and Lady Gaga; and the list goes on and on and on. Conclusively, artists feed their fans, and their fans continue to feed the fan wars.
Furthermore, not a day goes by when a social media feud does not break the internet. Whether you are speaking on Swift's very public misstep with Nicki Minaj -- a scuffle @EGrifMusic cites as one of the biggest fan blowouts he's ever witnessed in history -- or any number of other high-profile match-ups, it is evident social media has drastically changed the way we interact, handle our own emotions and grasp onto a sense of moral etiquette. "Twitter has played an increasing role in perpetuating these fan wars with the rise of hashtagging. Fan reactivity is, generally, a good thing -- I always advise artists I work with to encourage fan reaction on their social media -- but there are always those fans that take it too far," he says. "The whole point of artist proliferation onto social media is to connect with fans on a human level and show that they are people too. Ironically, I think the problem that arises is, with increased information at their disposal, fans get immersed in these artists's lives and ultimately forget that the artists are, indeed, people."
Yes, fans, artists are just people.
Fan Testimonials: The Good
Of course, fan culture isn't ALL bad. Popdust spoke with numerous fan groups about the best parts of being in a fandom:
"The thing that makes the Hilary Duff fandom so special is that we have all literally grown up with Hilary. We can take certain projects that she has worked on throughout her career and pinpoint exactly what was going on in our lives at that time from her TV work (Lizzie McGuire and now, Younger) to her albums and her movies. The fandom is so diverse from loners, to extroverts, we all find something about her that we connect to and that is: Hilary Duff. Let's be real. NO one thought Hilary Duff was ever gonna put an album out after her extended break from 'Dignity.' But once she did, we saw her dedication and commitment to the project even when she was unsigned, we knew she was gonna follow through. No one had any idea that Younger was gonna do well in any capacity, but once again Hilary proved that when it comes to television projects, she strikes gold. Hilary tends to surprise, in that even though she disappears for months (or years) at a time, she can always bring us together to enjoy a new project. We know that Hilary really delivers when she is committed to something." -- @Hilary News
"I think that for most of us that have been around for a while, this fandom is like a family. For the past 11 years, I've grown up with these people. We've watched Carrie grow together as well. I've known people for years. We've all shared in this journey together. When things even happen in our personal lives, we've cried together. No matter where anyone is from or what anyone may believe, Carrie and her music bond us all as one. When it comes time to vote for anything, we're on it. Looking back, I owe Carrie so much. I have met the best people I could ever ask for. I have the BEST friends I could ever ask for. It all started because of a mutual support of a young blonde girl from Oklahoma. Now these people that will remain part of my life forever. It's all pretty amazing." -- @CUNews4Fans
"On what makes fans of Adele so special, I would say it's the sensitivity and having the same tastes for other things. Because of Adele, I met other wonderful people who like me, have a very real feeling for what the singer is and also have a very pure feeling about life, about conditions of human existence and about feelings. I realized that among fans of Adele there are many tastes in common, both for other singers or movies, series, music, ideologies, etc." -- @AdeleBrasil
"Fandoms are awesome because it's like a family. For the most part, everyone agrees on the same things and you all support the same person. It goes beyond just supporting the same person. I've become friends with people on Twitter and am friends with them on Facebook and have their numbers and snap chats and we talk about life and other things. I am from Ohio yet I talk to people from the UK and many other states. The best parts of being in a fandom are having people that love someone as much as you do. Sometimes friends and family get sick of hearing about Carrie or don't really care about what she's wearing to the red carpet. But when you are part of a fandom you get to celebrate everything your idol does with friends." -- Carly
"I think with Dierks, it's the people, and Dierks himself. The Dierks 'Congress' was borne after he said his fans were like a congress. It started kind of as a grassroots thing but grew and grew and then they named the fan club after us! There's just something special about it, and Dierks has always gone out of his way to make his core fans feel special and appreciated. I love the excitement and energy that comes out before a new album or a tour starts, and I love when certain tour stops or events become reunions since we're all over the US! When he opened the tour here in Charlotte two years in a row, we had 15-20 people fly or drive in for the opening. It's a lot of fun for us as fans, but Dierks also made sure to tell me in my meet and greet that weekend how happy he was to see all of us in the front row for opening weekend, and that it meant so much to him and the band and crew. Similarly, a pretty large group is meeting up to see him in Red Rocks, CO in September." -- Carrie Sbreros
"I've met some really awesome people. The people that I met Carrie with in London, have become really good friends over the past few months. And, I'm actually going to New York to see her in MSG with one of them." -- Jodie Price
"Monsters are always loving and caring, towards each other. They accept everyone for themselves, and do not discriminate or judge. They are very accepting, and I think that's why we all flocked together. Definitely soaking in all of Gaga's fame is an upside. I mean, I've been front row to 3 of Gaga's shows now, and I can't imagine stanning for an artist who doesn't love their fans like Gaga does. We are all a family." -- @MonsterStarGaga
"The Cry Baby fandom is special because it is composed of people who love Melanie. As Melanie said, 'I'm here for all the cry babies. All the people who feel things to the fullest and are down with being themselves.' That quote describes the fandom, and why it is so special. The upside of being in this fandom is interacting with people who are fans of Melanie, and who come together to support her." -- @Melanie_Updates
"At the end of the day, Britney's real fans only want Britney to be happy and to thrive and be the person Britney wants to be. We love Britney for Britney - not because she gives us music or performs for us almost nightly in Vegas. And, aside from a few trolls, Britney's fans are all friends - I love that I can go to any number of them if I need help on a personal level and they're always willing and ready to help. I appreciate it so much and will be forever thankful to Britney for bring her fans together. The upside is Britney!! But, also, some of my best friends are from the fandom. I'd be lost without my Britney friends - who are not more than just Britney friends now, they're some of my best friends and I've gone to Vegas with them." -- Emily Vontom
"The Carrie Fandom is very special because it is a community of diverse people from all over the world that are joined together for a common goal-- to support Carrie. It fascinates me that so many different types of people gravitate to the internet to support Carrie. The internet has brought together people of all different ages, backgrounds, nationalities, race, religion, etc. So we gravitate toward other like minded fans from all over the world. The best part of the fandom is our ability to work together for a common goal to support Carrie. We've made friends with people from all over the world, all because of our shared admiration for Carrie." -- @NY4Carrie
"I think what makes the Arianator fandom special is everyone is so kind and humble towards each other and not many people in the fandom seem to start arguments on Twitter. I love how when Ariana is up for an award or she releases new music we all work together to get her to #1 or win the award which it's nice to see the fandom working together as a team. Also, I've seen a lot to people help each other to get followed / noticed from Ariana which is amazing they try to help because I know a few fandoms don't really help each other. One of the best moments that made the fandom truly special was during the 'Honeymoon Tour' where I saw people tweet photos with their internet friends they met because of Ariana and when the crowd all held up signs it just shows how determined the fandom are to remind Ariana how much we love and appreciate her." -- @ArianatorAmazex
"Crybabies are all very passionate about Melanie! We all feel the same connection to Melanie through the music she creates. Definitely seeing Melanie achieve her goals along the way is an upside! Her debut album 'Cry Baby' was recently certified gold in the US and it was a really proud moment for all of us." -- @UpdatesLBBH
"Most of his fans are just as passionate as he is, and many have become good, if not best friends, with one another. I personally have met two of my best friends from Kip concerts. His fanbase would travel across the pond for him…they're loyal and they want to see Kip succeed. It's a cool thing to witness from my end. Probably getting to hear from all the fans how much Kip has touched their lives is the upside. I receive a lot of messages for Kip – and it's just extremely positive to see how much he really has changed lives." -- @KipNSlowHearts
"The name says it all: 'The Britney Army.' I think the fandom is aptly named because the fans really feel as though they have fought alongside her through her good times and bad. '...Baby One More Time' was released in 1998, and so to be seeing her singles continue to top the charts nearly 20 years later speaks to her longevity and brings her fandom that much closer together. I must admit, working in artist representation myself, I do my best to remain impartial on a professional level. However, I think that socially it's always a great ice breaker when you can get hyped over a shared love of an artist -- especially in the case of an artist like Britney, where there is always news." -- @EGrifMusic
"I would describe myself as very introverted; I'm not a very sociable person. I find it quite hard to make friends because of this - and also because I have very few people in 'real' (non-Internet) life that I share a lot of interests with (actually, I probably don't have any). But being a part of a fandom means you are part of a group of people who share the exact same interests with - people who you can connect with because of your passion for the same interests - people who understand why you love something so much and will fangirl along with you instead of judging you like most people do. I've made so many friends - some friends who I'll have for life - through the fandom, it's something I think is so special & unites so many people." -- Janine Dacanay
"It's fun to be in a group with people who are just as passionate about the music that an artist makes. Sometimes other people don't 'get it.' For example, If one of my favorite artists is playing near me, I will do everything I can to get to show or multiple shows (even if it's 3 nights in a row) to support that artist. I've made quite a few friends because of our mutual appreciation for an artist." -- @TeamErikDylan
---
READ MORE ABOUT MUSIC...
Jacob Whitesides Talks Debut Album 'Why,' Key Tracks & Chris Stapleton Influence
Ariana Grande Slays Whitney Houston Medley On 'Greatest Hits'
Tove Lo Is Totally The 'Cool Girl' With Her New Single
---