Sports
Here's a Guide for Those of You who Agreed to join a League and Immediately Regretted Your Decision.
Ugh. It's that time of the year again.
All of the good sports are finished until the fall. Before you say it, I will never write an article about baseball. It's a terrible sport. I don't have time to spend six hours watching men stand around in a field adjusting their jockstraps. Rule of thumb: if players can get drunk mid game, the sport probably sucks. On the flip side, the World Cup just started, and because the U.S. team couldn't figure out how to cut that vestigial of a captain Michael Bradley from their roster, the USMNT is not in Russia right now.
Now, certain American sports writers would dedicate a few sentences to bashing soccer here. I'm not going to do that. Soccer's an exciting sport in the right context. That said, my interest in the preliminary rounds of a tournament in which the teams at the top are so much better than those at the bottom is limited. I'll have some fun predictions for the round of 16. Kudos to Mexico for beating Germany though.
Now, if your fantasy football league is anything like mine, shit talk starts immediately after the conclusion of the NBA finals, usually due to the fact that nothing is on TV. If you're not well-versed in fantasy however, this can seem like overkill. You're probably thinking, "The season is still three months away, why did my dad's college friend just call me a 'toothpick-armed troglodyte?'" Well, unlike your cushy office job, there's no HR department in fantasy sports. Smack talk is a treasured part of the game. Still, the best way to shut down the bullies (your best friends) who talked you into their league just to take your money, is to win.
Because I care about you, and don't want to see you come in last place, I've come up with a handy-dandy guide to the first ten rounds of your draft that's guaranteed to make your team competitive in 2018. Oh, and this goes with out saying, if you're new to fantasy, you're definitely too stupid to make trades throughout the season. If you follow my instructions though, you probably won't have to. This draft guide is for standard, 10-team, non-PPR leagues.
---
* Players are placed in order, with the first being the most valuable*
*Running backs are always slightly more valuable than receivers, but you need both, so don't skimp on either*
Round 1
Acceptable RBs: Todd Gurley II, David Johnson, Le'Veon Bell, Ezekiel Elliott, Leonard Fournette, Saquon Barkley, Alvin Kamara, Kareem Hunt
Acceptable WRs: Antonio Brown, Deandre Hopkins
Acceptable QBs: None
Acceptable TEs: None
Acceptable D/ST: None
Acceptable K: None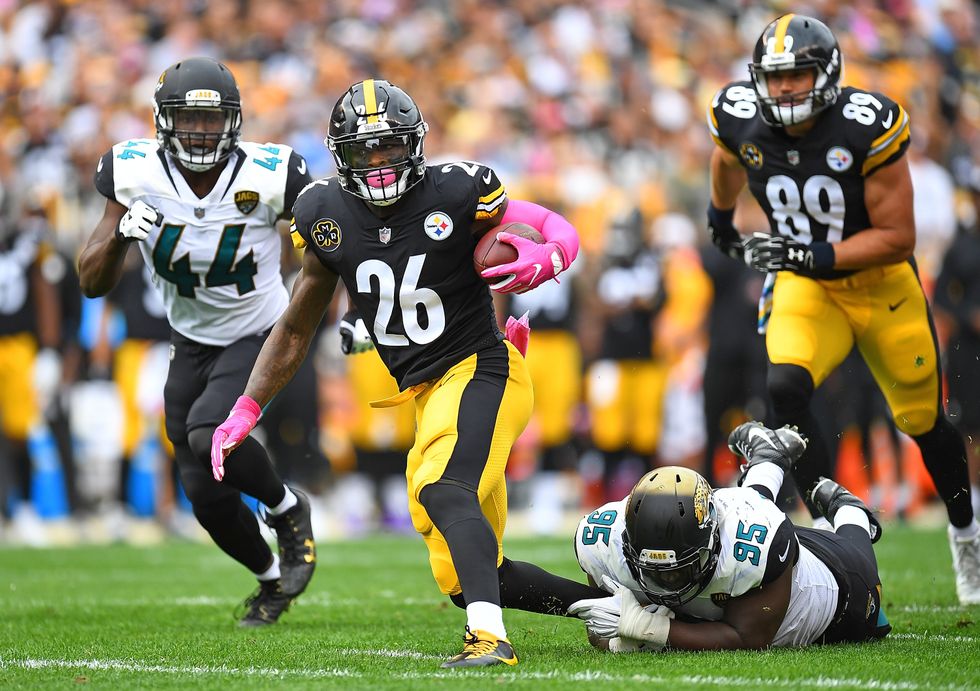 Le'Veon Bell
Round 2

Acceptable RBs: Melvin Gordon, Dalvin Cook, LeSean McCoy, Devonta Freeman, Christian McCaffrey, Jordan Howard
Acceptable WRs: Odell Beckham Jr., Julio Jones, Michael Thomas, A.J. Green, Davante Adams, Mike Evans
Acceptable QBs: None
Acceptable TEs: None
Acceptable D/ST: None
Acceptable K: None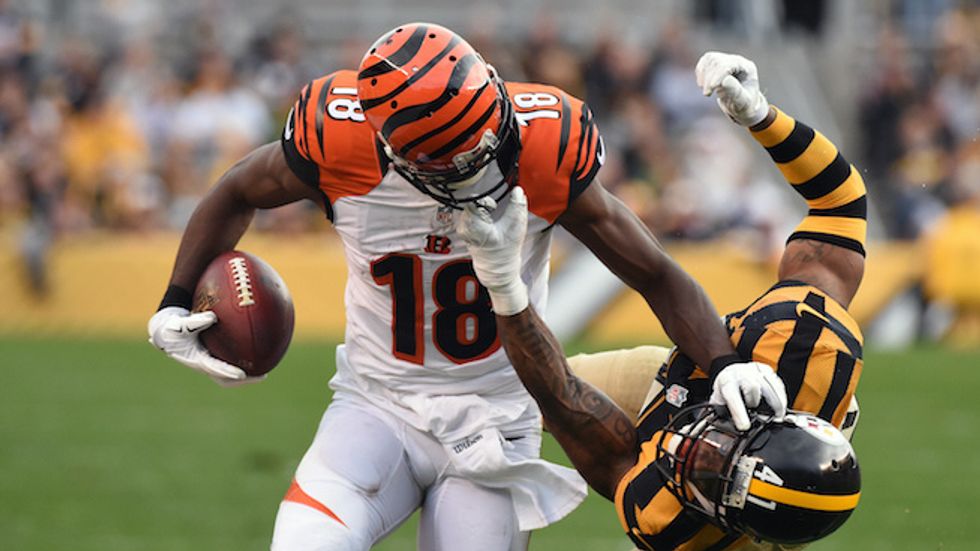 AJ Green
Round 3
Acceptable RBs: Jerick McKinnon, Joe Mixon
Acceptable WRs: Keenan Allen, Adam Thielen, Tyreek Hill
Acceptable QBs: None
Acceptable TEs: None
Acceptable D/ST: None
Acceptable K: None
Round 4

Acceptable RBs: Derrick Henry, Kenyan Drake, Jay Ajayi
Acceptable WRs: T.Y. Hilton, Josh Gordon, Demaryius Thomas, Stefon Diggs, Alshon Jeffrey, Marvin Jones Jr.
Acceptable QBs: None
Acceptable TEs: Travis Kelce, Rob Gronkowski, Zach Ertz
Acceptable D/ST: None
Acceptable K: None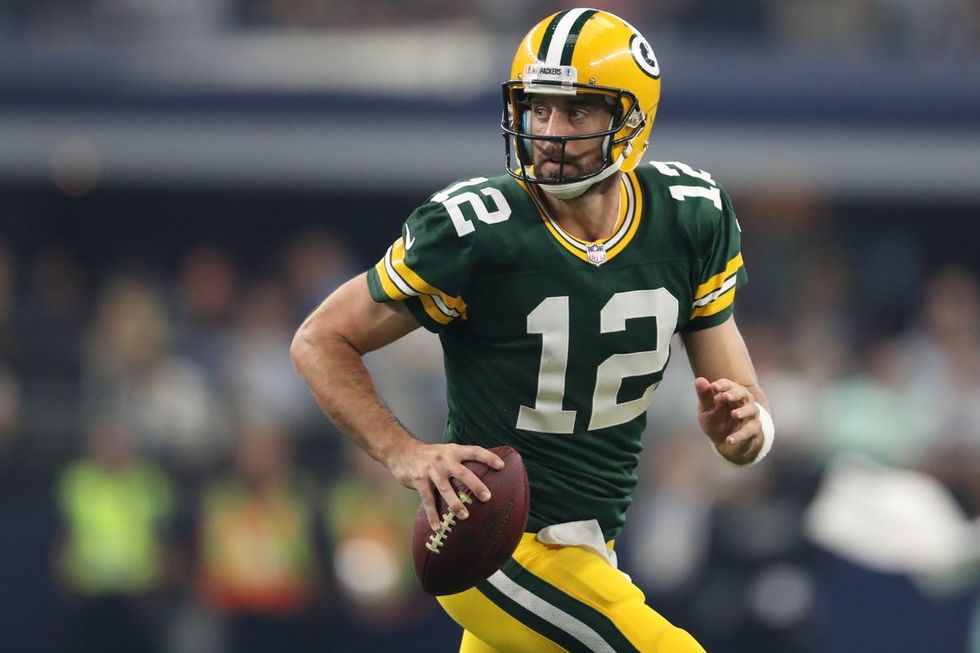 Aaron Rodgers
Round 5
Acceptable RBs: Rashaad Penny, Derrius Guice, Alex Collins
Acceptable WRs: Larry Fitzgerald, JuJu Smith-Schuster, Golden Tate, Chris Hogan
Acceptable QBs: None
Acceptable TEs: None
Acceptable D/ST: None
Acceptable K: None
Round 6
Acceptable RBs: Marshawn Lynch, Sony Michel, Royce Freeman, Lamar Miller
Acceptable WRs: Emmanuel Sanders, Amari Cooper, Jarvis Landry
Acceptable QBs: Aaron Rodgers
Acceptable TEs: None
Acceptable D/ST: None
Acceptable K: None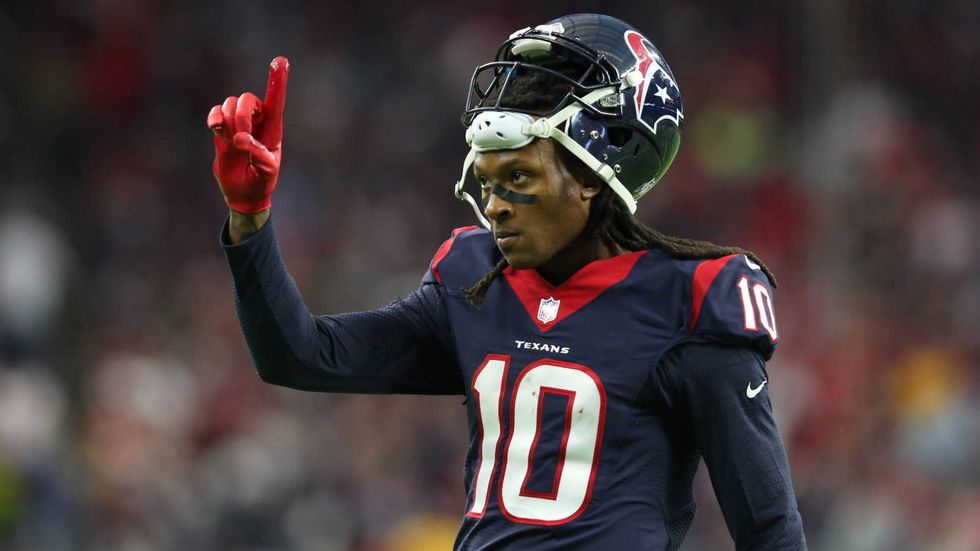 Deandre Hopkins
Round 7

Acceptable RBs: Kerryon Johnson, Tevin Coleman, Ronald Jones II
Acceptable WRs: Will Fuller, Devin Funchess, Sammy Watkins, Marquise Goodwin, Kelvin Benjamin, Cooper Kupp, Pierre Garcon
Acceptable QBs: Cam Newton, Carson Wentz, Russell Wilson
Acceptable TEs: Greg Olsen
Acceptable D/ST: None
Acceptable K: None
Round 8
Acceptable RBs: Mark Ingram, Jamaal Williams, Isaiah Crowell, Dion Lewis
Acceptable WRs: Kenny Stills, DeVante Parker, Corey Davis, Robert Woods, DeSean Jackson
Acceptable QBs: Deshaun Watson, Kirk Cousins, Tom Brady
Acceptable TEs: Delanie Walker, Jimmy Graham, Evan Engram, Kyle Rudolph
Acceptable D/ST: None
Acceptable K: None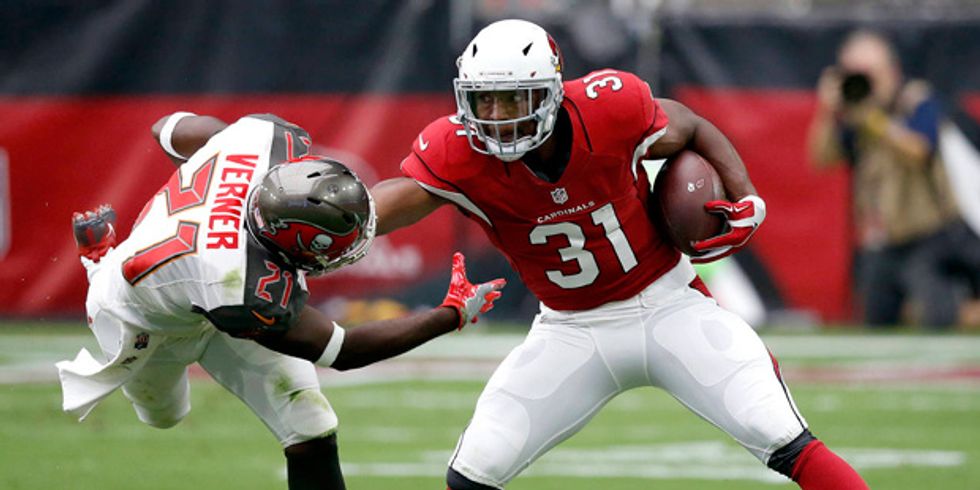 David Johnson
Round 9
Acceptable RBs: Rex Burkhead, Aaron Jones, D'Onta Foreman, Marlon Mack
Acceptable WRs: Michael Crabtree, Randall Cobb, Julian Edelman
Acceptable QBs: None
Acceptable TEs: Tyler Eifert
Acceptable D/ST: None
Acceptable K: None
Round 10

Acceptable RBs: Duke Johnson Jr., Nick Chubb, Carlos Hyde
Acceptable WRs: Josh Doctson, Jamison Crowder
Acceptable QBs: Matt Stafford, Andrew Luck, Jimmy Garoppolo
Acceptable TEs: Jordan Reed
Acceptable D/ST: None
Acceptable K: None
---
After the 10th round, there are so many variables at play that it's almost impossible to predict who's left. The last six picks in any draft tend to be full of guys fantasy managers pick-up, praying that the player actually delivers. At this point, you can just look at whatever site you're using's projections and fill out your roster. Before I go though, here are a couple rules of thumb:
*You want your opening day roster to have 5-6 RBs, 5-6 WR, 1-2 TE, 2 QB, 1 D/ST, 1 K*
* This list is pretty definitive. Don't take anyone earlier than they're ranked on here. If you can get them later than they're ranked on here, then that's a great bargain.*
*Don't adjust to the mood of the players you're drafting against. If people start picking quarterbacks in the 5th round, just sit back and let them. Trust the guide.*
*If you have a good running back, it's not a bad idea to snag his backup in a late round*

*Don't pick a defense before the 12th round. Don't pick a kicker before the 16th.*
---
Matt Clibanoff is a writer and editor based in New York City who covers music, politics, sports and pop culture. His editorial work can be found in Inked Magazine, Popdust, The Liberty Project, and All Things Go. His fiction has been published in Forth Magazine. -- Find Matt at his website and on Twitter: @mattclibanoff
---
POP⚡DUST | Read More…
THE OPTION | The Stafford Effect
THE OPTION | Catalan Independence and What It Means for Barcelona Soccer