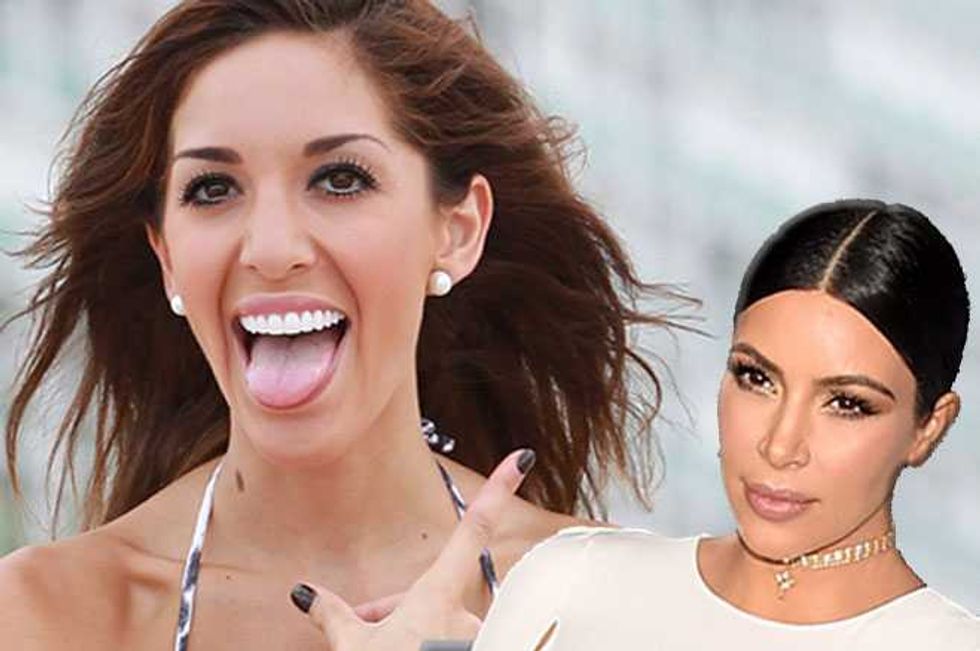 farrah abraham better than kim kardashian
This probably won't come as a shock to anyone, but you know Farrah Abraham from Teen Mom Og?
That bitch cray cray.
The 24-year-old mother-of-one sat down for an exclusive interview with The Nik Richie Podcast, and basically said she was better than Kim Kardashian.
Yep you read that right.
Farrah Abraham Wants To Boost Her Backdoor With Butt Implants
Well, if she meant at sex tapes, then she's actually correct.
After all, the Keeping Up With The Kardashians star proved to only be a two-input girl when she starred in the infamous 2003 "leaked" home made porn.
Farrah's Back Door Teen Mom was far more daring, as the title suggests.  However Farrah insists that there are many ways that she has "surpassed" the queen of all reality TV.
Pot Stirrer
To be fair though, Nik Richie, who owns the scandalous website The Dirty, started the whole thing when he said:
"Everything's with you is a story, it gets picked up no matter what we do. You are like Kim Kardashian. Anything Kim Kardashian says, automatic news. Do you put yourself into that category of Kardashian?"
Then Farrah boldly busted out with this delicious nugget of narcissistic delusion. "I've been beating out Kim on a lot of things,"
Farrah Abraham's Insane Angry Facade Cracks—Breaks Our Heart
"Do you think you've surpassed Kim Kardashian?" Richie asked.
"I think I've surpassed her in certain aspects," she bragged. "Then again, I conduct myself and my brand in a different way and my life in a very different journey."

"I think I'm doing very well, if not better," she adds.
Like…how? Financially? Parentally? Plastic surgically? How, Farrah? How?
Sadly, Abraham didn't detail examples of her superiority, and so we're left to wonder.
Big Bro Live Show Cut After Farrah Abraham Gets Into Physical Fight
She's so humble
Later in the show, Richie asks Abraham if she considers herself a "sociopath," and she didn't know what the word meant!
Lawd Ha'mercy.
Nik then assisted her by using less syllabic synonyms, like "self absorbed."
"No, I'm not self absorbed,"she said before demonstrating exactly that. "I think, now I do acting and I'm doing films and stuff and people say I'm so selfless and that's why I'm so good at acting and they can't even believe it."
The full interview with Farrah is available in it's full glory on PodcastOne.
farrah abraham better than kim kardashian
farrah abraham better than kim kardashian