Top Stories
From Audrey Hepburn to Lupita Nyong'o - the night where fashion transcends all forms of time and space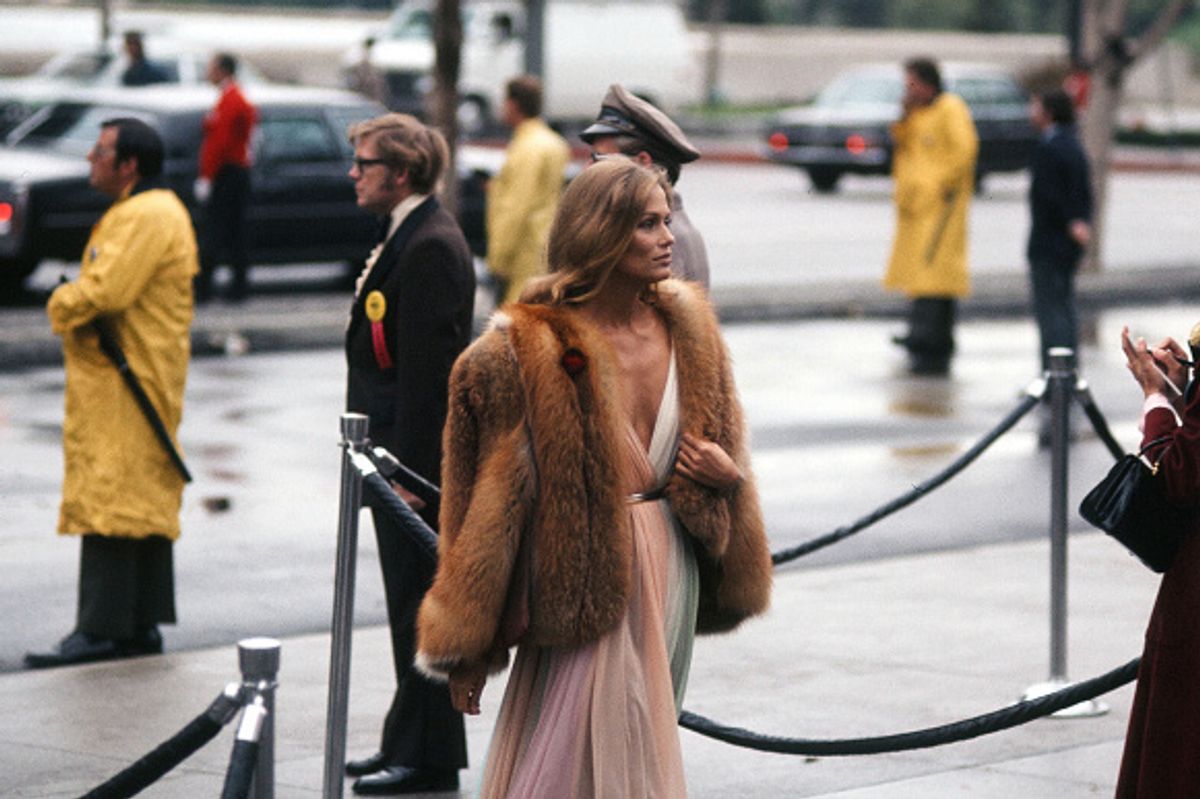 Lauren Hutton in Halston at the 47th Academy Awards(Micheal Monfort/Getty Images)
From Audrey Hepburn's Givenchy at the 1954 Annual Academy Awards - in which she won what would be her first and only Oscar award for Roman Holiday - to Lupita Nyong'o's sky blue Prada gown that captivated us all upon her win for 12 Years a Slave's Best Supporting Actress, the enchantment of the glitz and glamour behind a simple evening gown has remained in Hollywood.
The stars align once the very first actress arrives at the carpet - a frenzy to capture what sets the tone for the rest of the evening. It is the most-talked-about Oscars topic for weeks afterward, more so than the actual awards themselves.
Although there is no doubt that the question "who are you wearing?" begins to sound like a broken record soon into the night (sorry Ryan Seacrest), the media scrutiny on the Best and Worst Dressed lists made an impact on the fashion industry since the Academy's first Awards ceremony. "The choice of an Oscar-worthy dress is almost as important as an Oscar-worthy role." [1] Whether you agree with this statement or not is inconsequential. The fact is, the world stops and stares on Oscars night like no other night before.
What starts as a multi-million dollar investment into a single dress for a designer becomes what they are remembered for. I can't think of other dresses that have made as much of a cultural impact as Bjork's Marjan Pejoski Swan dress in 2001, or Halle Berry's Elie Saab net gown in 2002. The world stops, stares, and remembers. It is why Simon Helberg's wife Jocelyn Towne, and her decision to use the same question that pigeonholes women into a sort of gray area on the Red Carpet, matters - it is not about who she was wearing, but what her body said ("Let them in"), and that alone makes all the difference.
Being a little girl and pressing my nose against the TV, fascinated by the dreaminess of such a night where "Princess gowns" were dress code, was monumental in the start of my love for fashion. I don't remember much of the Award shows - especially back then, before the orchestra conductor sent people off stage for too-long acceptance speeches, as it seemed to end well into the night and way past my bedtime - but the gowns always stayed with me. The first one I remember coveting over was Keira Knightley's dark plum Vera Wang at the 78th Academy Awards, with what I considered to be the ultimate accessorizing - is there anything better than that Bulgari peacock necklace, even now? It was the dress that ended up catapulting Knightley into stardom, with headlines the next morning that all featured her name on them.

The Oscars host what is arguably the world's most powerful stage. In times of a heated political climate, it may seem trivial to some to care at all about evening gowns - but to seven-year-old me, and surely seven-year-olds now, it meant everything to indulge in a night where nothing is dull and everything glitters. To have witnessed Lupita Nyong'o win her Best Supporting Actress award for12 Years A Slave at the 86th Awards, in that shimmering blue Prada, is something I'll always carry with me in the form of her acceptance speech: "When I look down at this golden statue, may it remind me and every little child that no matter where you're from, your dreams are valid." It was a testament to the dream that women of color could, would and did - as could I.
For more unforgettable Oscars dresses, check out the chronological slideshow below - and tune in to the 89th Academy Awards on Sunday, February 26 on ABC.