MUSIC
Before rock n' roll died, frontwomen helped shape the genre's golden age. Now these rising indie acts could revive its glory.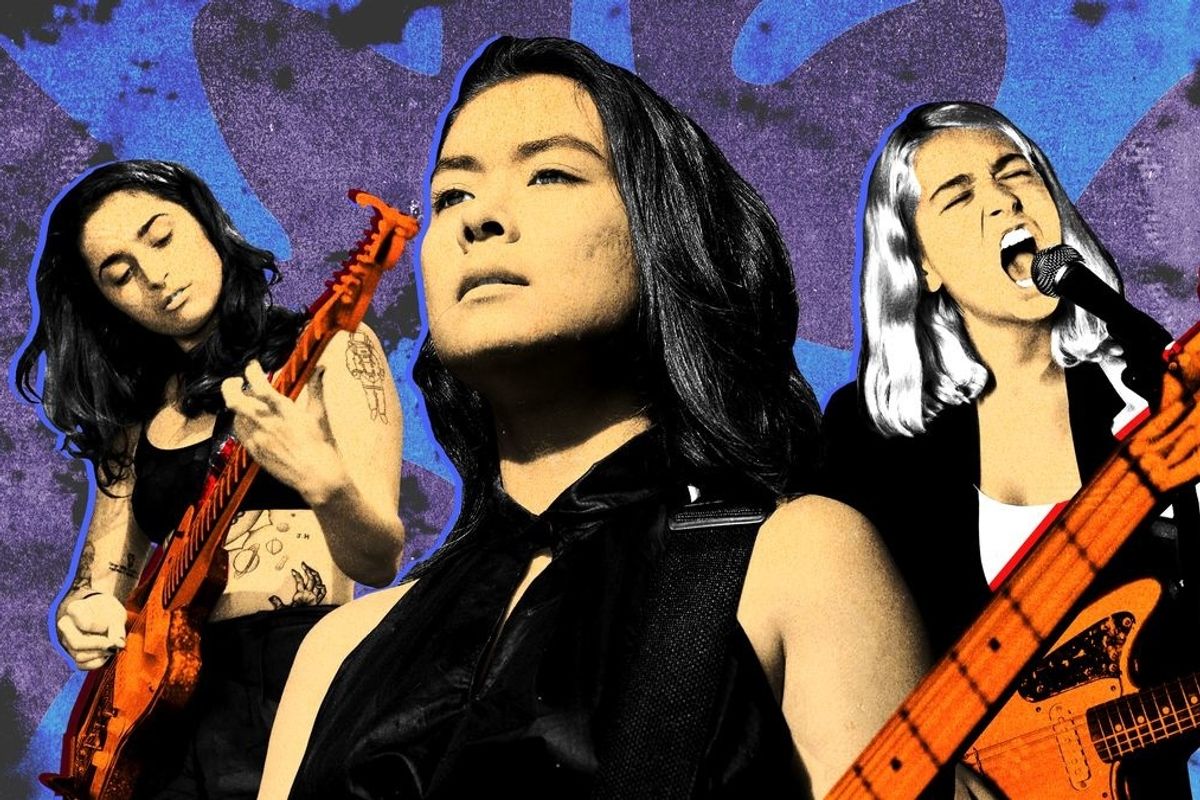 The Ringer
We can reconcile with the facts: rock is dead, hip-hop is America's most popular music genre, and Twenty One Pilots won't stop making music.
With Panic! At The Disco's shrill techno and Imagine Dragons' synthesizers claiming multiple top 10 spots on Billboard's rock chart, "it's clear that people don't know what rock is anymore." But where are the aspiring female rockers chasing the legends of Patti Smith and Linda Perry? With only one female artist claiming a spot in what Billboard calls its top 50 rock songs, today's bastardization of rock music is also a bleak boys' club.
Courtney Barnett - Charity youtu.be
Spot the women artists topping the charts these days, and at first glance, there's reason to celebrate the "female pop prodigies taking the world by storm." Look at today's most influential female music icons: Ariana Grande, Beyoncé, Lady Gaga– they're almost exclusively relegated to the pop charts. Rock music is not a means of commercial success for modern female artists. But even with rampant misogyny infecting the music industry at large, female rockers enjoyed a golden age just decades ago. Gaining momentum in the 70s and 80s with frontwomen like Stevie Nicks, Debby Harry, and Joan Jett, rock's cultural legacy of punchy rebellion and artists' nonconformity was shaped by female rockers well into the 90s, which ushered in the likes of Kim Gordon, PJ Harvey, The Breeders, and Courtney Love.

Far from rock's innovative roots in blending genres to create disruptive new sounds, today's pop music works by formula. Now we have Ariana Grande placed on the same shelf of music history as The Beatles after she invaded the pop charts' top three slots with three consecutive singles. The pop diva's music utterly lacks creativity or unique style, but that's the secret to dominating the industry. To quote Brooke Johnson, "the indistinct nature of her music is one of its greatest strengths: in sounding like nothing, it sounds like everything, perfectly tapping into the algorithms streaming platforms use to promote music to listeners."
Snail Mail - "Pristine" (Official Lyric Video) youtu.be
Currently, Yeah Yeah Yeahs frontwoman Karen O is the only modern female artist represented in rock charts' top 50, with her and Danger Mouse's mellow track "Turn the Light." We're clearly nostalgic for the female rockers of the past, with Fleetwood Mac's "The Chain" re-entering the charts in fourteenth place. The 1977 track is one of only a few songs credited to every member of the band, including Stevie Nicks and Christine McVie.

Looking toward the future, female rock has lost the momentum of the early 2000s when the mainstream embraced Florence Welsh as the front woman of the English indie rock band Florence and the Machine. But in the last five years, there have been stirrings of hope in the indie rock circuit. Female and non-binary acts like Snail Mail, Courtney Barnett, Palehound, Cherry Glazerr, and Sheer Mag evoke the golden age of rock n' roll with growing acclaim. When The New York Times published that "women are making the best rock music today," they gathered 25 bands "working just below the mainstream" who "are making music about tactile emotion, rousing politics, and far more," including misogyny, abortion, and the rock n' roll staples of sex and heartbreak.
SHEER MAG - Fan The Flames (Official Video) youtu.be
Snail Mail's Lindsey Jordan thinks of her style simply: "I have a lot of self-awareness and not a lot of shame." Sheer Mag's Christina Halladay described modern audience's responses to seeing female rockers on stage: "Teenage boys are very upset." That very shake-up of the genre could be the key to recovering its glory. If women break onto the charts and into the boys' club of modern rock's facsimiles (thanks, Greta Van Fleet), the resurrection of rock could be female.

---
Meg Hanson is a Brooklyn-based writer, teacher, and jaywalker. Find Meg at her website and on Twitter @megsoyung.
---
POP⚡DUST | Read More...
The Six Hottest Comedians from NYC's Burgeoning Alt-Comedy Scene
Now in Theaters: 5 New Movies for the Weekend of March 29