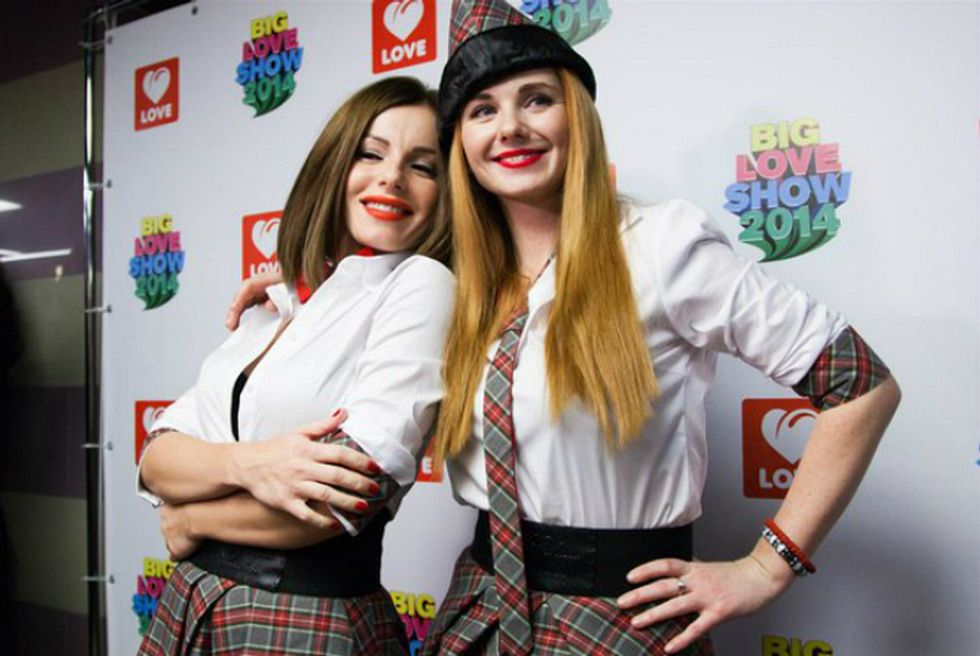 Have you guys been keeping up with all the t.A.T.u. drama? You know, how the pair reunited to perform at the opening ceremony of the Winter Olympics and then announced their official comeback, only to break up again after just one week due to infighting?
Well, we recently got some good news that the Russian pop duo's new single is still going to premiere on radio despite their recent split, but that doesn't mean that they're back on speaking terms.
In a new interview with Russia's Heat, Lena Katina says that while she's still contractually obliged to film a video with bandmate Yulia Volkova for a pre-arranged project, the two are not on speaking terms -- in fact, they can't even be in the same room together.
"I will not change my decision regarding the group and communication with Yulia. I am flying to Kraków to shoot a movie and the video. This song is not a t.A.T.u. song, it is a joint creative project from Lena Kiper's company made of four people, including Yulia, Ligalize, and Mike Tompkins, with whom I have obligations which I must fulfill. The only condition for me is to not come across Yulia anywhere, not in the shooting or the studio, which is why we are flying separately and will be shooting at different times. I am not holding a grudge against Yulia, but there is a moment when the time comes that you say, 'enough'."
While Lena's clearly not playing nice with Yulia any longer (just look at her initial statement about the split), Yulia's playing down the drama and insisting that things are "fine" between them.
We've got no idea what the real truth behind this beef is, but whatever it is, it doesn't look like we'll be seeing a real t.A.T.u. reunion any time soon.
[Translation via Ta-Tu Tumblr]