FILM & TV
Aeris is a short film that documents a young couple's journey through love and loss
PREMIERE | Nov. 3rd | Aeris will be screened at The Lincoln Center, hosted by The Winn Feline Foundation
The short film, Aeris, about a young couple navigating the brief life and untimely death of their cat, is premiering at The Lincoln Center in New York City next month. The film chronicles the 12 days Aeris spent with the young couple, Aly Miller and Paul Castro Jr who wrote, directed and starred in the short, raising awareness for the rare and incurable disease affecting numerous cats, Feline Infectious Peritonitis (FIP). Hosted by The Winn Feline Foundation, a non-profit organization promoting the health and welfare of cats, and featuring Special Guest Steve Dale, Radio Host & Animal Behavior Specialist, this event guarantees some laughs and quite possibly a few tears.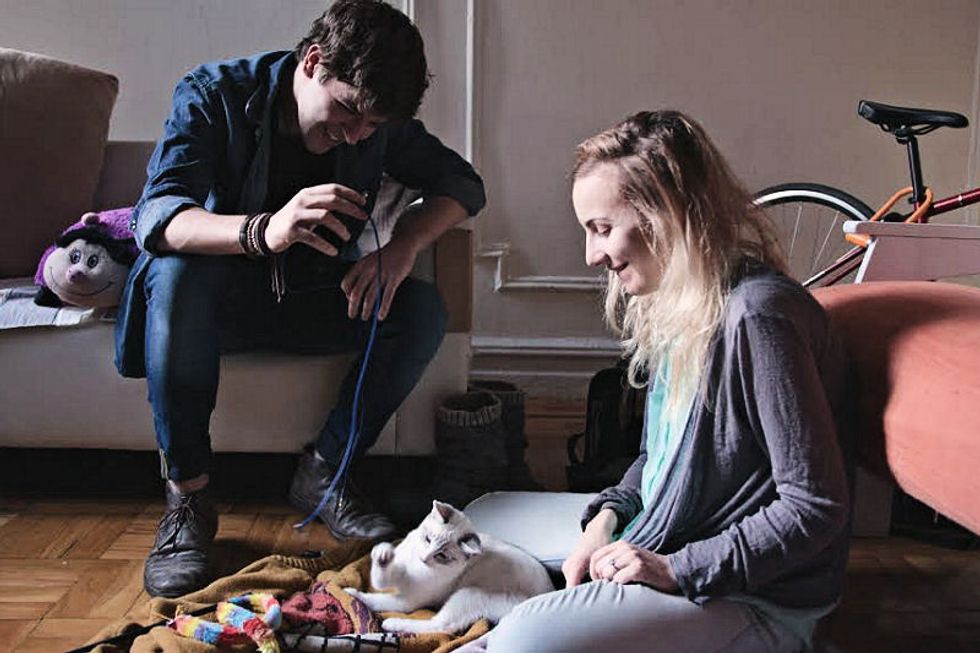 Aly and Paul on set with cat Kairi playing Aeris
Many people have learned the greater power of unconditional love by having children and learning to care for a living being. Realizing that there is something larger than yourself that needs your help in order to survive, can be at once humbling and inspiring. You may not think of finding greater meaning in life through a kitten, but that is exactly what happened to this young couple. A few years ago, Paul Castro Jr. brought home a Bengal kitten to the apartment he shared with girlfriend, Aly Miller. They named the little kitten, Aeris, after the Zodiac sign and one of the main characters from Final Fantasy VII, at once giving a nod to Aly's interest in astrology and Paul's self-proclaimed obsession with video games.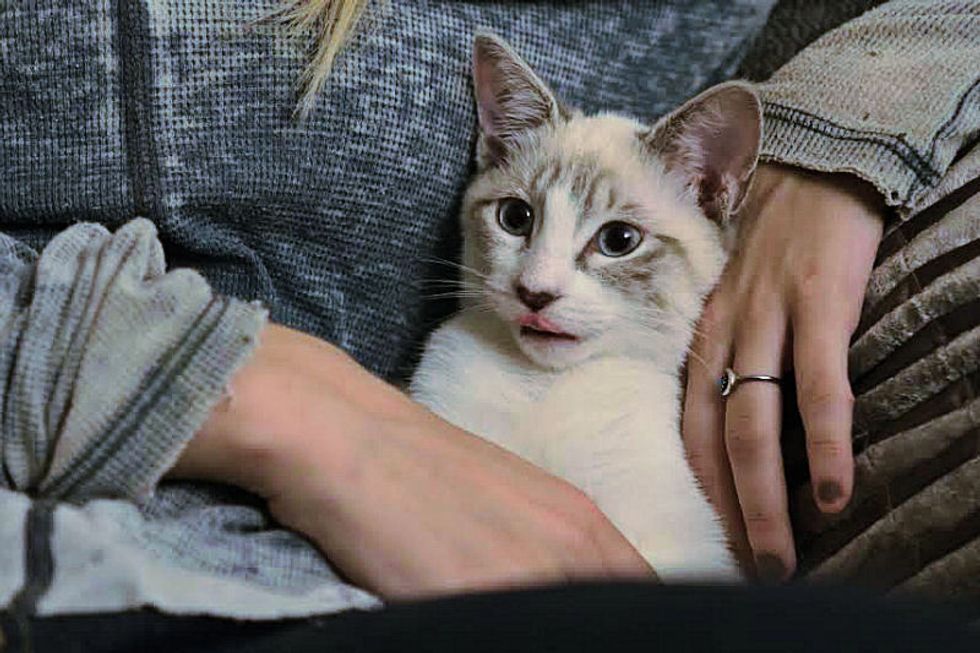 Close-up shot of Kairi, the cat who played Aeris in the film
They quickly realized something was off about their new addition to the family: Aeris was tiny and lethargic with a huge swollen belly. The vet confirmed Aeris was indeed sick and had what's called Feline Infectious Peritonitis (FIP). The couple experienced mixed emotions from shock to anger to concern. They vowed to do everything they could to help Aeris, even trying homeopathic remedies. For a few days, Aeris seemed to improve, but ultimately passed away after 12 days in her new home. The loss left the couple with feelings of regret and blame, wishing there was more they could have done to help save her. After experiencing such intense feelings surrounding the loss of their cat, they knew they had to do something to spread awareness about this disease.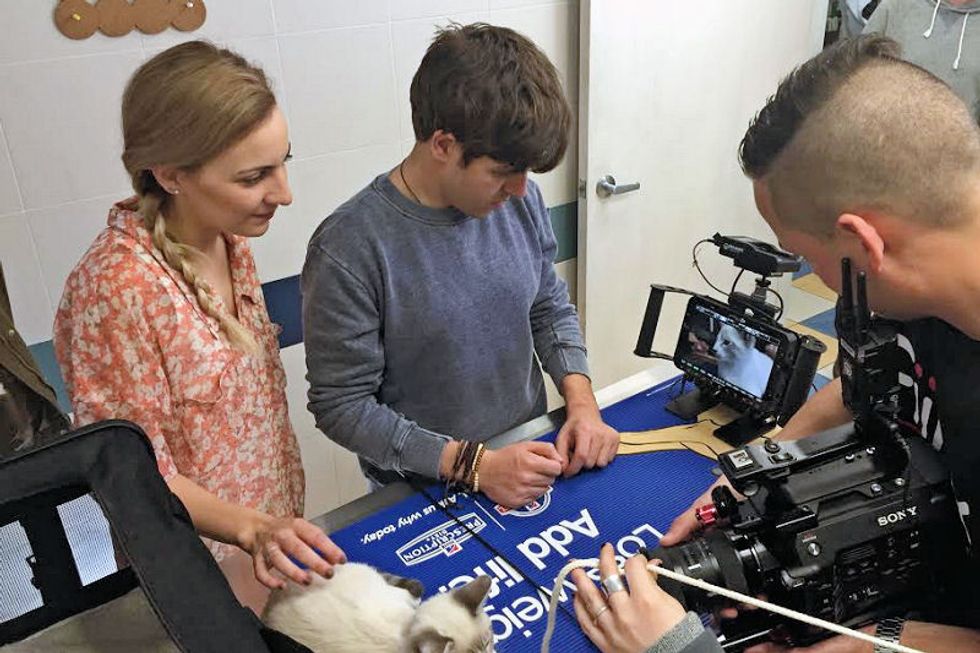 Behind the scenes look of Aly and Paul working on Aeris
About two years after losing Aeris and writing down their account of the experience, they were ready to share it with the world. Being artists in their own right, a short film seemed like an effective way to tell their story. Choosing to star in the film themselves became the cathartic choice as they were given the opportunity to relive that painful experience and express their mixed emotions on screen.
Ultimately, Aeris is a story of love, connection and hope, even in the face of loss. Aly and Paul learned what it means to love something greater than themselves, to dedicate their time, energy, and pure love to a living being that relied on them. This story will remind you of all the reasons you fall in love in the first place. In those 12 short days, this couple learned what it means to feel unconditional love for a small life, whose ultimate passing was out of their control. Aly Miller is a director, writer, producer, actor and co-founder of Lynx Point Pictures which is fiscally sponsored by the Heaven on Earth Society. Paul Castro Jr. is a director, writer, producer and actor. They both live in New York City with their 3 cats, Kairi, Sasuke, and Luna.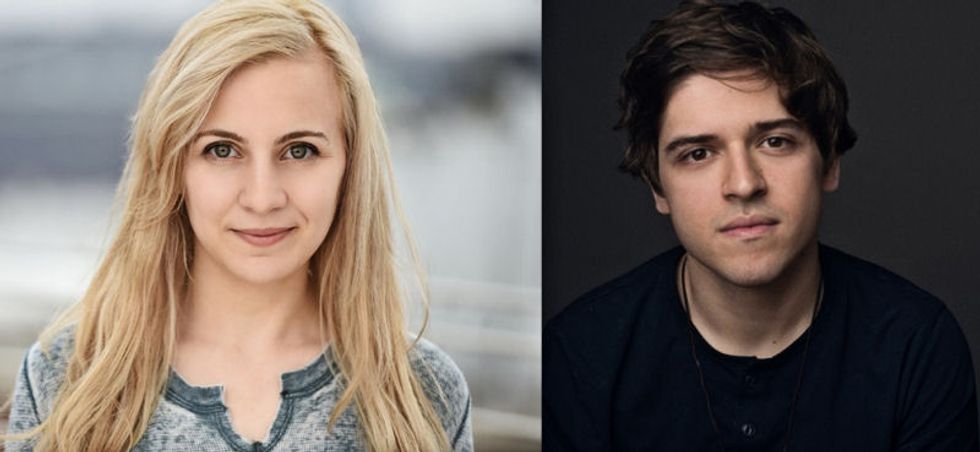 Aly Miller and Paul Castro Jr. wrote, directed, produced and starred in this film
Aeris will be screened at the David Rubenstein Atrium of The Lincoln Center on Friday, November 3rd at 7pm. Followed by a reception at Library Bar at Hudson. Tickets are available for $16 with all proceeds going toward the Heaven on Earth Society for Animals. Aeris is expected to be featured at film festivals around the world this season and will be screened at the Sofia Independent Film Festival in Bulgaria (10/25-11/5). Find out more about this project at Kickstarter.com.
---
POP⚡ DUST | Read More…

PREMIERE | "The Next Time" you hear Liv Austen, don't forget her
FILM | Portalis is ready to take you places...
Eddie Izzard: transgender, hilarious, and heartbreaking
---
Get Ready for Halloween!! Find Your Costumes at TIPSY ELVES!