FILM
I don't know, blame your mother.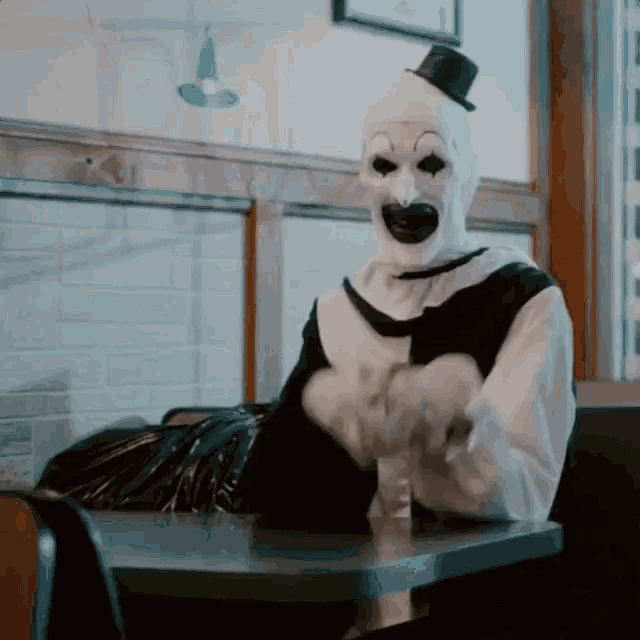 Yes, maybe you've swallowed a spider in your sleep before.
But contrary to the myth that the average human swallows eight spiders a year while they're sleeping, it's highly unlikely to happen more than once in your lifetime. Still, something about life in America encourages a fear of spiders, as 30.5% of Arachnophobiacs live in the United States. In fact, Google Trends reveal that fear of spiders is one of the most prevalent in the country. Clinical psychologist Sophie Li posits that that specific phobia could be social run-off from media depictions: As "a social or cultural component...spiders are often depicted and promoted as being scary and deadly." She adds, "Another theory is that, through evolutionary processes, we've been genetically predisposed to develop fears and phobias of things that threatened the safety of early humans, things like spiders and snakes."
Realistically, based on Americans' most common fears in 2019, it's probably a combination of both. A phobia is defined as "a type of anxiety disorder that causes an individual to experience extreme, irrational fear about a situation, living creature, place, or object." Phobias have unclear causes, but it's usually the result of traumatic events and/or a manifestation of a pre-existing anxiety disorder. As such, you're unlikely to develop a phobia past the age of 30. Of course, phobias are different from our every day fears (they are an official, diagnosed mental disorder, after all), but their roots lie in the same black depths of our brains where we process the world and our anxieties about it.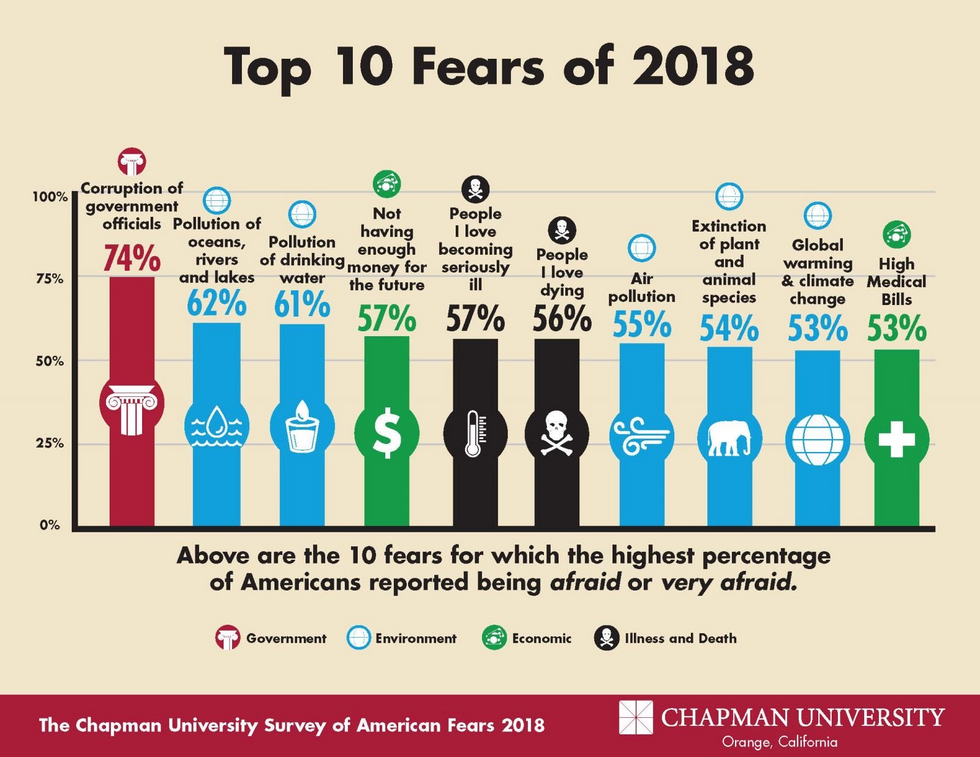 Chapman University
According to surveys of Americans' specific fears, the most popular (and growing) fears are of corrupt government officials, pollution, and economic instability. Meanwhile, our universal fears remain pretty constant: aging (gerascophobia), public speaking (or glossophobia), death (thanatophobia), being eaten by a wild boar (agrizoophobia)...the usual. Horror movies have mastered the science of tapping into our fears and anxieties, from natural disasters to killer v*ginas (v*gina dentata).
Welcome to our tour through humanity's most common fears with these celebrated and not-so-celebrated and sometimes downright cringey horror films.
Dolls
First stop: Pediophobia, a.k.a. fear of dolls. Pediophobia is relatively common and classified as a type of automatonophobia, or fear of humanoid figures. Think uncanny valley plus evil spirits. Clinical psychologist Kate Wolitzky-Taylor, PhD, says we're strangely conditioned to fear dolls from pop culture and experience. "This consistent pairing of dolls with other creepy, scary stimuli may lead to experiencing fear or nervousness when confronted with a doll or an image of a doll," she says. "Learning is a big factor, whether it's direct learning experiences, or vicarious learning through others."
Bottom line: No adult genuinely f*cking likes dolls. Annabelle is a Bratz doll raised by wolves. Haunted wolves. Buy your DVD copy today!