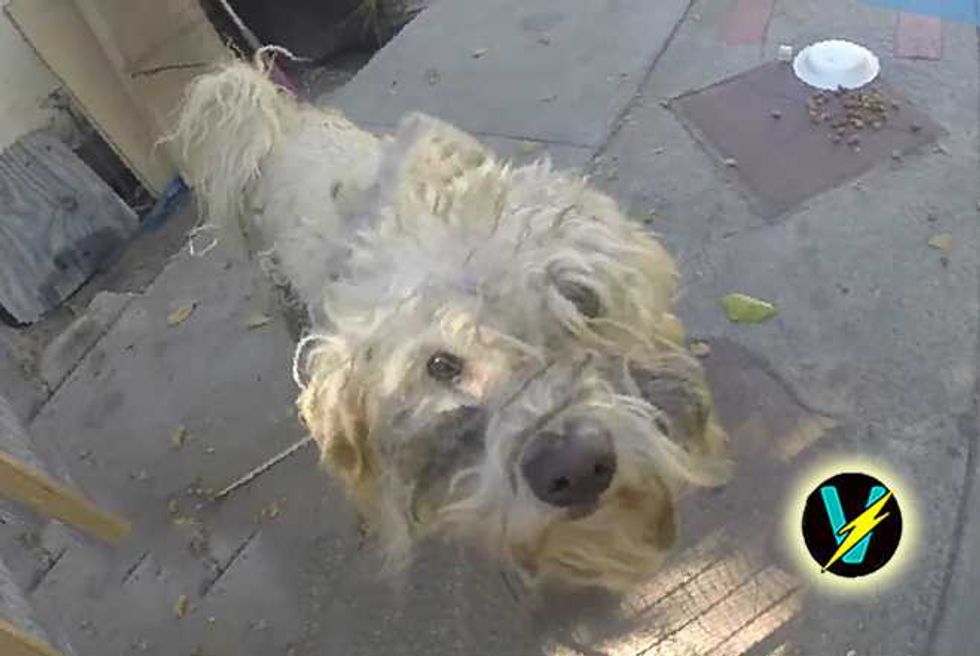 abandoned puppy extreme makeover
Los Angeles dog rescuer Kris Kelly received a call about an abandoned dog who was so matted he couldn't even see!
He kept sneaking into a family's yard in the South Gate region of Los Angeles, so they called The Kris Kelly Foundation and she rushed to the location.
Big, Burly, Badass Biker Saves Badly Burned Little Kitten
After gaining his trust with a McDonald's cheeseburger, Kris, a Hollywood actress, was able to leash the bichon/poodle mix and get him into her car.
"He was so starved for affection, he instantly curled up in my lap," she tells Popdust exclusively. "It was like he knew we were saving him!"
Meet Estella—The Adorable Paralyzed Guinea Pig With A Custom Wheelchair
The groomer had to put Lynwood, his new name, under anesthesia because his matting was so bad and the de-matting process would have caused the pup extreme discomfort. He was also suffering from a severe skin infection, eye infection, and ear infection.
"His dreadlocks were literally dragging on the ground. He had puss crusted in the corners of his eyes and mud caked into his fur. He smelled awful—in the video you can see me trying not to inhale when he was on my lap," Kris recalls.
Hate To Break This To You But, Your Cat Loves To Masturbate
"But when he woke up he was like a new dog. He was jumping around and kissing everyone at the vet's office, and when he turned around for me to scratch his back he kept whipping me in the face with his tail! He was just so happy! Dogs know when they are rescued, and they are forever grateful."
It wasn't long before the beautiful white poodle mix caught the eye of  a new, loving owner and is now in a beautiful fur-ever home!
The Very Best Of The Very Worst Utterly Tragic Taxidermy Attempts
Donate to the Kris Kelly Foundation to save more dogs like Lynwood!
See the inspiring transformation here!