Top Stories
The pop up-and-comer follows in Bieber's footsteps with sweet, romantic tunes, but dares to challenge expectations.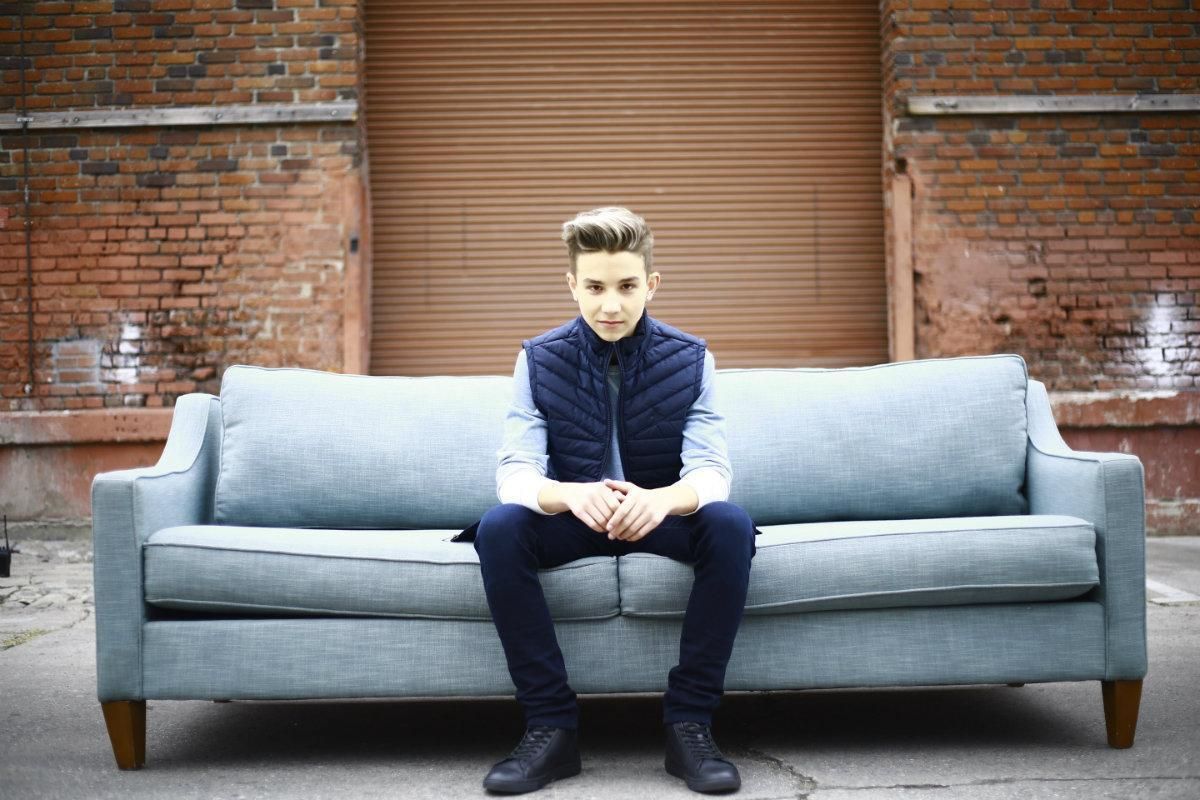 Sooner or later, Justin Bieber would begin to make a measurable impact on the next generation. From his massive early hits like "Baby" to his complete transformation into a viable adult pop star (with 2016's Grammy-nominated Purpose), the former YouTuber has undoubtedly and completely made his mark. And there would come a time when a new cavalcade of bright-eyed young musicians would step up to the plate to take the torch. That time is now. Newcomer Finn Matthews, who just turned 17, borrows from the Bieber master with his new single, "Half Hearted," a stormy mix of bubbly Top 40 and house music. His voice is polished, clear and unaffected by the Los Angeles machine, in much the same way his predecessor commanded back in the day. "I don't want closure now, but there's a stranger in your smile," he coos on the track, and Matthews' vocal timbre is uncannily Bieber-brewed. For the record, he doesn't mind the Bieber (or Shawn Mendes) comparisons--too much. "I take [them] as a compliment, and those are definitely people who are inspiring. I've actually turned it into motivation to push myself to be unique in my musical style, so there can be less of those comparisons," he tells Popdust over email.
"It's hard to be hopeful now. Tell me if this is working out," he later muses, rather downcast against a backdrop of jovial, bright production. While he didn't have a hand in writing the song, he instantly "connected to the song's message of not giving half of yourself to anything you do, whether in a relationship or in real life," he says. "Why would you give half of your effort when working out? Why would you buy a coffee and only drink half of it? It's a very good message, and I think anyone can relate to it."
With "a longer project" coming down the pipeline, Matthews is expected to release the follow-up single "soon." "It's my favorite song I've ever done. The anticipation is real with that one," he teases.
Eight years ago, R&B singer Elijah Blake (who has written a number of songs for Keyshia Cole and worked with other such artists as Jordin Sparks, Common and Big Sean) took the up and comer under his wing. And it's a moment that forever changed Matthews' life. "The thing I remember most about the first time I met him is him being a mind-blowingly good singer. Everything he does, his runs, his range, appears so effortless, and I wanted to sing like that," Matthews reflects. "He is like a brother to me, so we talk about everything. But with life and music, he's taught me to always stay humble and stay true to my roots, and to work hard."
Matthews stepped out with the heart-rending piano ballad "I Wrote You a Love Song" (as part of Amazon's 2017 Valentine's Day playlist series) several months ago. Mixing tender, intimate balladry with a soft urban drip, the singer-songwriter exercised his full potential (watch above). "I've been singing and creating music for years, but now I feel like it has reached a point now where I'm proud to play it for people, that is very important to me. I think if we are not proud of our own work, then no one else will be either," he says.

Despite being so young, he demonstrates a remarkably mature spirit as he keeps his nose to the grind to develop his craft. On the process of cementing his musical aesthetic, he explains: "I would say I'm a pretty artistic person, in general, so I keep that high on my priorities. With music, I definitely have a certain artistic style in my head that I am striving for. Even with things like social media, I want everything to have a certain look and vibe that is something I have come up with."
Even in terms of his budding songwriting, he strives to prove himself every single day. "I have been working on songwriting a lot lately. It is one of those things that I'm really having to work for. I make beats, too, so lately I have just been sitting in my room by myself writing ideas and melodies down. It is a lot easier for me to practice something like writing when I am by myself, and I don't have to worry about what people think--that way I can just experiment and see what works and what doesn't."
Admittedly, his career so far has been a whirlwind, especially with "a lot of opinions being thrown around all of the time," he says. "I've made a decision to be very hands-on." Even so, he takes it all with a grain of salt. "I think that is a good thing because it tells me what I am doing right and what I'm doing wrong--but at the end of the day, it's important to me to focus on being myself and trusting my own opinion."
Matthews moved to Los Angeles just last year, and he's already basking in "the energy of the city and how there are so many creative people to collaborate with." He adds, "Also, the food is amazing!" While he finishes up high school, he says he definitely won't be taking college off the table. "I want to see where [this career] takes me. I would [probably] study music in college and photography, as well," he says.
Take a listen to "Half Hearted" below:
---
READ MORE ABOUT MUSIC...
Review: Lewis Del Mar burn down the Music Hall of Williamsburg
Premiere: Brunelle strip back "Let Me Love You" in new video
Premiere: RYAL honor George Michael with "Father Figure" cover
---