Fiona Silver feels "lost, once again" inside her mind (shackled by her own addictions), as she avows in her new single "Take Me Down," in which she harkens to early Billie Holliday and Amy Winehouse. "All my life, I've been trying to be good. But what good would it do if you take me down with you," she mulls, unearthing an introspective but outwardly-focused study in humanity and pain. It's not just about her but serves as a test case for everyone's raging inner turmoil masked behind vices of the intoxicating kind. "[This song] is the story of battling addictions. It starts off telling the story of someone else 'well he left his old ways behind, said it'd be different this time.' And then switches narratives to 'I left my old ways behind...' It deals with the relationships between both people, and their own inner struggles," she tells Popdust.
In the accompanying visual, premiering today, Silver dives headfirst into the spirit and sultry aesthetic of the '60s. "I had a lot of fun with this video. I bought blue tinsel for the band's backdrop and a sequin dress, and with a little help from my friends, we did half the video at the Institute for Audio Research and the other half at The Metropolitan Bar in Brooklyn," she says. The clip features a bevy of her closest friends and fellow noise-makers, including Richie Shazam, Briana Andalore, Paige Campbell, Georgia Lifsher, Sara Press, Guy Fiumarelli, Rich Hutchins, Devi Mambouka, Zan Amparan and Dan Weber.
The video sparkles with the charm of yesteryear but carries a considerable heft and darkness. "I wanted to depict the seven deadly sins, so I had my friends join in the bar scene to show the gross aspect of things that are often glorified or glossed over, like lust, envy and gluttony," she explains. "In the bar scene, I'm depicted more innocently, and in the band scene, I'm purposefully a bit over the top. It deals with the intense pulls of drugs, alcohol, money, fame, food, jealousy, sex, and at the same time perhaps an equally dangerous unrealistic narrative of purity."
"Take Me Down" anchors her long-awaited debut full-length, Little Thunder, out later this year.
Take a spin below:
In what ways is "Take Me Down" indicative of your forthcoming debut album, Little Thunder?

This song has a strong sense of style, musically, which I believe all the songs on the record do, though they are all different. It is a mixture of garage rock and soul. It tells a story and is brutally honest, but doesn't over explain either. I think in general that's how 'Little Thunder' is--it's honest and it's up front and it's eclectic, but it's also vastly relatable.
What is the story behind the album title?
The album title came to me not so long ago. I sometimes get spurts of creative energy, and this was one of those nights. I began writing a new song (for my next record) called 'Thunder and Lightning' that is about the pain I've felt grieving my brother's passing. He was born at home (in the very room I was writing in at the time) in the middle of a crazy storm. And that's when the name came to me, in a way 'Little Thunder' is like a nickname for me and an ode to my big brother.
What are some of the other stories you share on the album?
"I'll Follow You" is a sweet love song about finally finding a good person to be with, after going through so much toughness in life. "Housewife" is a fun song that toys with the idea of playing into gender roles. "Love Grenade" deals with insecurities and mind games in relationships. "Keep it Fresh" is all about empowerment and staying in the moment. "Sick of Being Good" is kind of an inner monologue about life and the struggle to overcome the things that drive us crazy and find peace. "Smoking Gun" is kind of a wild card, it tells the story of a crazed jealous woman that's on her way to kill her lover. That one was really fun to write because it was a totally different kind of song. I went into it envisioning the whole scene like a movie, and what came out sonically was much darker, and a different feel from the rest of the record--and I like that.
As your debut album, how did you narrow down the tracklist?
Seven just felt like the right number, which may seem odd because it's not a common one. But there were more songs I could have added, and it just didn't feel right to me. I think these songs fit together in a really interesting way that is unique and sometimes surprising but it feels like there's no fluff. It's just exactly what I wanted to say and show in my first record.
They say "you have our entire life to make your first record." Do you feel there is a ton of pressure?
It took me a lot longer than I expected to be honest, but I'm glad I didn't rush it. I had started and stopped the process a few times over the last few years and then finally I just was ready, and I had a clear vision, and I had lived through more things and had gained more perspective in a lot of areas in life. When I was really ready to make it happen, everything fell into place, and I was really thrilled to have the musicians and sound engineers who created this album with me, especially Erin Tonkon my co-producer. She is an incredibly talented audio engineer, and we worked seamlessly together.
Your tone and phrasing are so specific to you. Did that come naturally or did you aim to pay homage to those who came before you?
I would say it comes naturally but at the same time they are the artists who inspired me the most and whose music really dug into me. I don't aim to imitate anyone, but everyone gets something from somewhere and I feel a strong connection with who they were, what they stood for.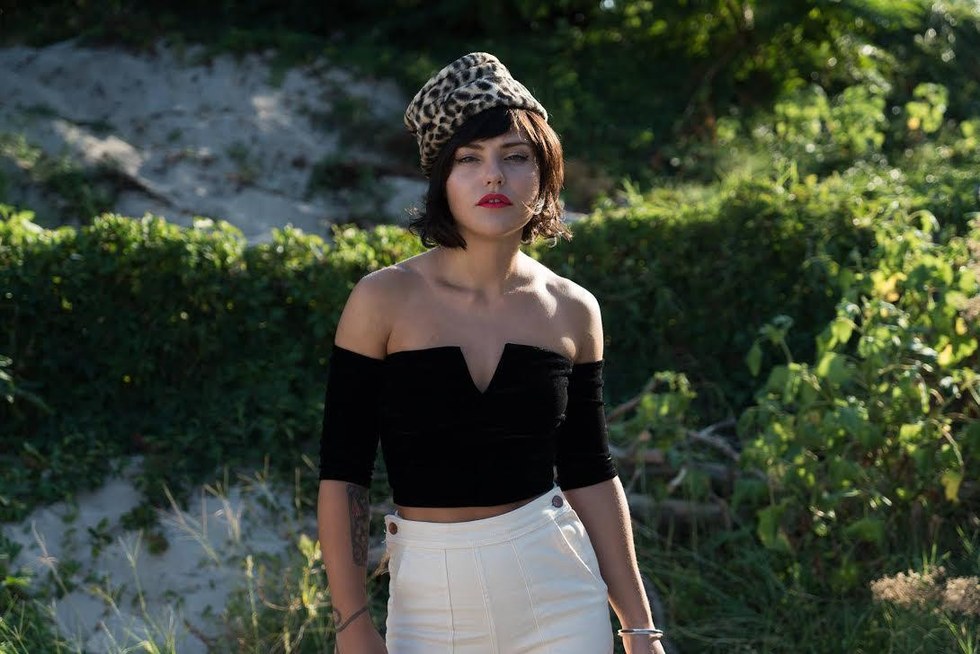 David Doobinin
---
READ MORE ABOUT MUSIC...
Interview: Ben Hazlewood learns to let go & readies new EP
Review: Carrie Elkin weaves together grief and joy at Rockwood Music Hall
Premiere: Lauren Ruth Ward welds her sanity & insanity with "Did I Offend You"
---