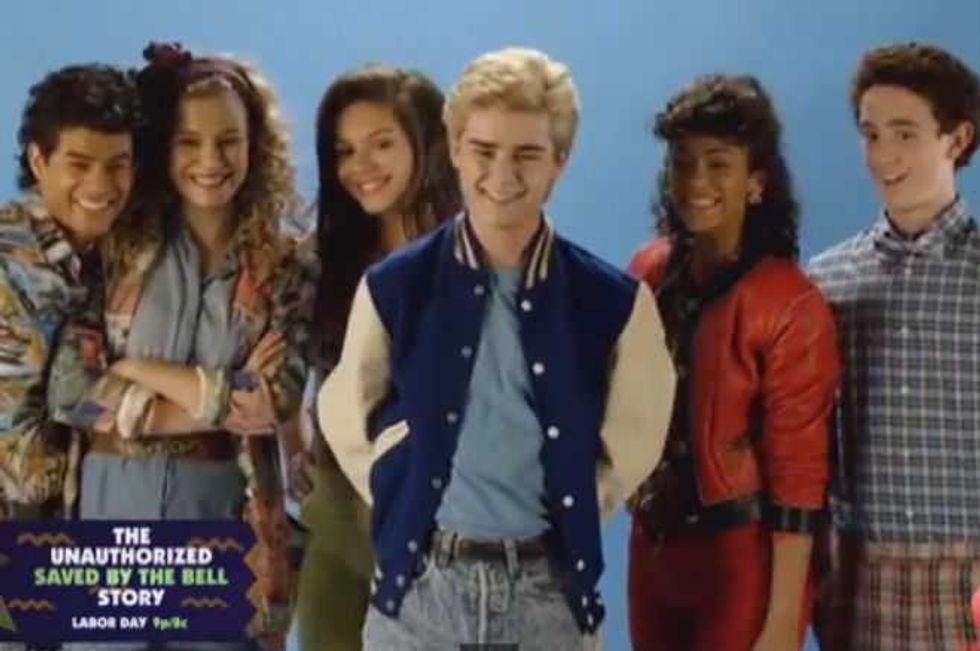 Whether you want it to happen or not, we're getting a Saved By The Bell tell-all made-for-TV movie, thanks to the wondrous world of Lifetime. From the network that has brought us cheesy chick flicks, one after the another after another, everyone's favorite afternoon pleasure is coming at us fast like a Zack Attack.
Lifetime first shared the first five minutes of the film, set to premiere on Labor Day, via Facebook. The clip features all the usual tropes, lifted from the late-80s, early-90s pop culture phenomenon. Zack Morris fans will be delighted to know, he even gets his own time-out time-warp moment. Ahh, the good ole days.
Much like Dustin Diamond's controversial 2009 book, in which he documents of apparent threesomes and drug activity on set, this movie somehow becomes his story, too, as filtered through Screech's eyes. But in this 2014 version, Screech is played by Shameless actor Sam Kindseth. It also stars: Dylan Everett (of Degrassi: The Next Generation) as Mark-Paul Gosselaar; Julian Works (of Paranormal Activity: The Marked Ones) as Mario Lopez;  Alyssa Lynch (a newcomer) as Tiffani-Amber Thiessen; Tiera Skovbye (of Supernatural) as Elizabeth Berkley; and Taylor Russell McKenzie (of Blink) as Lark Voorhies.
"[The series] delves into the experiences of six unknown young actors placed into the Hollywood spotlight, exposing the challenges of growing up under public scrutiny while trying to maintain the squeaky-clean image of their popular characters both on and off-screen," the official press release reads, as Popdust previously revealed.
Well, let's dig in and have at it, eh?
Enjoy:
Stay tuned for updates. Feel free to follow @Popdust and JasonTheScott on Twitter!